Stylish Ways To Dress Up A Sweater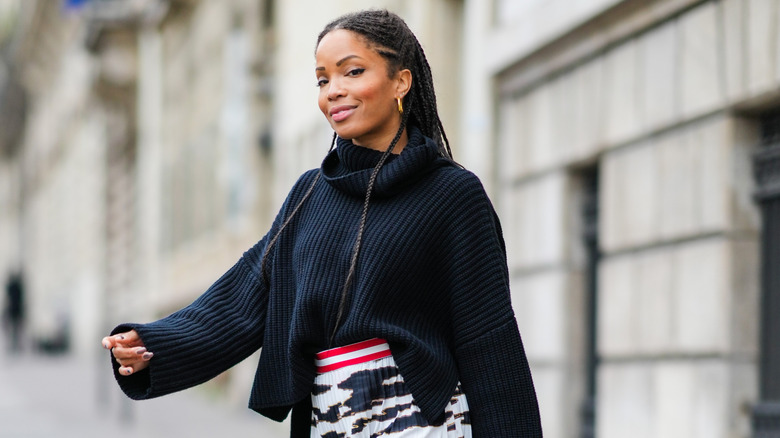 Edward Berthelot/Getty Images
We are currently residing in the depths of sweater weather. For many of us, the next few months stretch out in a range of cold to freezing temps. Meaning, it's time to fully embrace cozy vibes and pull out our soft knits and chunky sweaters. But sometimes, you just need a bit of style inspiration to give you the fashion motivation for the chilly season. Thankfully, trendsetters all over have been spotted pulling together easy to emulate outfits with this winter staple.
The good news is, you won't need to go shopping to pull off these looks because you probably already have a selection of sweaters in your wardrobe. Moreover, this season's trends are super easy to recreate and are more along the lines of simple styling tweaks. Whether you need to look polished for the office, have dinner with friends, or even dress up for a party, we've found a way to elevate your basic sweater.
Read on to learn how to transform this winter classic into an of-the-moment outfit.
Layer a button up under your sweater
Once considered preppy, wearing a collared shirt under your sweater is now trending. Don't believe us? According to Who What Wear, everyone is flaunting this look on Instagram. The cool girls are elevating their basic sweaters by simply layering a collared shirt underneath, immediately taking the style up a notch. And what's not to love about a trend we already have in our closets. Take any sweater (other than turtlenecks) and pop one of your collared shirts under it. You can even play with the colors to mix and match your looks. Either go towards professional in a white collared shirt, like London-based influencer Freya Killin pictured above, or you could make a more significant style statement in a contrasting tone. Oversized sweaters get an instant polish with a crisp button-up underneath, perfect for dressing up with leather leggings and heels. Sweater vests are also making a comeback, and this throwback style was made for layering with a collared shirt for a bit of a school-girl vibe.
Pair a chunky knit with leggings or tights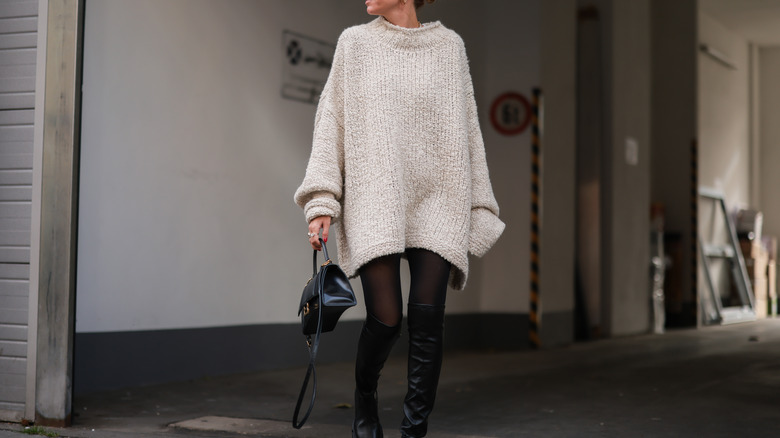 Jeremy Moeller/Getty Images
When it comes to dressing up your chunky knits, it's all about proportions — offsetting your oversized cozy sweater with a figure-hugging bottom does wonders to heighten your look. You can wear black tights, leggings, or figure-hugging leather pants to attain this relaxed meets polished style. Black is the ideal color, or non-color, for this ensemble since it instantly adds sleekness and dimension.
We've all seen oversized sweaters worn with riding boots and sneakers, but to up the ante, pair heeled knee-high or over-the-knee leather boots with your knit to look even dressier. Again, you'll want to go with black to match your pants and lengthen your legs. Black ankle booties are a perfect choice if you're wearing faux or leather leggings. Style blogger Blair Staky from Fox & She also suggests considering your height when choosing the length of your sweater. If you are short, you can look frumpy fast if the length of your top is too long. But if you consider proportions, again, you can throw on some heels to make your legs look longer.
Matching sets are right on trend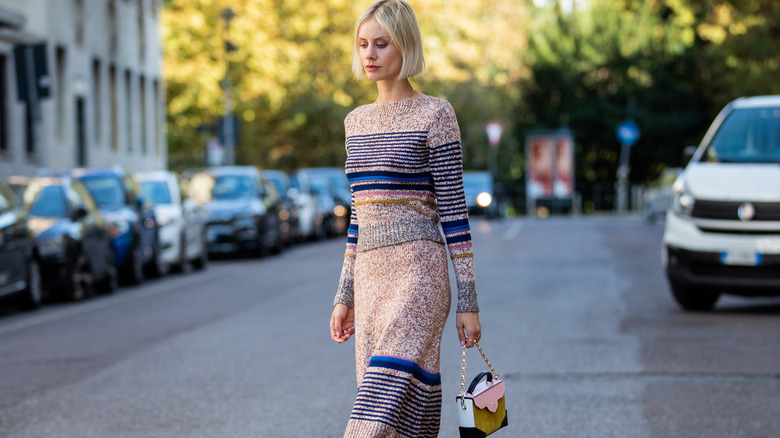 Christian Vierig/Getty Images
Knit and sweater sets were everywhere this past fall. Celebrities and fashionistas were donning ribbed knit sets that included flared pants with cropped tops or more conservative looks like the striped sweater set pictured above. The concept first began with matching sweat suits during the work-from-home phase of lockdown in 2020, when coziness was top of mind and calming our nerves simultaneously. Who wouldn't want to jump on a trend that looks both chic and feels fantastic at the same time?
Matching sets are great because you don't need to consider how to pair different elements of an outfit. It's a one-and-done deal. However, this is a get-up you will need to go out and purchase since it works only as a pair — perfect for those who get excited to update their wardrobes. These sets are often found in monochrome colors, especially neutral tones like beige and grey, but they also look amazing in green and mustard (via Who What Wear).
Layer your sweater under a sleek jacket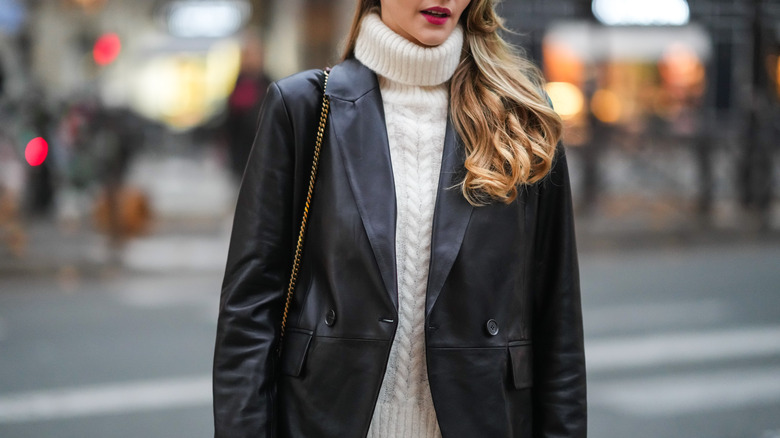 Edward Berthelot/Getty Images
Adding a tailored jacket or blazer over your winter sweater will take you from casual to polished. We especially love the look pictured above where a model paired a classic cable knit turtleneck sweater with a sleek leather jacket.
Layering is a fashion art form that takes a discerning eye. It takes practice to determine which pieces in one's closet will pair best together in that effortlessly stylish manner we all admire. Even though you will need to take time to go through your closet, you more than likely won't need to shop for new pieces to recreate this layered look. Go ahead and try out different combinations. You may surprise yourself with a chic outfit you may not have considered before.
We can't go without mentioning the one simple thing that can dress up not only your sweater but any outfit — a bold lip. Add a matte red lipstick for the finishing touch — the perfect winter accessory to match any style.
Skirts and sweaters are the perfect match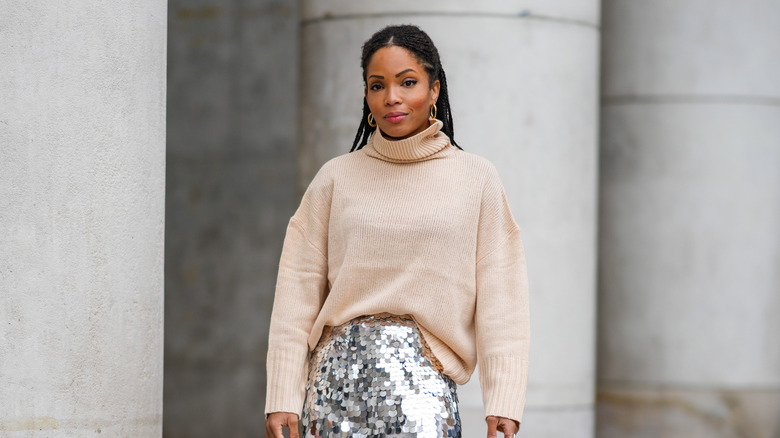 Edward Berthelot/Getty Images
A super easy way to dress up your basic sweater is to pair it with a skirt. To optimize this silhouette, take a note from Parisian-based influencer Ellie Delphine (from @slipintostyle) and tuck your top into the front as a simple trick to define your waist. She styled the perfect winter party look by taking a neutral sweater and wearing it with a silver sequin skirt. But you'll have plenty more opportunities to try this combination than just a party. For example, you can warm up your summer florals, silk midi skirt, or a black miniskirt with a chunky knit (via May the Ray). Need to be more work-appropriate? Add tights. But if the weather is mild enough, you can easily go without them and still look dressed up. Combat Chelsea boots look great to offset the inherent femininity of this outfit, but you can lean into the girly vibes and wear heels, go preppy in riding boots, or classic in ankle booties.
Look cozy chic in a duster sweater and heels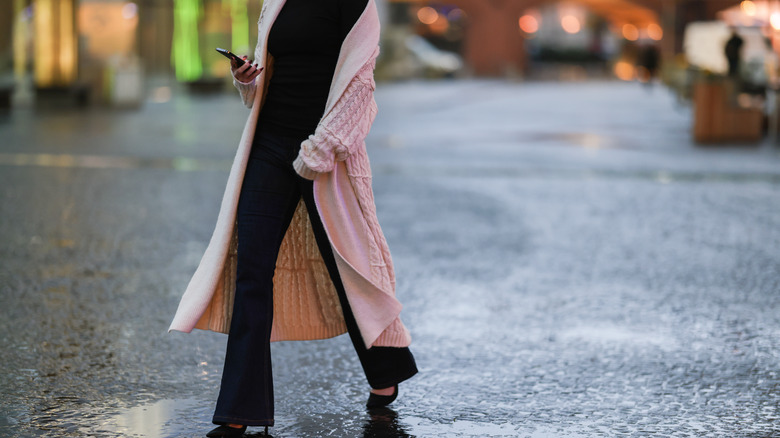 Jeremy Moeller/Getty Images
Duster sweaters are usually our at-home cozy uniform, but this casual knit can get a chic upgrade when worn with a few selectively sleek pieces. First of all, what is a duster? Dusters are cardigans that hit below the knee, and that extra length adds an elegant vibe that can tie together an outfit. They almost resemble a robe when worn around the house, but it's easy to dress up these flowy sweaters.
It's always exciting to create a whole new outfit from the basics that already exist in your closet. And that's what this guide is all about — taking the clothing staples you own and elevating them. Try your go-to Netflix and chill sweater with tailored black flare pants, a long-sleeved black turtleneck, and matching stilettos for city glam. For date night, dial it back a notch with skinny black jeans and a black tee as your base with ankle booties, per Dani Marie.
As you can see, there are several ways to elevate your winter sweaters that are both stylish and incredibly easy to replicate.