Sidney Poitier's Daughter Releases A Poignant Tribute To Her Late Father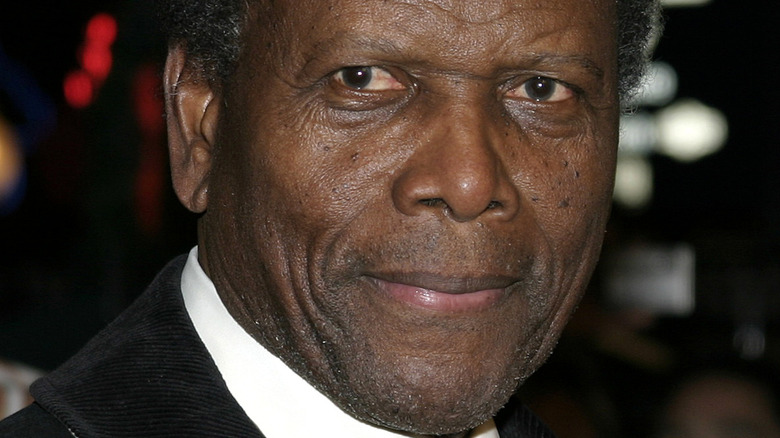 Tinseltown/Shutterstock
Sidney Poitier was a trailblazer in Hollywood. He was known as America's first Black movie star, finding big roles in the film industry in an era when actors of color were rarely given the opportunity, per CNN. In the 1960s, Poitier was the only leading Black actor in Hollywood, taking on impressive roles in films like "Guess Who's Coming To Dinner," which showcased an interracial couple, and "In the Heat of the Night," which told the story of a Black police officer investigating racist crimes (per IMDB). Poitier was also the first Black actor to win Best Actor at the Academy Awards, Reuters reported.
When he passed away at the age of 95, heartfelt tributes were shared by industry colleagues and fans alike. Whoopi Goldberg tweeted, "If you wanted the sky I would write across the sky in letters that would soar a thousand feet high.. To Sir... with Love Sir Sidney Poitier R.I.P. He showed us how to reach for the stars." While Viola Davis wrote on Twitter, "The dignity, normalcy, strength, excellence and sheer electricity you brought to your roles showed us that we, as Black folks, mattered!!!,"
These tributes to the lost actor were indeed beautiful. Although, nothing touched the hearts of Poitier's fans like the tribute made by the late actor's daughter.
Sidney Poitier's daughter shared a beautiful message online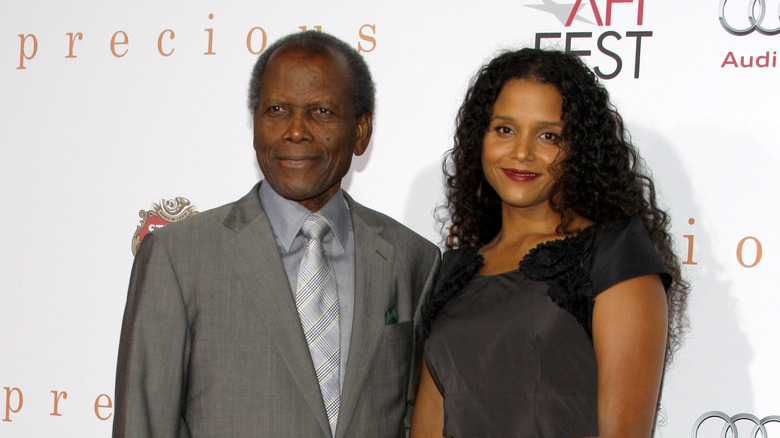 Tinseltown/Shutterstock
Sidney Poitier's daughter, Sydney Poitier, shared an emotional tribute to her late father on Instagram. "There are no words for this. No real way to prepare for this. No prose beautiful enough, no speech eloquent enough to capture the essence of my dad," she wrote, adding, "quite literally changed the landscape for everyone who came after him." Sydney went on to praise her father for having "blazed a trail through rough and hostile terrain so those coming behind him could have a bit more ease on the journey."
She continued, "It permeated every cell of his being. The sort of goodness that prevented him from killing even the tiniest of bugs. Not a one. He knew on a cellular level that if he hurt anyone or anything, he hurt everyone and everything." Sydney added that her father "treated anyone who crossed his path as his equal and offered them his full presence."
Sydney has followed in her father's footsteps, becoming an actress herself (per IMDB). She starred in the movie "Death Proof," as well as "Grindhouse," among others. Her tribute to her dad ended with "His legacy will live on in the world, continuing to inspire not only with his incredible body of work, but even more so with his humanity."