Donald Trump's Recent NPR Interview Has Twitter Seeing Red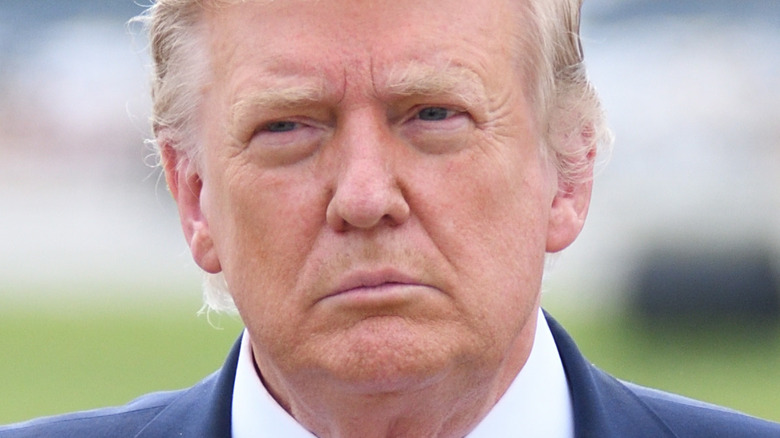 Evan El-Amin/Shutterstock
It's no secret that former president Donald Trump has issues with the news media. He left a number of problematic precedences behind once his time as president came to a close, but according to CNN, the most alarming impact he had was the distrust he encouraged Americans to have in the press. Of course, CNN was specifically hit hard by Trump and was given the title of one of the most untrustworthy sources by the former president; however, Trump encouraged Americans to pay little to no attention to the news in general, stating it was largely fake.
Trump's treatment of members of the press has been far from respectable, dating back to when he took office in 2017. However, things especially heated up between Trump and the media during the COVID-19 pandemic (via Business Insider). Often, he would retaliate against reporters asking simple questions about masking and public safety, and would even go as far as berating them.
Though it came as no surprise that Trump acted less than kind during an interview with NPR in January 2022, people were still upset by the former president's demeanor. Twitter, especially, had a lot to say about the conversation.
Donald Trump hung up during his NPR interview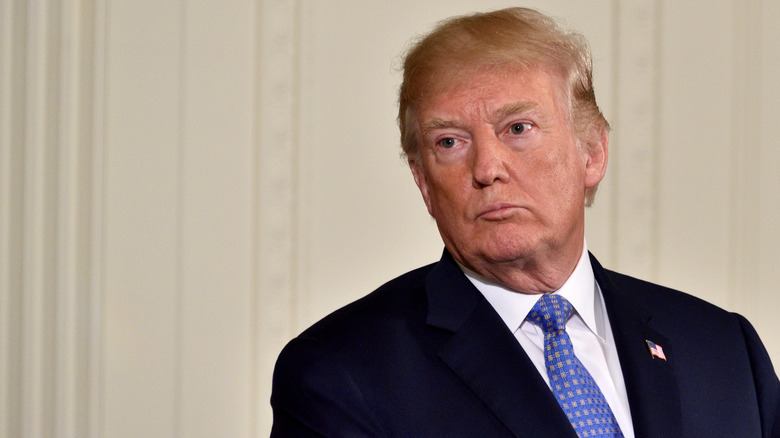 Evan El-Amin/Shutterstock
In January 2022, Donald Trump sat down with NPR's Steve Inskeep for an interview that was six years in the making. During their conversation, Trump was asked several questions about the baseless claims he made — and continues to make — that Joe Biden did not win the presidential election fairly, and things spiraled from there (via People).
The conversation was relatively civil until Inskeep began asking questions about the election. He asked, "Is it a disadvantage for Republicans to keep talking about the 2020 election in 2022?" Trump, of course, replied, "No, I think it's an advantage because otherwise, they're going to do it again in '22 and '24."
As Inskeep kept asking questions about the election, Trump grew more and more agitated (via The Guardian). Trump said, "People have no idea how big this issue is, and they don't want it to happen again." He would eventually hang up on Inskeep before the NPR reporter could finish the interview. Inskeep said, "Woah, woah, woah, I have one more question," trying to keep Trump on the line. "I want to ask about a court hearing yesterday on Jan. 6 ... He's gone. Okay."
Twitter had Inskeep's back. One user wrote, "I admire your professionalism and ability to keep an even tone through what must have been a frustrating interview. Another reminder of why I'm happy and proud to be an NPR supporter. Thank you and your team." Others called Trump's behavior "disappointing," while another Twitter user shared, "The only thing I am interested in hearing from him is accountability and apology. I am guessing he did neither. Thanks but no thanks."