Roseanne Barr's Daughter Is Speaking Out About Her Traumatic Childhood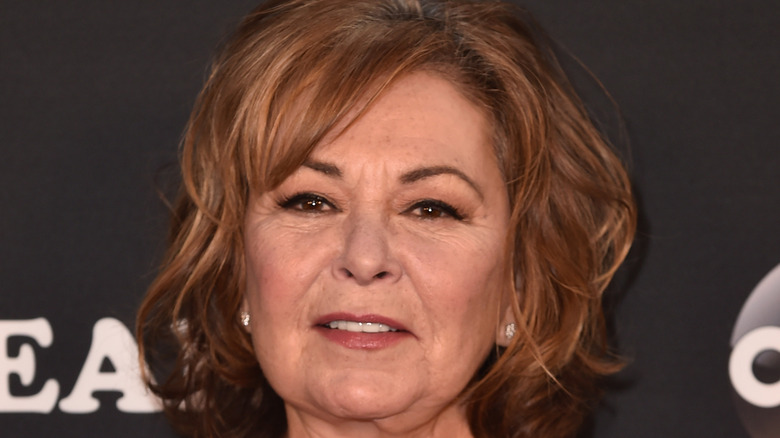 Alberto E. Rodriguez/Getty Images
Growing up as Roseanne Barr's kid can't have been easy. Although the actor represented an ideal of motherhood on the long-running sitcom "Roseanne," as the New York Times reported in 2018, the highly-anticipated reboot was swiftly cancelled following an allegedly racist tweet from the star herself. Barr, who's also the co-creator of "Roseanne," made disparaging comments about Valerie Jarrett, a senior adviser to Barack Obama. Although she subsequently apologized, ABC's entertainment president Channing Dungey noted in a statement, "Roseanne's Twitter statement is abhorrent, repugnant and inconsistent with our values."
The "Roseanne" reboot had the highest ratings of a new TV series in years, bringing in around $45 million in ad revenue for the network in one year alone. Speaking about the tweet, Jarrett noted, "We have to turn it into a teaching moment." Barr initially defended her racist comment as "a joke" but ultimately acknowledged how wrong she was. However, the TV star has since doubled down on her conservative rhetoric, while popular "Roseanne" spinoff "The Conners" continues on without her. Now, Barr's daughter is discussing how tough it was growing up in the spotlight, and how her mother's fame negatively affected her.
Jenny Pentland's parents adopted a tough love approach
In an interview with People, Jenny Pentland, the adult daughter of Roseanne Barr, revealed she'd spent lengthy stints in and out of facilities for wayward teens throughout the eighties and nineties. "I was locked up," Pentland shared of the experience of being shifted between various reform schools, psychiatric institutions, and even a wilderness boot camp between the ages of 13 and 18. She admitted to "acting out" predominantly because of her mother's newfound fame with "Roseanne." Pentland details her difficult experience in upcoming memoir "This Will Be Funny Later," admitting how Barr and her father, Bill Pentland, adopted a tough love approach to tackling her increasingly terrible behavior.
As Pentland recalled, she was "depressed," which led to her "getting bad grades," being "mouthy," and "cutting my arms and smoking cigarettes." Her elder sister, Jessica, was also shipped off to a psychiatric facility after stealing their mother's car. "I think there was a fear of us spiraling out of control," Pentland acknowledged. She struggled with PTSD in the subsequent years, after both witnessing and experiencing significant emotional and physical abuse at the various institutions, all of which are now shuttered or under new management. These days, she's happily married and a mother of five sons, while Pentland's relationship with her parents is also good. 
In fact, she defended her mother in another interview with People, opining, "She's not an elected official, she's a comedian — she's allowed to believe whatever she sees fit."