The Meaning Behind The Matching Tattoo Megan Fox And Machine Gun Kelly Gave Each Other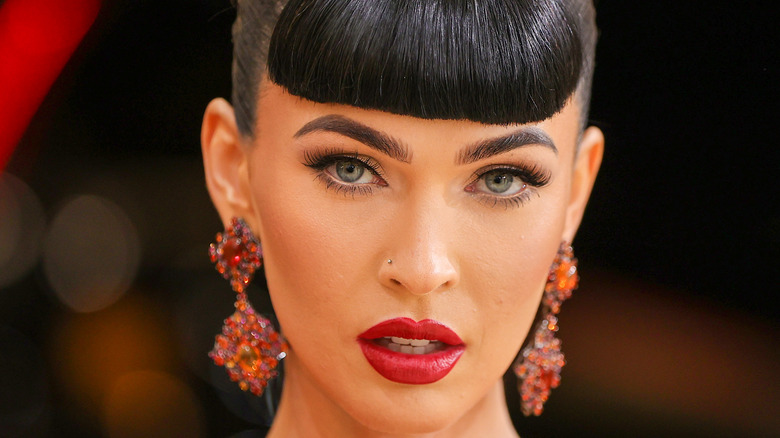 Theo Wargo/Getty Images
In a somewhat surprising twist, Megan Fox and Machine Gun Kelly became the celebrity couple the world needed in recent times. Fox and Kelly continue to share happy relationship news, which feeds fans during the COVID-19 pandemic when some of us feel all alone. Many fans are particularly invested in them because they seem like a wildcard pairing. Fox was previously married to actor Brian Austin Green and in the mid-2010s dated actor Shia LaBeouf, per Elite Daily, and Kelly didn't seem to fit in with what many believed to be her "type."
However, their relationship has proven fruitful. The two have been together since 2020, and while they're always taking their relationship further, one of their latest ventures together has people talking in a big way. According to Showbiz Cheat Sheet, Fox and Kelly got matching tattoos recently, but there's a twist. They gave each other the tattoos rather than getting them professionally done. This undoubtedly requires a lot of trust, especially for people whose bodies are so publicly visible to the world, so this must mean they trust each other a lot.
Here's what the tattoos mean.
Megan Fox and MGK's tattoos evoke their "fairytale"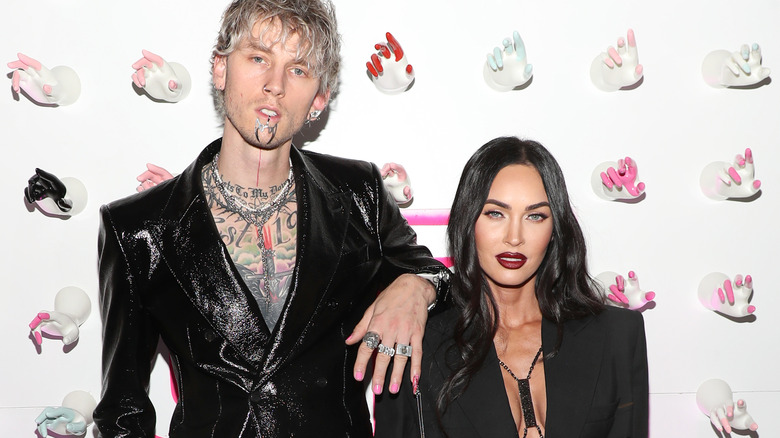 Jerritt Clark/Getty Images
If you would've told us a few years ago that Megan Fox's stunning transformation would include a tattoo given to her by Machine Gun Kelly, we're not sure we would've believed you. Now, however, it's clear that this relationship was meant to last. According to PopSugar, the matching tattoos are of text that says "the darkest fairytale," a phrase used by the couple in some of their earliest text messages to one another. This tattoo, then, is the intersection of beginnings and endings, of temporal anomaly. The text represents the beginning of their relationship while the tattoo — the permanence — represents the end because it will always be there.
According to an interview with GQ, the joint tattoo was initially supposed to go on Fox and Kelly's "inner-arm veins." However, once Fox fired up the tattoo gun, Kelly ultimately chose for it to go on his hip, citing that he wanted to be able to show it off more. As noted by PopSugar, it remained unclear for a while where Fox ultimately got hers placed, but she can be seen with a slightly obscured tattoo above her yin-yang wrist tattoo in photos from the 2021 Video Music Awards. Fans were ultimately able to deduce that her tattoo is, in fact, there, meaning she stuck with the original plan.
So, what do you think about Fox and Kelly's "the darkest fairytale" tattoos?