Megan Fox And Machine Gun Kelly Share Happy Relationship News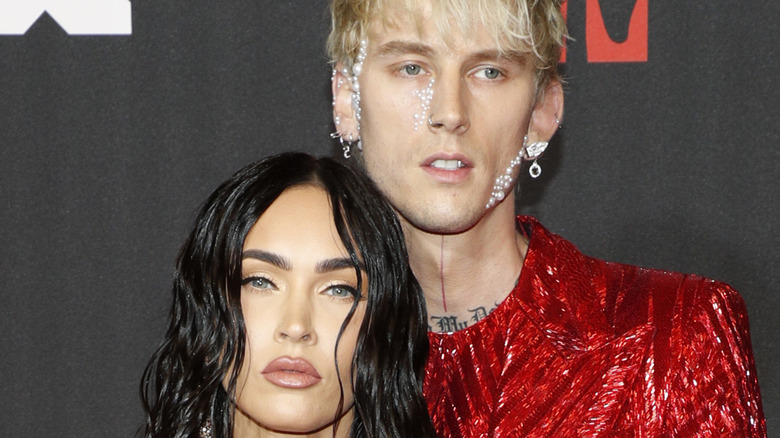 Kevin Mazur/mtv Vmas 2021/Getty Images
When Megan Fox and Machine Gun Kelly stepped out together for the first time, the world collectively went "huh?" Then people saw them walk multiple red carpets and share their personal lives on Instagram, and we all quickly realized that the pair just make sense together. They're both gorgeous, talented, and, well, a tad bit odd in the best possible way. It looks like they know that they're made for each other too. Fox and Kelly just announced that they're taking the next step in their relationship, and it's the moment fans have been waiting for.
There have been tons of big relationship steps for Fox and Kelly. First, they started making out and grabbing each other on the red carpet (via the Daily Mail). Then Fox got personal about how a very special Airbnb table "saw some things" during their trip in September 2021 (via Instagram). All natural relationship steps, right?
Well, their latest announcement is a big more conventional, and fans couldn't be more excited for the couple. 
Megan Fox and Machine Gun Kelly are engaged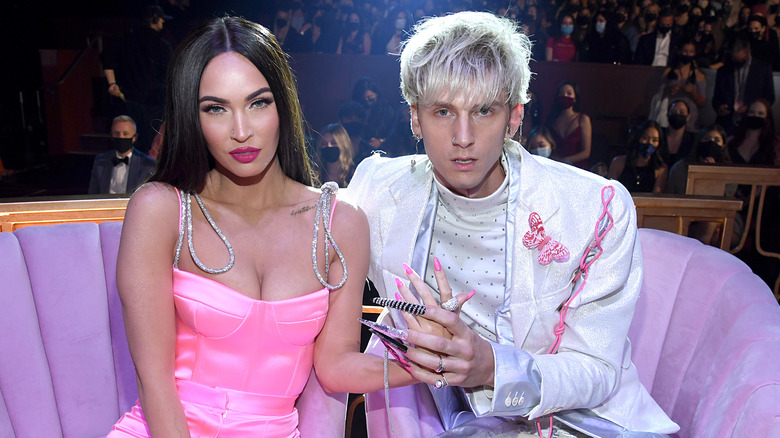 Kevin Mazur/Getty Images
You've seen them all handsy on the red carpet and recite each other's astrological charts in interviews, and now Megan Fox and Machine Gun Kelly are officially engaged (via Instagram). Fox shared a heartfelt message along with a video of the proposal on her Instagram page on January 12, and the news spread like wildfire.
The message was extremely sweet and, in true Fox and Kelly form, also a tad bit odd. "And just as in every lifetime before this one, and as in every lifetime that will follow it, I said yes," the Instagram post reads. "...And then we drank each other's blood."
The post starts out with a sentiment about how the couple sat under the same tree that Kelly popped the question by in July 2020 and "asked for magic." Well, Fox got her magic. A year and a half into the relationship, the couple is taking the next step. Not to be selfish, but we are so excited to be able to see this couple walk red carpets together until the end of time. 
The announcement comes after more than a year of dating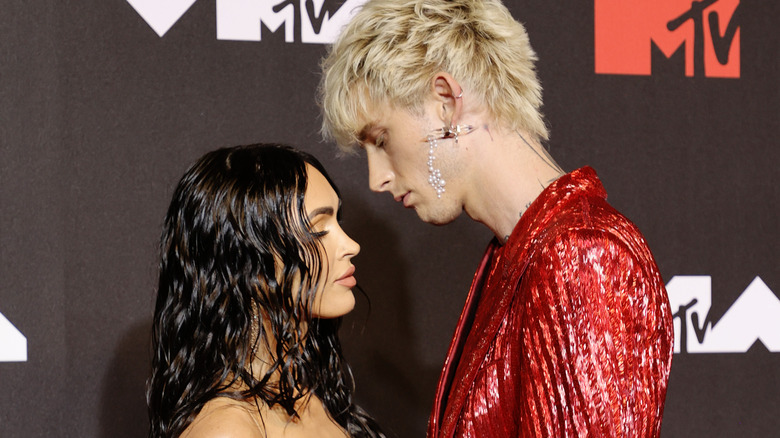 Jamie Mccarthy/Getty Images
It seems like just yesterday that the pair announced that they were a couple, but, according to the Instagram post, Megan Fox and Machine Gun Kelly have been dating for a year and a half. As the saying goes that when you know, you know. 
Fox and Kelly aren't the only couple in their friend group to get engaged recently. Close friends of the couple, Kourtney Kardashian and Travis Scott, also got engaged. The foursome has been seen going to parties and walking red carpets together for some time now. Fox and Kardashian even appeared in a SKIMS photo shoot together. Love is definitely in the air with this group.
Fans are just as excited about Fox and Kelly's good news as they were the other couple. Instagram comments read everything from, "congrats queen" to "OMG AWWWW." Needless to say, this is an exciting time for the couple and we can't wait to see the wedding.