Here's Who Broke The Bad News To Prince Andrew About His Future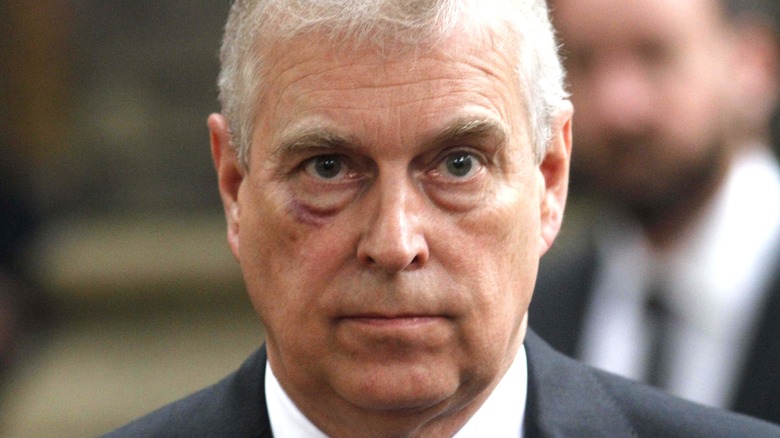 Wpa Pool/Getty Images
Things have gone from bad to worse for Prince Andrew. Per CBS News, the senior royal has officially been stripped of his titles and military affiliations. Adding salt to the wound, the Queen gave her full approval accordingly. The move came just a day after a judge rejected Andrew's request to dismiss the sexual abuse lawsuit brought by Virginia Giuffre, who was also a victim of disgraced financier Jeffrey Epstein, and alleges the prince assaulted her when she was just 17 years old. A Buckingham Palace spokesperson confirmed simply, "The Duke of York will continue not to undertake any public duties and is defending this case as a private citizen."
An insider confirmed Queen Elizabeth is taking over her son's formal roles going forward, with the rest due to be redistributed among other senior members of the family. Likewise, Andrew will no longer be allowed to use "His Royal Highness" in any official capacities. His legal team was attempting to get Giuffre's case thrown out based off a 2009 deal she'd signed with Epstein. It's now assumed the disgraced royal, who strongly denies Giuffre's allegations, will attempt to settle out of court, rather than further drag the royal family's name through the mud. However, Andrew will likely have to pay millions of dollars out of pocket to do so, since the Queen will not be footing the bill.
As for who broke the news about Andrew no longer being a royal, unsurprisingly, the messenger was close to home. 
Prince Andrew was given an official timeout by his mother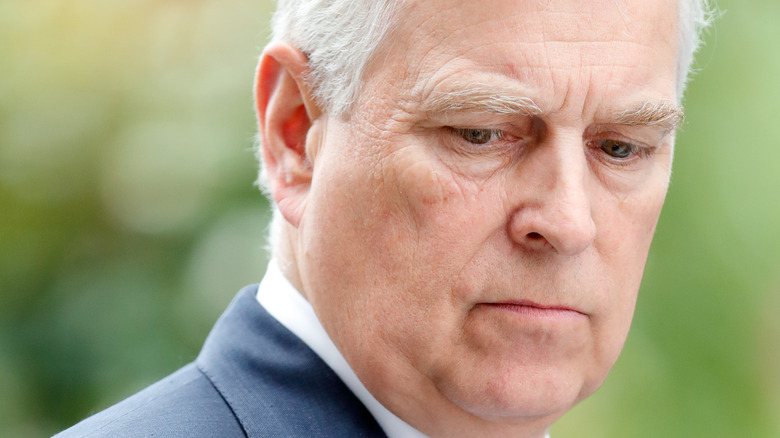 Max Mumby/indigo/Getty Images
Per the New York Post, Prince Andrew has been put in a permanent timeout by his mother, Queen Elizabeth. Sources confirmed Her Majesty broke the news face-to-face with her son that he would no longer be known as His Royal Highness. Paparazzi caught a grumpy-looking Andrew being transported from his home at Royal Lodge to Windsor Castle for the meeting. Once there, the Queen reportedly told Andrew he was being officially stripped of his royal patronages and military titles. It's understood Prince Charles and Prince William were part of previous discussions on the matter, too, after both expressing disgust at suggestions the Queen should fund Andrew's defense. 
The most recent royals to lose their titles were Prince Harry and Meghan Markle, who gave up official duties in early 2020. However, the difference there was the Sussexes made the decision themselves, rather than being punished for their actions. One royal source pointed out the "telling" difference between the Queen's statements about Meghan and Harry's exit and Andrew's, noting the latter was devoid of emotion. As a result, the insider described it as "so cutting." However, although his mother isn't actively footing any legal bills, Andrew's reported $323,000 annual stipend from the Queen should help.
If you or anyone you know has been a victim of sexual assault, help is available. Visit the Rape, Abuse & Incest National Network website or contact RAINN's National Helpline at 1-800-656-HOPE (4673).
What if Prince Andrew can't settle this case out of court?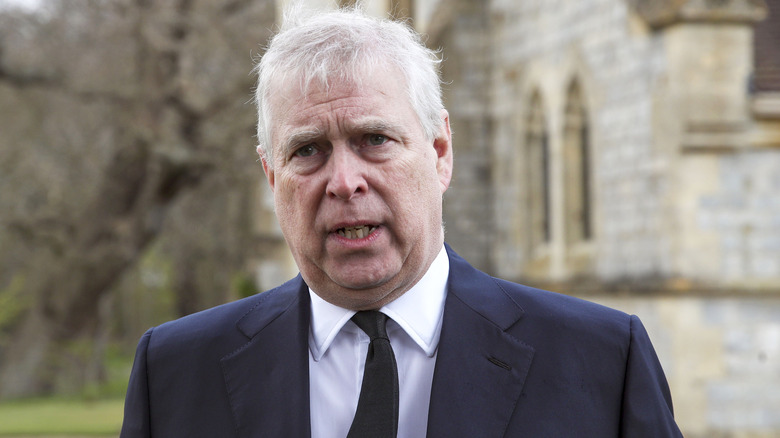 Wpa Pool/Getty Images
Even though it is believed that Prince Andrew would rather settle out of court, according to CBS News, the possibility of going to trial cannot be ruled out. However, if a settlement is reached between both parties, the matter is deemed to have been brought to a close, and there would be no need for a court hearing anymore. Otherwise, there would be depositions, which means that Prince Andrew and Virginia Giuffre would testify under oath prior to the court case, in the presence of a court reporter, per All Law.
During the court hearing, other witnesses will likely be called upon to testify and Prince Andrew himself may have to take the stand. A refusal to comply with such a directive may be harmful to his chances of winning the case, according to Mitchell Garabedian, who has represented victims of sexual abuse for decades. "I think it would be a serious mistake for Prince Andrew not to testify — he's a party and if he doesn't testify it's an elephant in a room," Garabedian told The Guardian.
And it appears that there may be a criminal charge against the disgraced Prince in the future. According to Garabedian, prosecutors are "very interested" in seeing evidence from civil cases like the one that could potentially happen in the coming months. But some other legal experts think prosecutors may be done with Jeffrey Epstein's associates after Ghislaine Maxwell was found guilty of five of the six charges brought against her. "I think they realized the strongest case is Ghislaine, and that's what they went for," Julie Rendelman, a longtime defense attorney.
Ghislaine Maxwell, Jeffery Epstein's girlfriend and co-conspirator, faces up to 65 years in prison, according to the BBC.