What Chloe Chrisley's Relationship With Savannah Is Really Like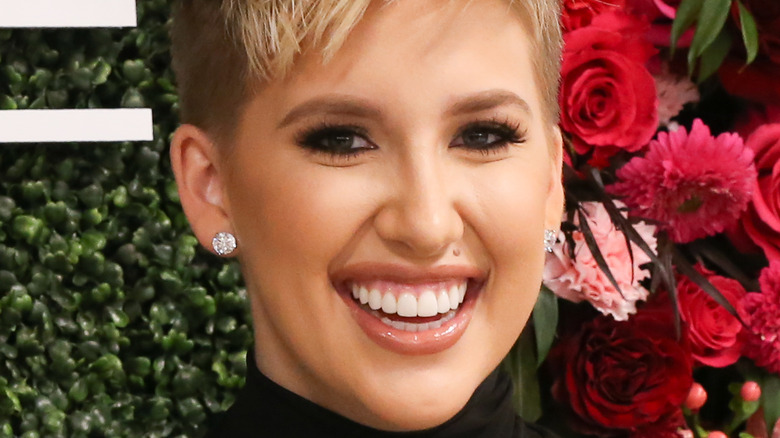 Terry Wyatt/Getty Images
Young Chloe Chrisley is a fan favorite character on her family's reality show, "Chrisley Knows Best." As Parade notes, the adorable kid is the daughter of proud patriarch Todd Chrisley's estranged son Kyle, whose mother is Todd's first wife, Teresa Terry. 
Chloe was born in 2012 and inevitably became the most doted-on kid in the family, particularly after she came to live with grandparents Todd and Julie following her father's arrest in 2013. 
When Chloe's mom was subsequently arrested, in 2016, Todd got full custody of Chloe. Although Chloe's grandparents seemingly had her best interests at heart, in a 2014 chat with the Daily Mail, Kyle claimed they only took her in to supplement their newfound fame. 
"My dad showed no interest in Chloe at all until the show and until it was pointed out that having a mixed race child and getting her and all that would be good for his demographic," he claimed. 
Kyle described Todd's other kids as "spoiled" and even claimed that "Chrisley Knows Best" had destroyed his life. Todd, for his part, wished Kyle all the best, confirming during an episode of his "Chrisley Confessions" podcast that Kyle was in his prayers.
Regardless of what's going on with the father and son's strained relationship, Chloe clearly has a good life with her grandparents and various aunts and uncles, all of whom are evidently obsessed with her. 
In particular, Chloe and her aunt Savannah share an especially close bond. 
Savannah and Chloe Chrisley are super close
Savannah Chrisley has been forced to defend her close relationship with niece Chloe, whom she frequently posts about on social media. 
In 2017, the Sassy by Savannah founder shot back against accusations she was using Chloe to portray an image of a white person "saving" a Black child, on Instagram, by confirming she sees the little girl as "basically my baby sister." She added: "It's not about rescuing...it's about family and our responsibility to take care of one another." 
As TV Shows Ace points out, Savannah was criticized again after posting another shot of Chloe enjoying a beach day, which she captioned, "So blessed that God chose me to be her 'sister.'" 
Fans took issue with Chloe calling Todd and Julie "Mom" and "Dad," and they had a similar gripe with this, claiming Savannah was confusing the little girl. After Savannah posted another photo of the two hanging out — and again referred to Chloe as her "sister" — fans battled it out in the comments once more. 
Per TV Shows Ace, Todd has no issue either way, but Chloe does see him as her dad, so it makes sense that she sees Savannah as her sister. This doesn't satisfy "Chrisley Knows Best" fans but, for the most part, Savannah ignores them. 
In fact, in an interview with Life & Style, the businesswoman gushed about how mature Chloe is for her age, so she clearly understands more than people give her credit for.