The Reason Police Are Investigating Kanye West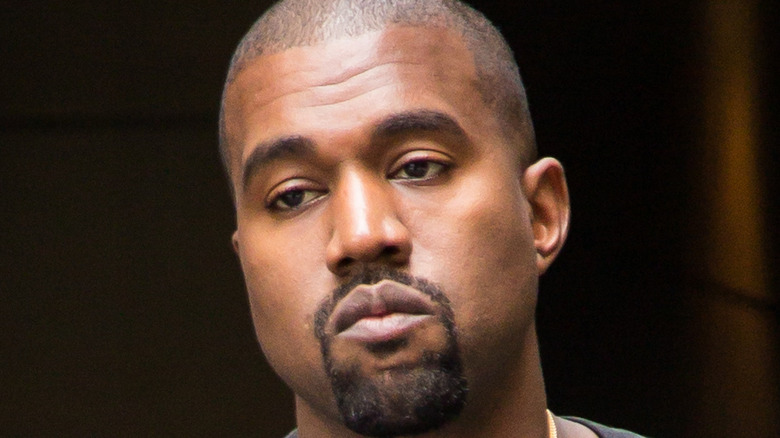 Liam Goodner/Shutterstock
Kanye West has been struck down in the midst of living his best "divorced guy" life (via GQ), with shocking allegations emerging against the controversial rapper. As Page Six notes, West, who is now legally known as Ye after changing his name, has been cavorting around town with New York's best, Julia Fox. The unlikely couple is enjoying a whirlwind, and paparazzi-stalked romance, with the actor gushing during a recent episode of her "Forbidden Fruits" podcast, "He's really a f–king genius, and it's an honor to be in the presence [of him] and to be able to witness history happening." She particularly enjoyed watching West work in the studio, describing his new songs as "insane."
Although the relationship is still very new, Fox shared, "Our minds, we both, like, work very fast. We keep up with each other, which is cool. Like, I talk very fast and I can have 10 trains of thought and, like, whatever." Their mutual friends are reportedly very excited about the burgeoning romance, which has seen West and Fox on date nights at acclaimed plays, conducting photoshoots in packed restaurants, and, in her case, even providing an exhausting and instantly meme-worthy account to Interview magazine. Although the "Uncut Gems" star expressed her desire to take things as they come, Fox might be second-guessing her new paramour following this disturbing new development.
A Kanye West fan has made a shocking accusation against the rapper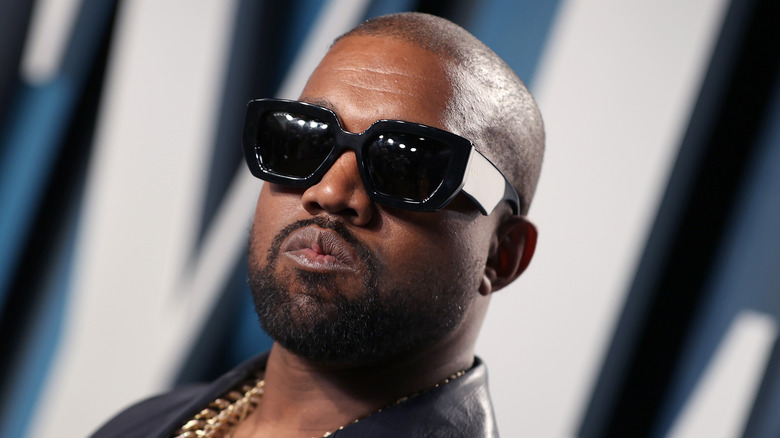 Rich Fury/vf20/Getty Images
Per Insider, police in Los Angeles are investigating a claim of criminal battery made against Kanye West. A spokesperson confirmed the LAPD had responded to reports of an incident at 3 a.m. local time on Thursday, January 13th. Thus far, West is the only alleged suspect. No arrests have been made and no other details were released. However, local affiliate Fox 11 confirmed the incident took place outside the exclusive hotspot Soho Warehouse and allegedly occurred after a fan spotted the rapper sitting in his car and requested an autograph. The unnamed fan claims that West got out of the vehicle, punched him in the face, and left. He subsequently called the police but declined any medical treatment.
Page Six subsequently reported that the fan in question had approached the controversial star on two prior occasions requesting an autograph, first outside of restaurant Craig's, in L.A., on Monday night, where West was celebrating his Gap commercial alongside Julia Fox. The unidentified man popped up again two days later outside Delilah, where West, Fox, and several other notable celebrities were again having dinner. The fan is seen in the background of paparazzi shots from the night in question. However, although the rapper left Delilah solo, it's unclear where he went next, only that he must have ended up at Soho Warehouse eventually. Footage from the event shows West yelling and the fan on the ground below him.