Jennifer Aniston Shows Off Her Natural Hair In Makeup-Free Selfie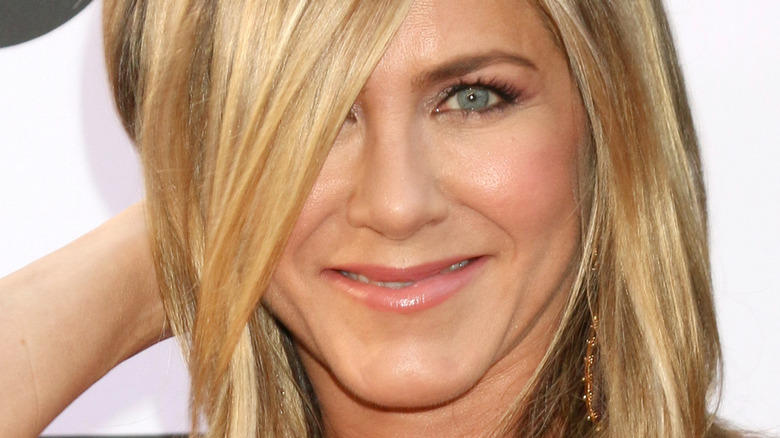 Kathy Hutchins/Shutterstock
Die-hard fans of Jennifer Aniston may think they know everything about her. For instance, her favorite food is nachos (via Us Weekly). Most visited vacation spot? Cabo, Mexico (via The Travel). But new selfies the "Friends" actress posted to her social media will likely prompt more than a few of us to rethink the conviction that we are Jennifer Aniston experts. Because were you aware that Aniston's hair is not naturally straight? We'll give you a moment to process this shocking revelation.
Taking to Instagram, the star shared a series of candid photos revealing her wavy tresses (via People). "Okay, Humidity..." she captioned the post-shower selfies, in which it appears she is not wearing any makeup. And immediately, fans connected with the 52-year-old on an even deeper level.
"Like Monica in Bahamas," joked one person, referring to famous "Friends" episode. "Celebrities! They're just like us," teased another fan. "Humidity is not our friend. My hair with humidity looks like a troll doll!" confided another follower.
Meanwhile, a lot of commenters sincerely appreciated Aniston's unfiltered share, with someone writing, "Natural beauty." "Thanks for being real!" another person said.
Jennifer Aniston hair obsession defines decades
Of course, Aniston's hair has been the subject of countless conversations and headlines throughout the years, going back to her debut on the NBC sitcom. Her most famous haircut, dubbed "The Rachel," was copied by legions of ladies circa 1995 (via Mental Floss). Shockingly, the actress later copped to the admission that she wasn't a fan of the look, telling Allure in 2011, "How do I say this? I think it was the ugliest haircut I've ever seen."
Given the ongoing focus on her hair, it makes sense that Aniston would eventually launch a hair product. And as such, LolaVie's Glossing Detangler has the star's stamp of approval, with Aniston explaining in a more recent Allure interview, "I love a product to have many jobs in one, so it has a heat protector and shine, and it's so time-efficient." She added, "I love a really good detangler because my hair has gone through so much thrashing."
In her viral Instagram post chronicling her recent battle with humidity, Aniston tagged the detangler and added, "Let's go." And we're thinking if her detangler can tackle that substantial frizz, we're sold!