The Heartbreaking Death Of Social-Media Star Adalia Rose Williams
On Wednesday, 15-year-old YouTube personality Adalia Rose Williams died. The announcement of her death was made on her Facebook page, which has amassed an impressive following of 12 million people. "She came into it quietly and left quietly, but her life was far from it," the Facebook post read. "She touched MILLIONS of people and left the biggest imprint in everyone that knew her. She is no longer in pain and is now dancing away to all the music she loves. I really wish this wasn't our reality but unfortunately it is. We want to say thank you to everyone that loved and supported her. Thank you to all her doctors and nurses that worked for YEARS to keep her healthy. The family would now like to mourn this huge loss in private."
What attracted many to Williams was the way in which she handled adversity with laughter and joy on her YouTube channel. At just three months old, Williams was diagnosed with progeria, also known as Hutchinson-Gilford syndrome, per the New York Post. According to the Mayo Clinic, progeria is a progressive genetic disorder that causes children to age rapidly. Progeria also stalls growth and hair loss, which explains Williams' unique appearance. Typically, those suffering from progeria will succumb to heart problems or strokes and have a life expectancy of only 13 years.
Williams' infectious joy impacted many people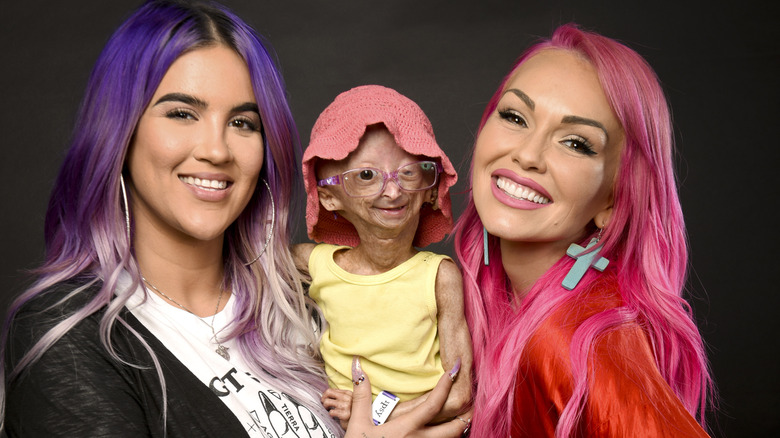 Vivien Killilea/Getty Images
Since a young age, Adalia Rose Williams had been captivating her followers with beauty and fashion tutorials, skits, and adorable interactions with her family on her YouTube channel. During an interview with the New Zealand Herald in 2018, Williams' mother, Natalia Pallante, spoke about the impact that Williams' fans had on her amid struggles accepting her health and appearance. "She is just so rambunctious and every day is something new with her, so it's always exciting," Pallante told the New Zealand Herald. "Adalia has changed my life completely, it's not like I was hateful but I wasn't nice to myself. I wasn't thankful. I didn't realize what life was until she was born. Her followers say good things to her all the time. ... They have constant comments of how she's inspirational and how she doesn't let anything stop her and they're right. She loves those comments."
Among the thousands of fans paying tribute to the social media star was fashion designer Michael Costello, who designed two custom-made dresses for Williams ahead of her 13th birthday back in 2019. "Despite the cards she was dealt with, she had the most positive attitude and such big dreams of helping everyone around her," Costello captioned an Instagram post paying tribute to Williams. "I love you so much Adalia... Words cannot convey how much you've changed my life. I will miss you dearly, friend, and I promise to cherish all the wonderful memories we've had together."