Meet Keilani Bautista, Dave Bautista's Daughter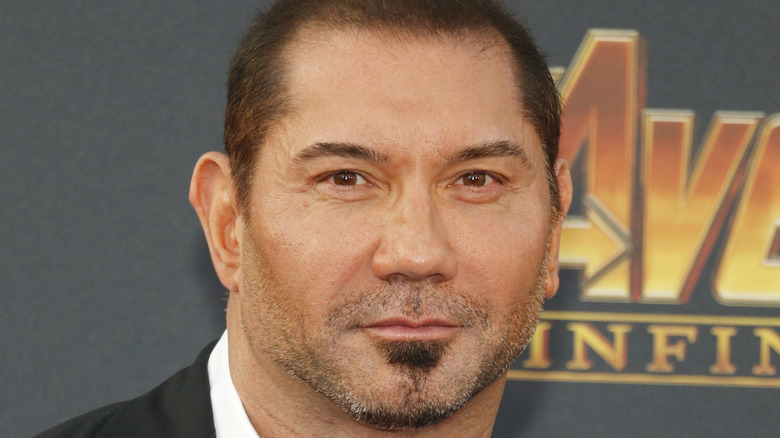 Tinseltown/Shutterstock
Thanks to the stardom of his days as a professional wrestler in the WWE, Dave Bautista has been on the radar of many for decades. But especially so in the 21st century, as he decided to turn his focus to acting after doing a cameo role for a friend, as he explained to Wired. "It was a very small role and it wasn't very good, but that's how I caught the bug," he said, adding, "It may sound generic, but it's true. I fell in love with it." Since then, Bautista has starred in the likes of "Guardians of the Galaxy," "Blade Runner 2049," and "Dune," among many other titles (via IMDB).
Through wrestling and acting, Bautista has created a financial safe space for his family. According to Celebrity Net Worth, Bautista has amassed a fortune of an estimated $16 million, which has provided his three children Oliver, Athena, and Keilani, with a comfortable life. But is there any information about his daughter Keilani?
Keilani Bautista keeps out of the spotlight
The eldest of Dave Bautista's children, Keilani, was born to the wrestler and his first wife Glenda in 1990 (via Biography Mask). As of 2022, Keilani is over 30-years-old, and is reportedly married and a mother of two sons — Aiden and Jacob. According to Ecelebrity Mirror, many publications have suggested that the brothers are twins, but this claim hasn't been officially substantiated.
Keilani and her children are also absent on social media, at least in a public capacity. Bautista's daughter does have a Twitter and Facebook account, but both are understandably set to private. In the bio of her Twitter account, Keilani explains the reason why she set up a private account on the platform in August 2012. "hey peeps, yes this is really me Keilani Bautista, the daughter of wwe star Dave Bautista," she writes, adding, "there are fakes of me and my family on here but we hope to get them off."