Why Mini Bags Are Causing A Stir On Reddit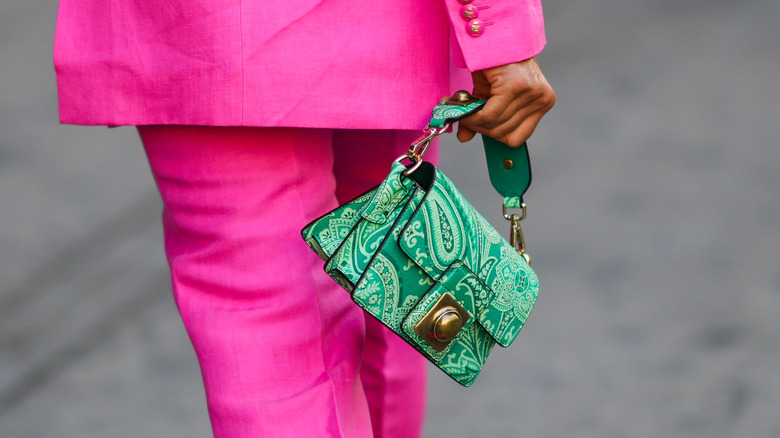 Edward Berthelot/Getty Images
Spending as much as $1,000 on a mini bag that won't hold much more than a lipstick and in many cases can't even tote your phone may seem like a joke. But a quick search on Bloomingdale's site shows this trend is indeed far from a put-on. In fact, mini bags are a trend that not only have designers from Stella McCartney to Marc Jacobs producing sleek and tiny purses, but are gaining quite a bit of attention on social media.
Over on Reddit, mini bags have folks voicing their uncertainty as to whether the sticker shock is worth it. One thread talks about fashion trends that users can't stand. "Those microscopic luxury bags that can't even fit a phone in them!" one person commented, with someone else noting the price tag for such a small bag is completely outrageous.
Someone else shared an experience with "meeting" the mini bag. "Was helping a friend pick out a purse/wallet for her girlfriend," they said. "Opened up one of those small a** ones and spent maybe two minutes staring at the $300 price tag. All I could think was 'this can't be right.'" The user went on to say, "Thing was barely big enough to fit airpods into."
The mini bag trend explained
On Twitter, the mini bag love is real however. Photos of the micro purses by designers from Dior to Gucci pepper the site, with one person sharing a photo of a Versace Medusa mini bag smaller than a wine glass! "This mini one costs my whole salary," one commenter said. It's worth noting the bag costs over $1,000 at Neiman Marcus. We'll pause for you to catch your breath!
Still, plenty of people are willing to shell out the dough for the dainty designer bags, with What to Wear reporting searches for mini bags have gone up by 713 percent according to Klarna. As Fashion notes, the mini bag trend condemned by Reddit users is not at all about function. Remember, many mini bags are so small, they won't hold much more than a credit card.
Instead, owning a mini bags seems to have gained popularity due to its celebrity following and the attention wearing one garners. According to Purse Blog, A-listers from Megan Fox to Mandy Moore have been spotted toting the tiny trend.