The Truth About Hyeri And Ryu Jun Yeol's Relationship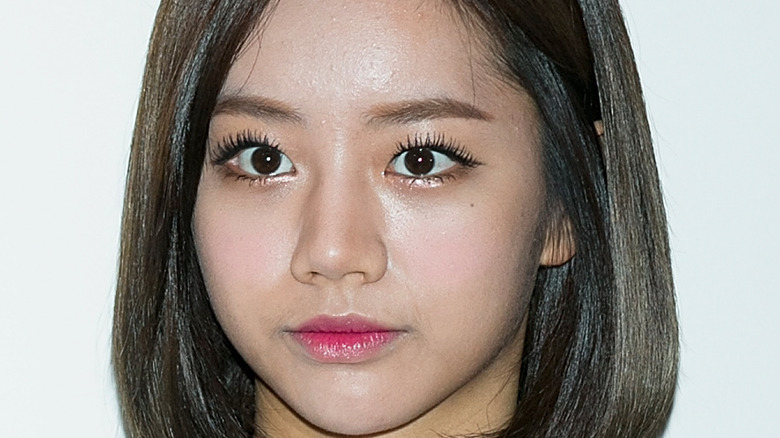 Han Myung-gu/Getty Images
Actors Hyeri and Ryu Jun Yeol first met on the set of the Korean drama "Reply 1988," where they played childhood friends. 
The show premiered in November 2015, and it wasn't long before fans were shipping their two characters, Jung Hwan and Deok Sun. The show came to an end one year later, which proved to be emotional for Hyeri. 
"While she was preparing to act as Deok Sun, she also personally felt like she was saying goodbye to Jung Hwan," Ryu revealed (per Cosmopolitan). "She probably felt like she wouldn't be able to interact with Jung Hwan in the future, and she cried a lot because of it. She cried to the point where we weren't able to continue filming."
The pair continued to cross paths over the next year, with the "Reply 1988" cast holding a concert for fans at Kyunghee University as well as Hyeri and Ryu winning an award at the tvN10 Awards. 
By August 2017, rumors swirled that Ryu and Hyeri were dating after she was caught visiting his home (per Soompi). Ryu's reps confirmed the news shortly after. 
"Ryu Jun Yeol and Hyeri recently progressed from being friends to a couple, and they are still in the early stages of their relationship. We apologize to the fans for these surprise dating reports," the statement read. "We ask that people watch over them warmly as their relationship is still in the early stages. Thank you."
Hyeri and Ryu Jun Yeol's costars had no idea they were dating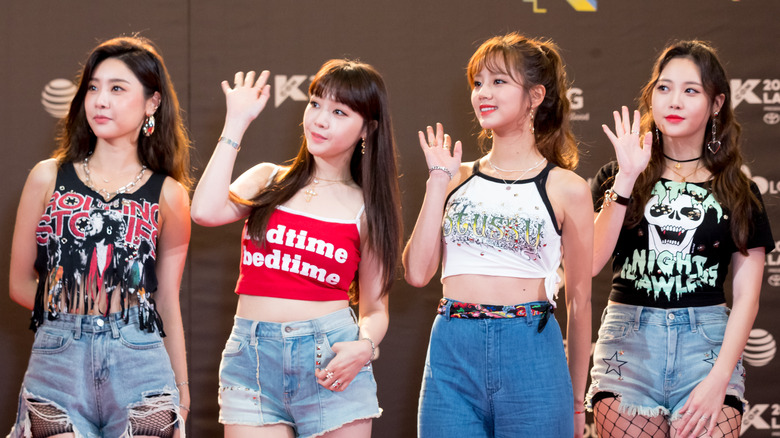 Greg Doherty/Getty Images
When it was confirmed that Hyeri and Ryu Jun Yeol were an item, fans weren't the only ones who were shocked. Their "Reply 1988" costars were just as surprised. 
"I had no idea that they were dating," Go Kyung Pyo said (per Soompi). "It was a shock to me as well, because it wasn't apparent. I think no one knew about it." He added: "I hope they're able to date without concerning themselves with other people's thoughts."
Hyeri and Ryu's romance didn't slow down their careers. He has gone on to star in television shows like "Lucky Romance" and "Lost" as well as films such as "The King" and "Little Forest" (per IMDb). 
And Hyeri has not only acted in shows "Two Cops" and "My Roommate Is a Gumiho" (per IMDb). She is also a member of the K-pop group Girl's Day. 
"Although we're busy, we're happily dating," she said (per Cosmopolitan). "I think I meet him as much as I meet the Girl's Day members." 
That doesn't mean the relationship doesn't have its ups and downs. When asked about how she feels about Ryu, Hyeri was honest. "It depends, but sometimes he's cold and sometimes he's warm," she said (per Soompi).
Rumors that the two broke up were put to rest
There were rumors in 2020 that Hyeri and Ryu Jun Yeol had broken up after they weren't seen together for most of the year. Viewers also noticed the onscreen chemistry between Hyeri and her "My Roommate Is a Gumiho" costar Jang Ki Yong. 
"Viewers talked a lot about our chemistry, and I was really grateful," said Hyeri (per Soompi). "The director, Jang Ki Yong, and I all thought a lot about how the chemistry between the two of us might be the governing force behind this drama. Since people really liked [our chemistry], I feel like we might have at least half-succeeded."
But Hyeri was also quick to thank her boyfriend for all of his support while she was filming the show. 
"I feel so grateful to him for watching every episode, without missing a single one," she said. "He's always very supportive and understanding. He always makes me feel respected, and I'm very grateful for that."
The breakup rumors were seemingly put to rest when the two posted photos on Instagram that hinted they were in the same location, and they were snapped out on a date in June 2021 (per Cosmopolitan).