Here's How Cameron Diaz And Nicole Richie Are Actually Related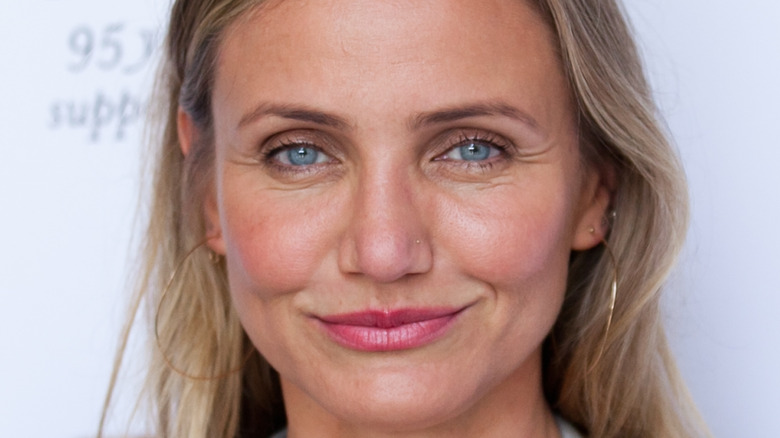 Tibrina Hobson/Getty Images
Cameron Diaz and Nicole Richie are each celebrities in their own right. Diaz has been a household name in Hollywood since the early 1990s, after starring in popular films like "The Mask," "There's Something About Mary," and "My Best Friend's Wedding," via IMDb. Richie rose to fame in the early 2000s after appearing in the reality TV show "The Simple Life" alongside Paris Hilton, per Harper's Bazaar. Though Diaz and Richie walked different roads to stardom, they've managed to create lasting careers for themselves by branching out into creative ventures over the years.
Richie launched her prominent lifestyle and fashion brand House of Harlow in 2008, according to its official website. Diaz established herself in the worlds of health and wellness by penning two books — "The Body Book" and "The Longevity Book" (in 2013 and 2016, respectively), according to Rolling Stone. The outlet also notes that the actor ventured into winemaking, and created a line of organic wines with her business partner, Katherine Power. The company, titled Avaline, has become a passion project for Diaz since her retirement from acting. Both Diaz and Richie seem to move in completely different (albeit successful) circles, which is why fans were surprised to learn that they are related. If you're equally taken aback by the news, we've got all the insider info to bring you up to speed.
Cameron Diaz and Nicole Richie are related by marriage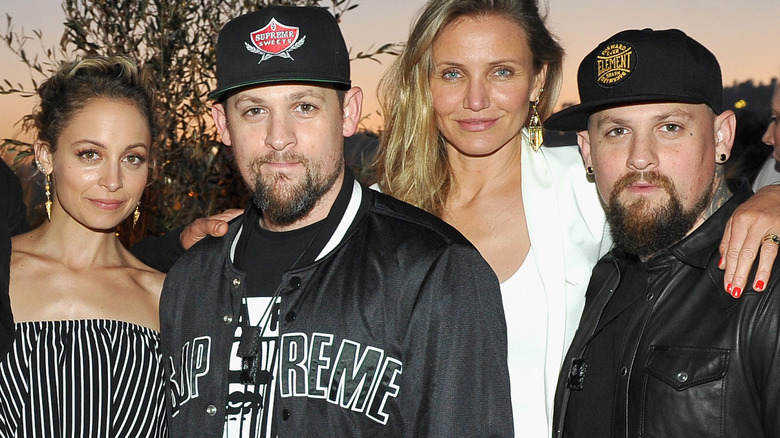 Donato Sardella/Getty Images
As Newsweek details, the celebrity world is a small one, and many of our favorite A-listers are even related to one another. Fans were astonished to find out that Cameron Diaz and Nicole Richie are actually related by marriage. In 2020, writer Ashley Fern reminded the world of this fact when she wrote, "Nicole Richie & Cameron Diaz are sister-in-laws and I feel we don't talk about it enough," via Twitter. Per News.com.au, the tweet was reposted by the @betches Instagram account, prompting a cute reaction from Diaz herself. The "Vanilla Sky" actor commented on the post with a twin emoji, followed by the mind blown emoji and two winky faces, before tagging Richie in the comment. 
Clearly, it was an "aha" moment for fans who didn't immediately realize how the two women were related. According to Us Weekly, Richie wed Good Charlotte frontman Joel Madden in 2010, and the pair share daughter Harlow and son Sparrow. In 2015, Diaz married Joel's twin brother, Benji Madden, per Us Weekly. In January 2020, Diaz announced that she had given birth to a daughter named Raddix, making Richie not only Diaz's sister-in-law, but also an aunt to Raddix. Though Diaz and her husband keep their relationship under wraps, they often spend time with Richie and Joel. Glamour notes that Diaz and Richie are reportedly close friends — and now that Diaz has a little girl of her own, the two women bond over parenting.
Cameron Diaz and Nicole Richie are closer than you might think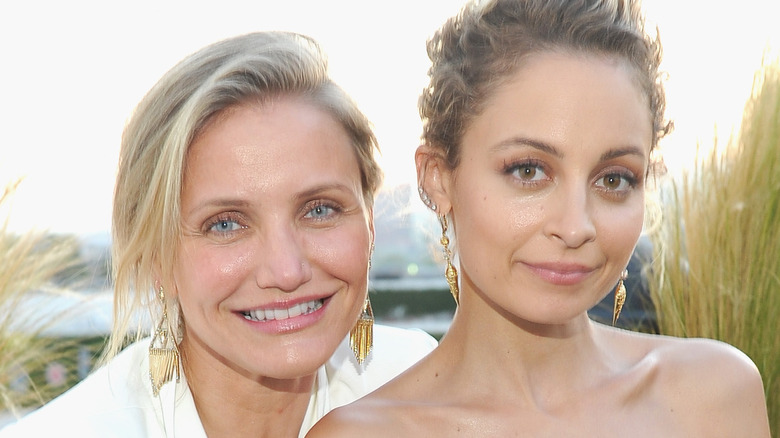 Donato Sardella/Getty Images
Despite the fact that Cameron Diaz and Nicole Richie rarely acknowledge the fact that they're sisters-in-law, the two are much closer than their public lives suggest. During an appearance on "Watch What Happens Live with Andy Cohen" in 2014, Richie was asked about Benji Madden's relationship with Diaz. Richie sweetly replied, "I approve of anything that's going to make Benji happy," before adding "I am a devoted sister-in-law. I'm happy for anyone who is happy, and I want everyone to be surrounded with love."
Diaz, who is seemingly the more private of the Madden wives, did reveal an amusing anecdote about Richie during an interview on the "Everything Iconic with Danny Pellegrino" podcast in 2020, which marked one of the first times she spoke publicly about her famous sister-in-law. During the conversation, Diaz was asked if she preferred Ashlee or Jessica Simpson, and Diaz replied by saying that Richie actually still watches old episodes of "The Newlyweds" with Jessica and Nick Lachey (via Glamour). As to whether Richie and Diaz watch reruns of "The Simple Life" together ... that question has yet to be answered.