The Best Ways To Achieve A Natural Summer Glow In Winter
Irina Bg/Shutterstock
We're right in the thick of winter right now, and your skin may or may not be looking the part. While cold weather does wonders for sleek hair (even if it does come with certain dreaded flyaways), it's notoriously difficult on the skin. Wintertime drearies are made up of more than just too much time spent at home watching old holiday movies under a blanket and wishing you were somewhere tropical. The season can make your complexion look patchy, flaky, and downright dry. Meanwhile, humid summer is the antidote for dry skin, helping complexions look and feel more hydrated and glowy from within. If you're currently suffering from winter skin and dreaming of a summer glow, you're not alone. Many of us are on the same boat right along with you!
The perfect summer glow is a multifactorial occurrence, and it is pretty much also known as the best thing ever. First off, the season's hot humidity makes sure your face never loses moisture, even if it may come with a bit of sweat and oil in the process (here, we call that natural highlighter). While we nix our highlighter sticks for the real deal, a summer glow is of course also made up of an epic tan. This usually comes from spending a few hours at the beach or pool on sunny days, even if you piled on all the SPF you could. Missing summer just a bit? Here's how to recreate a warm weather glow at the height of winter.
The best ways to achieve glowy skin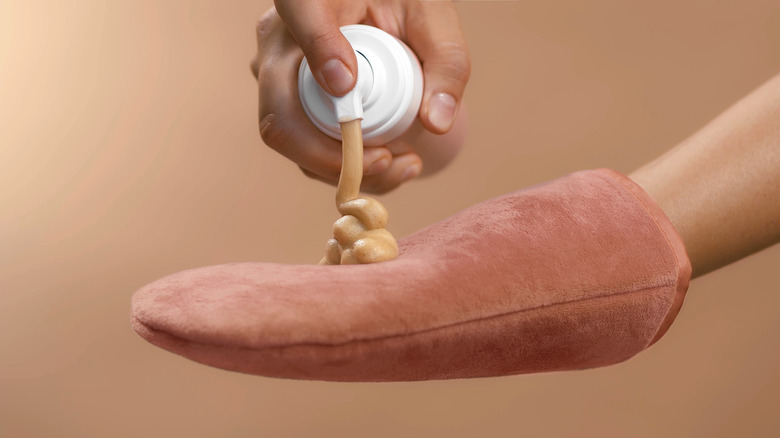 Beauty Stock/Shutterstock
So, how can you get an enviable summer glow even when it's less than 40 degrees? You should start with the right skincare that will build a glow from within, and make people stop in their tracks to ask how you manage to shine so bright — even when you don't have makeup on. As explained by Allure, dermatologists' and insiders' top glowy skincare trick lies in the great powers of vitamin C, a powerful workhorse antioxidant that reduces dark spots and makes your collagen production go into overdrive. Director of cosmetic and clinical research Joshua Zeichner, M.D. told the outlet, "vitamin C is a key component to many skin-brightening regimens, as it interferes with pigment production and keeps inflammation at bay." So yes, the right vitamin C serum will make your skin brighter in no time, and allow you to fake a fantastic summer glow.
Apart from keeping a consistent cleanser, serum, and moisturizer routine without forgetting about a brightening eye cream, sometimes we have to do what we have to do — aka resort to fake tanning. While you might wince at the thought, bronzing your face can look extremely natural, further defining your features and giving your skin the glowiness you crave. We suggest gently exfoliating your face first (steady chemical exfoliants are usually best), and applying just a dash of facial tanning cream for optimal brightness. You can also go for skin-friendly tanning drops that are easily mixed into a moisturizer.