Dr. Fauci Lashes Out About Pushback To COVID Safety Measures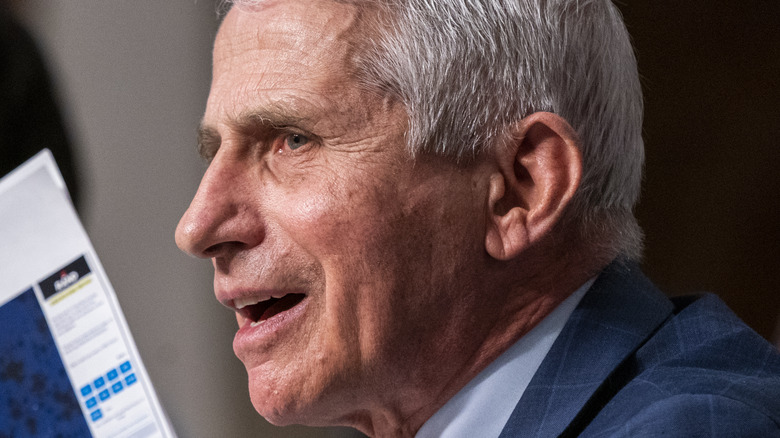 Pool/Getty Images
Since the coronavirus pandemic first shut down the world and turned lives upside down across the globe in March 2020, many Americans have denounced the safety measures put in place by federal, state, and local governments — as well as advice given by the Centers for Disease Control and Prevention. 
Refusing to wear a mask seemed to be a badge of honor for former President Donald Trump, who frequently held White House events where masks were optional. He also defiantly ripped off his mask on the White House balcony the night he returned there after being hospitalized for COVID-19, according to CNN.
Once vaccines were available, many Americans refused to get one, and, as of this writing, only 63% of those eligible have been vaccinated (via The New York Times) against a virus that has claimed nearly 1 million American lives in under two years. 
Through it all, Dr. Anthony Fauci, the longtime director of the National Institute for Allergies and Infectious Disease, has done his best to advocate for simple safety measures — especially since Joe Biden was sworn in as president — and is perplexed why people just can't follow them.
Dr. Fauci wishes society would pull together to combat COVID-19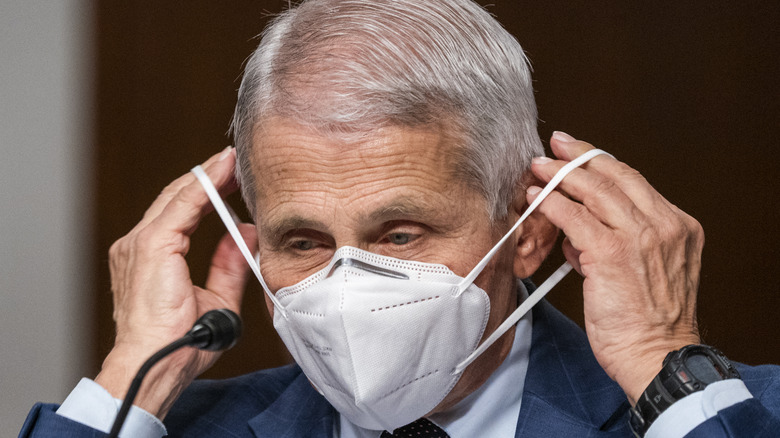 Pool/Getty Images
As chief medical advisor to President Joe Biden, Dr. Anthony Fauci appeared at a virtual meeting of the World Economic Forum where COVID-19 safety measures were discussed. 
He urged people to work together to combat the virus nearly two years into the pandemic.
"If we all pulled together as a society, we would be much, much better off," Dr. Fauci said (via Business Insider). "It's very disturbing, I believe to all of us as public health officials and scientists, such a degree of pushback against regular, normal, easy-to-understand public health measures." 
He added: "Reluctance to wear masks, reluctance to promote vaccination, reluctance to do kinds of public health measures... You make the virus have an advantage when you don't implement, in a unified way, all the very well-recognized public health measures — particularly the vaccines."
While making his remarks, Dr. Fauci used the United States as an example of a country that seemed prepared for a pandemic but wound up with a record number of cases.
"Even for a rich country like the United States, that supposedly was the best-prepared country for a pandemic, we are among a handful of the countries that have actually suffered the most," he said. "When you look now at the 65 million cases and the close to 900,000 deaths in our country, that is really, truly unfortunate, and something that we would have hoped would have been avoided."