Jodie Sweetin Shares Happy Relationship News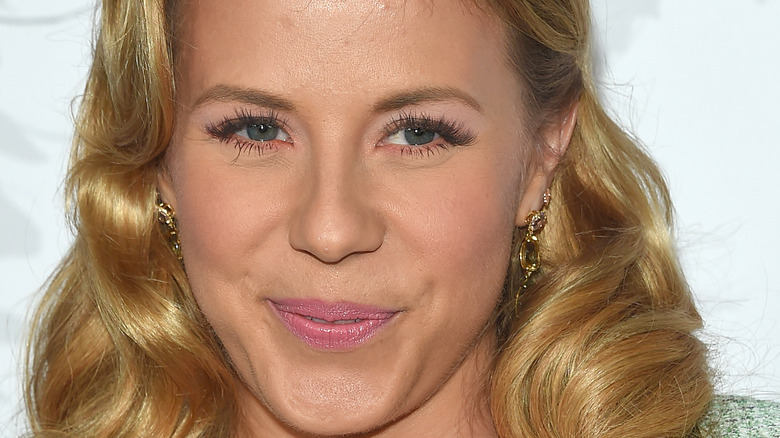 DFree/Shutterstock
Jodie Sweetin has been on an emotional rollercoaster over the past two weeks. The "Full House" alum was just one of many who spoke out in sadness after the news of her co-star Bob Saget's death was confirmed on Jan. 9, 2022. Following Saget's passing, Sweetin took to her Instagram account to share her sorrow and honor her late TV father (via Us Weekly).
"Bob was a wonderful human being. A human being that could drive you nuts at times, and he knew it, but who was so genuine that you couldn't even get that frustrated. Someone who would also call and profusely apologize for at LEAST 15 minutes if he thought he MAY have perhaps said something he shouldn't have or thought maybe he took a joke too far," the actress wrote. "He was a genuinely kind spirit who made it through so much in his life, and was most happy when he was helping others. Whether it was personally or through SO many of his different avenues of philanthropy. He gave great hugs too," she added.
While it's been a week filled with sadness for Sweetin and her "Full House" co-stars, the actress is now celebrating some good news with her loved ones as she and her longtime love Mescal Wasilewski are taking the next step in their relationship.
Jodie Sweetin is set to walk down the aisle again
Jodie Sweetin is happily engaged. The "Unsweetened" author announced that her boyfriend Mescal Wasilewski popped the question this week by sharing a photo of the couple to her Instagram account (via People). The "Fuller House" star showed off her stunning engagement ring as she smiled happily in the photo alongside her future husband. "In all the world there is no heart for me like yours. In all the world there is no love for you like mine," Sweetin captioned the post. "I love you Mescal, for always. You're my person. I can't wait to see the life that lies ahead for us," she added. "Here's to us, @ghostfacelito and our life of adventures. Together. I think I'm really gonna like turning 40."
This will mark the fourth marriage for Sweetin, who previously walked down the aisle with first husband Shaun Holguin in 2002 (via Amo Mama). She later wed Cody Herpin in July 2007, whom she shares her daughter Zoie with, before calling it quits in November 2008. In 2012, the actress married Morty Coyle, the father of her daughter Beatrix. She later filed for divorce in 2015.
Sweetin and Wasilewski have been together since early 2018. "Find someone who you can share this kind of love with... Someone who doesn't just show you they love you one day a year. Who isn't afraid to look silly when they tell you they love you," the actress captioned her first post of herself with Wasilewski.