The Rivalry Between Donald Trump And Ron DeSantis Is Heating Up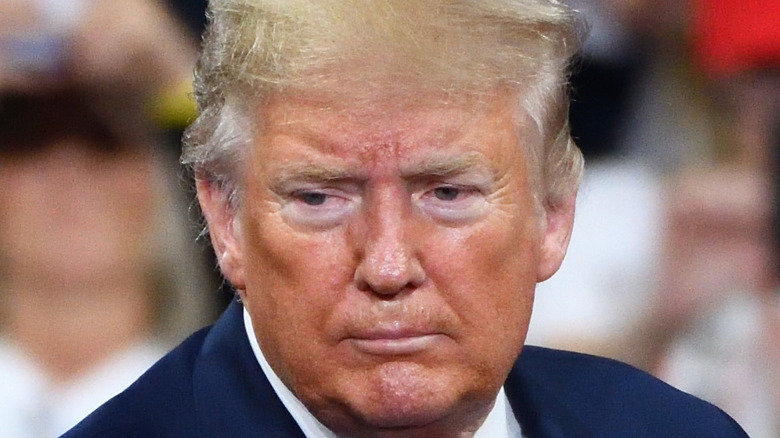 Evan El-Amin/Shutterstock
It was once believed that former President Donald Trump and Florida Governor Ron DeSantis were friends. When DeSantis was running for governor in 2018, he was trailing behind his opponent, Adam Putnam (via Vanity Fair). That is until the then-president gave his support to DeSantis. Suddenly, he was up 12 points in the polls and would go on to win the race.
While things looked great between the two in the public eye, it seems the pair are less friendly behind the scenes. It seems the pair are at odds with each other as it is expected they are both going to attempt a run for the Republican presidential candidate in the upcoming 2024 election.
It is clear DeSantis is trying to win over the most intense of Trump fans, stating that he regrets not speaking up against Trump's COVID-19 stay-at-home policies (per CNN). However, there is more than just COVID-19 disagreement between the pair. It seems the rivalry is heating up as the election draws closer.
DeSantis will likely run against Trump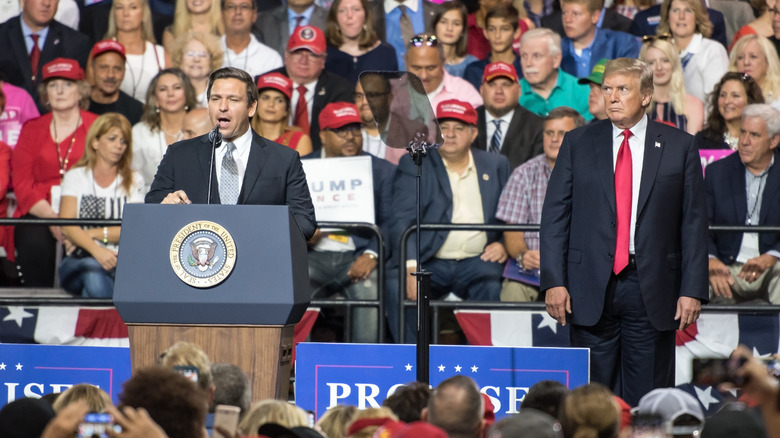 jctabb/Shutterstock
It is clear the drama between Trump and DeSantis is heating up. Many Republicans have stated that they will not run in the upcoming primary election if Trump is (via The Huffington Post). DeSantis is not one of those Republicans. It seems more obvious than ever that DeSantis will be running and Trump isn't happy about it. Trump allegedly said, "I wonder why the guy won't say he won't run against me" (via the New York Times).
DeSantis and Trump are among the two most popular Republicans and share the same base (via Axios). Republican donor Dan Eberhart shared that DeSantis would be the perfect candidate if Trump doesn't run. "DeSantis would be a formidable 2024 candidate in the Trump lane should Trump not run," adding, "He's Trump but a little smarter, more disciplined and brusque without being too brusque."
Due to comments like this, Trump is not happy with DeSantis, especially because it seems he is gearing up to run against him. While DeSantis has said that the drama between himself and Trump was made up by the media, Trump seems to have taken it more to heart. He has called DeSantis "dull" and has been commenting on how he would beat him in the polls as early as last year (via Yahoo!).
The Republican primary race is going to be one to watch!