A Florida Mayor Is Coming For Ron DeSantis Over This COVID Development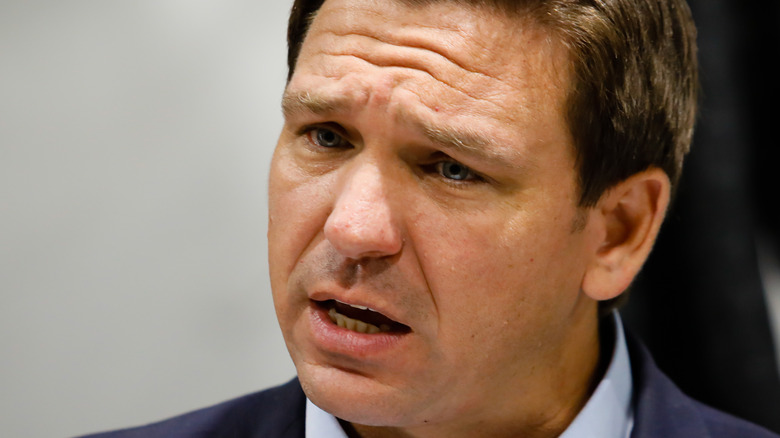 Bloomberg/Getty Images
According to NPR, the United States just hit a sobering new milestone, recording 280,000 cases of COVID in the past week, which is an all-time high. USA Today reports that states including New York to Florida have the most cases, and as such, leaders in these areas are facing tough questions about how they plan to rein in those scary numbers. New York Governor Kathy Hochul has certainly been at the receiving end of criticism over her handling of rising COVID cases (via U.S. News & World Report). Specifically, her mask mandates do not enjoy unilateral support.
And now, not surprisingly, Florida Governor Ron DeSantis, whose COVID policies have long divided the nation, is going to have to answer to people who are worried about the latest uptick in cases in his state. Orange County Mayor Jerry Demings is calling out the Republican leader asking, "Where are you now?" (via Local10.com).
Demings' harsh words come as he notes about DeSantis, "He signed into law legislation that effectively prohibited local governments from being able to take charge and lead in our fight against COVID-19." He is referring to the governor's measures limiting mask and vaccine mandates (via Forbes).
Ron DeSantis has a lot of tough questions to answer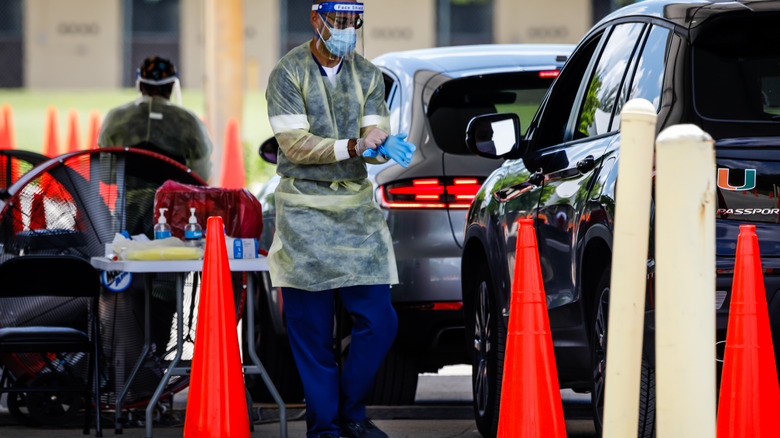 Bloomberg/Getty Images
As the Orlando Sentinel reports, Demings is asking why DeSantis has not held a briefing updating Florida residents about surging cases of the omicron variant in the state. To be fair, DeSantis spoke about the pandemic on December 17 during a briefing promoting a monoclonal antibody therapy.
Meanwhile, the outlet also explains that previously, the state provided testing sites, while now, the burden is on local communities to set up testing. The Hill confirms counties have not received funding for testing from the state of Florida as omicron rages. Long waits at existing testing sites have been widely reported.
In response to criticism, a spokesperson from the Florida Department of Health said in an email, "As of today, as a result of the collaboration between the Department of Health in Orange County and the Orange County government, there are no unmet resource requests — from municipalities, hospitals or private practices."
Still, over on Twitter, DeSantis is facing heavy criticism, with one person tweeting, "Ron DeSantis is MIA — I'm going with he's tested positive for Covid." And someone else simply wondered, "Where is Ron DeSantis?"