The Secret Trick Jeopardy! Champs Use To Get An Advantage In The Game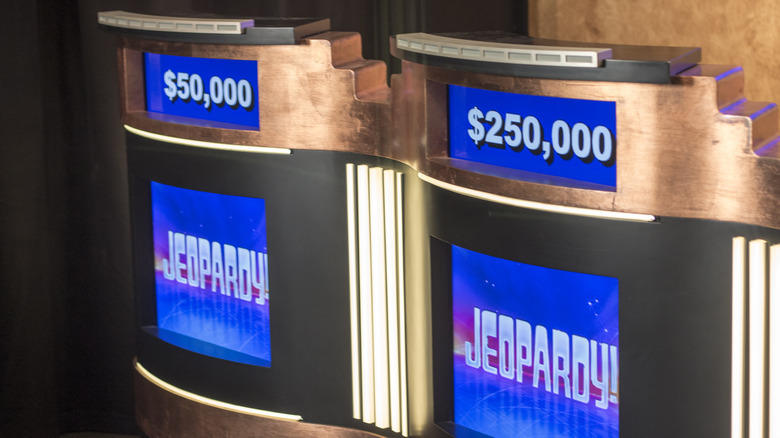 Ryan J. Thompson/Shutterstock
Even after more than five decades on the air, "Jeopardy!" refuses to show its age. Sure, the set and the technology may have been updated a bit since 1964, but the iconic game show maintains its original premise: Three contestants battle it out to see who can recall the most trivia (in the form of a question, please) about history, geography, pop culture, and other topics (IMDb). Even after the death of beloved host Alex Trebek — who has yet to get a permanent replacement — "Jeopardy!" remains must-see viewing for millions.
Over the years, hundreds of players have had their turn behind the podium, and some have even had the privilege of winning a game or two. But only a handful of contestants have joined the pantheon of super-champions: Brad Rutter, Ken Jennings, Matt Amodio, James Holzhauer, and now, Amy Schneider, the best all-time woman winner rapidly making her way up the ranks (via Us Weekly).
Contrary to popular belief, "Jeopardy!" contestants aren't informed in advance about the subject categories in their games. If you're chosen for the show, you have to be prepared to answer questions on everything from world capitals to the Grammy Awards to 12-letter words. It might seem impossible to prepare for a game that requires such a broad knowledge base. But, as it happens, there is a resource that past players have used to gain an advantage when the cameras roll.
"Jeopardy!" players can study past clues
It certainly helps to be a trivia maven to become a "Jeopardy!" contestant, and indeed, there are people who just happen to have a lot of useless facts stuck in their brains. But even top players don't know everything; so before their scheduled taping, many contestants study topics they think might come up on the game. Past contestant Jeffrey Williams told the New York Post that before his "Jeopardy!" appearance, he took a tip from past champion James Holzhauer and bought some elementary school-level books on history and geography. "Holzhauer correctly pointed out that if you understand how the clues are written, a children's-level understanding of the topics provides big enough signposts to get you into the ballpark of an answer." 
Twelve-time winner Austin Rogers told the paper that his chosen resource was J! Archive, a website that contains more than 30 years' worth of "Jeopardy!" clues and answers. He explains that the same answers tend to come up multiple times: If a clue calls for naming a "Cubist painter," the answer is almost always "Picasso"; clues about playwright Thornton Wilder are usually about his famous work "Our Town."
Dedication is also key: Williams spent 90 minutes a day going over J! Archive in the three months prior to his appearance (via New York Post). Sounds extreme? Maybe, but then again, there's a lot at stake. Big winners like current champ Amy Schneider can take home more than $1 million, plus bragging rights for life.