How To Keep Your Sherpas From Matting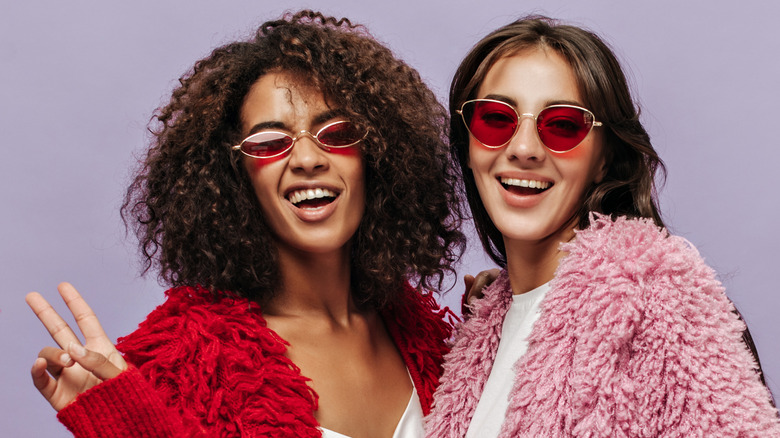 Look Studio/Shutterstock
Sure, your favorite sherpa is hella cozy, but did you know it's named for Nepalese people who're known for their extraordinary mountaineering skills? Sherpas often work as guides on treacherous Mt. Everest climbs and, according to NPR, have incredible strength and endurance. Though our day-to-day lives are a far (far) cry from a sherpa's higher calling, the fabric known as sherpa is a nod to the natural woolen — and very insulating — clothing worn by these respected guides.
According to Living Textiles, most sherpa-style fashion garments are made from cotton or synthetic fabrics. The thickly piled material replicates the authentic wool's properties, so it's very warm. However, the downside is that those pillowy fluff-bundles tend to get matted down. No big deal for a kick-ass sherpa on an against-all-odds climb, but ya, a total bummer for that sherpa shacket you just splurged on. 
Luckily, there's an easy way to maintain your sherpa. In fact, you can extend the beauty and wearability of your sherpa for less than $10.
Use this easy method for keeping your sherpa clean and fluffy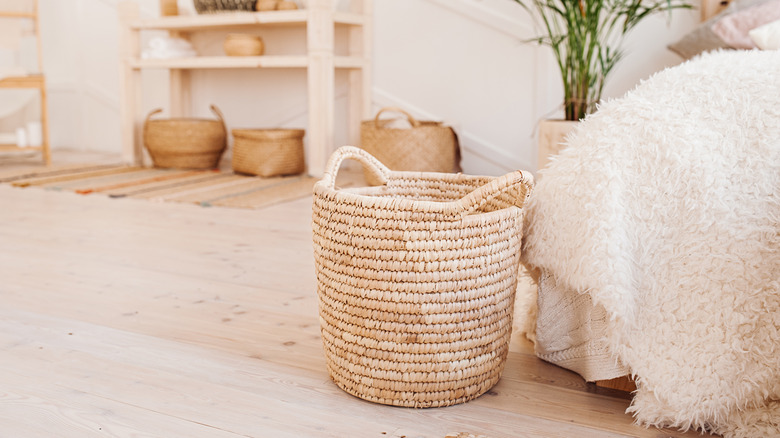 allme/Shutterstock
Sherpa's signature piles of fluff can get matted down over time — especially if you toss it in the washer and dryer with your regular load of laundry. However, you can keep it looking good as new with a few easy tricks. First, be sure to wash it in cold water — on the delicate cycle — using only a mild detergent, according to the experts at Online Fabric Store. And although it's tempting, they also advise against using any kind of fabric softener. 
Also, a hard no? Don't even think of putting your sherpa in the dryer. Instead, when your sherpa garment or cozy blanket comes out of the wash, you'll want to spritz it with a special mix of water and hair conditioner. Using a spray bottle, mix together two cups of water and one teaspoon of hair conditioner. Shake it up to be sure it's mixed well, and then lightly spray the sherpa. From there, use a boar's bristle brush to comb out any matted areas.
A boar's bristle brush can help save your favorite sherpa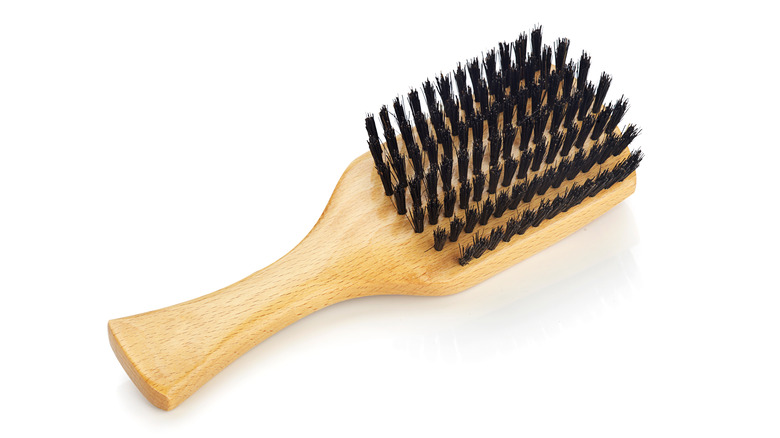 Deeanna Williams/Shutterstock
A boar's bristle brush is pretty much exactly what it sounds like — a brush whose bristles are made from boar's hair. In the nursery rhyme "This Little Piggy Went to the Market," they should have added, "...and this little boar went to the hair salon." The brushes are lauded by haircare pros and, as shared by Cosmopolitan, are used for various hair types. According to the hair experts at Prose, boar's bristles are excellent at detangling hair. Along the way, this wisdom has been incorporated into sherpa maintenance as well.
In fact, let's say you have a sherpa hanging in the closet that needs some serious TLC. No worries. According to Brooklyn Farm Girl, you can just level up your sherpa detangling mixture. She suggests using a 1:1 ratio of water and hair conditioner to boost the benefits. Her post also demonstrates how well the combination removes lint and fuzzies.
When you're done gently washing and detangling your sherpa, there's one last important rule. Let your sherpa air-dry, knowing you'll get its trendy, snuggly benefits for years to come.