2020 Holiday Gifts Every Woman Is Dying To Unwrap This Year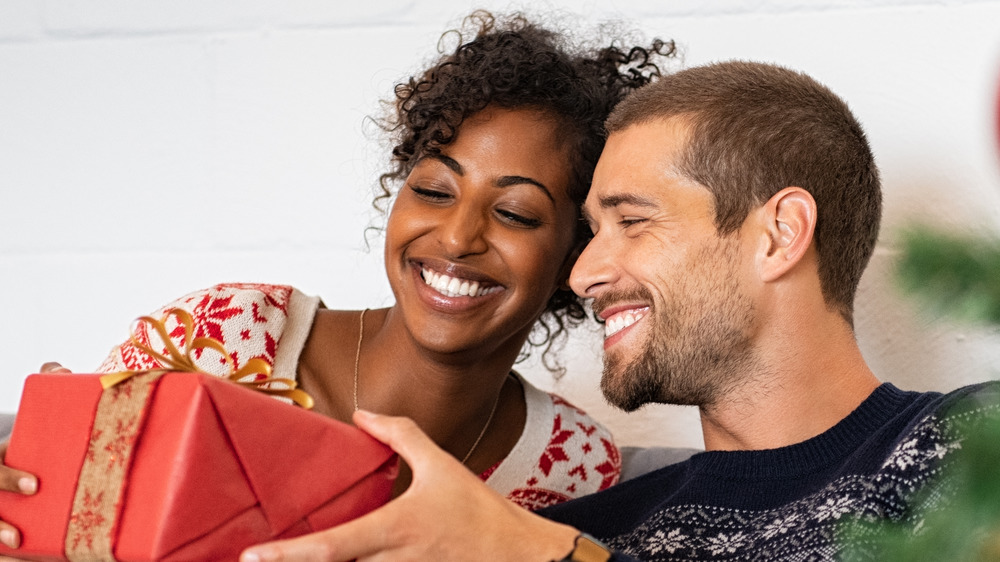 Shutterstock
We may receive a commission on purchases made from links.
Struggling to figure out holiday gift ideas for women? You're not alone, especially considering the year 2020 has been an interesting one. With the holidays just around the corner, this is the year to go all out on the gift giving because what better way to wrap up a difficult year than with great holiday presents? Whether you celebrate Christmas, Hanukkah, Kwanzaa, Three Kings Day, or just the winter season in true Hallmark holiday movie form, the right gift can make all the difference.
But some of the hardest people to shop for are women. No matter if shopping for your mom, sister, wife, girlfriend, potential girlfriend, or the label-less lady in your life, coming up with the perfect gift can seem next to impossible. What if they have really specific taste in jewelry? Or what if they hate one particular scent of body lotion and you can't remember which one? What if you get them a gift and they only pretend to like it? 
If you're finding yourself struggling to come up with the perfect gift, worry no more because we have come up with the ultimate guide. So whether your lady is a coffee drinker, is in love with soft blankets, or is looking for a great book to read, look no further because here are the 2020 holiday gifts every woman is dying to unwrap this year.
Treat the lovely lady in your life to a piece of chunky gold jewelry
Jewelry is hard to get right when it comes to holiday gifts. Women have varying tastes; some prefer rings, while others like necklaces. But don't worry because these options are guaranteed to please. Chunky gold jewelry is all the rage and is one of the fashion trends that is going to take over in 2021 — so you can't go wrong. Every woman would be thrilled to get this chain link ring from designer Gorjana or the necklace that matches it. And good news for you — each piece is only $60. 
If sustainability is important to the lady in your life, look no further than this necklace from Laura Lombardi. The "Franca" necklace is made up of chunky gold hoops and sits just below the neck. The best part: Lombardi uses recycled materials and creates every piece of the collection in a New York City studio. So if the jewelry being sustainably and locally sourced is just as important as the look of it, this is a great option. No matter what chunky gold piece you choose, it'll be a win for you.
Every woman will want to open this skincare set come Christmas
Here's an area of self-care that most people don't get right when shopping for women: skin are. Women love to splurge on skincare, but many are specific with what they like. So in order to please every woman in your life this holiday season, stick to this five-piece, limited edition skincare set from First Aid. You really can't go wrong with this one. 
The products are meant for all skin types, they're vegan and cruelty free, and they come in recyclable packaging. So what's included? Pure Skin Face Cleanser, Facial Radiance Pads, Ultra Repair Cream, Eye Duty Niacinamide Brightening Cream, and Ultra Repair Lip Therapy. The best part of this gift though, even with all the goodies that come with it, is the price. If men know one thing about skincare, it's the crazy price tag often attached. But this five-piece set is only $49 at Sephora, which is crazy considering that all together the products are worth $127. And if you want to save even more money, don't go shopping at Sephora until you read this. 
So if gifting skincare products stresses you out, don't worry — because this set has got you covered.
This puzzle will be the perfect holiday gift for your favorite feminist
Finding an activity to keep your mind occupied while spending a lot of time at home has been tough. A lot of us watch television, others have picked up hobbies, and most of us have just been snacking. But this holiday gift, perfect for the feminist in your life, will be the best activity for 2021. 
The "Nevertheless She Persisted Notable Women" puzzle from World Market is a gift that so many women will want to open. The 1,000-piece puzzle is a collage of 24 role models who "have changed the world over the past 150 years." Some of the icons included are Betty Friedan, Malala Yousafzai, Harriet Tubman, and Marie Curie. 
To top off the collection of female portraits, the puzzle also includes a description of each icon and short quotations from some of them. With women making their mark (we're looking at you, Vice-President Elect Kamala Harris) this gift will be perfect for the woman in your life who was glued to CNN during the election, who cried when Hillary Clinton lost the presidency, and who has been a role model herself.
Mental health is important, so gift her a subscription to Headspace this holiday season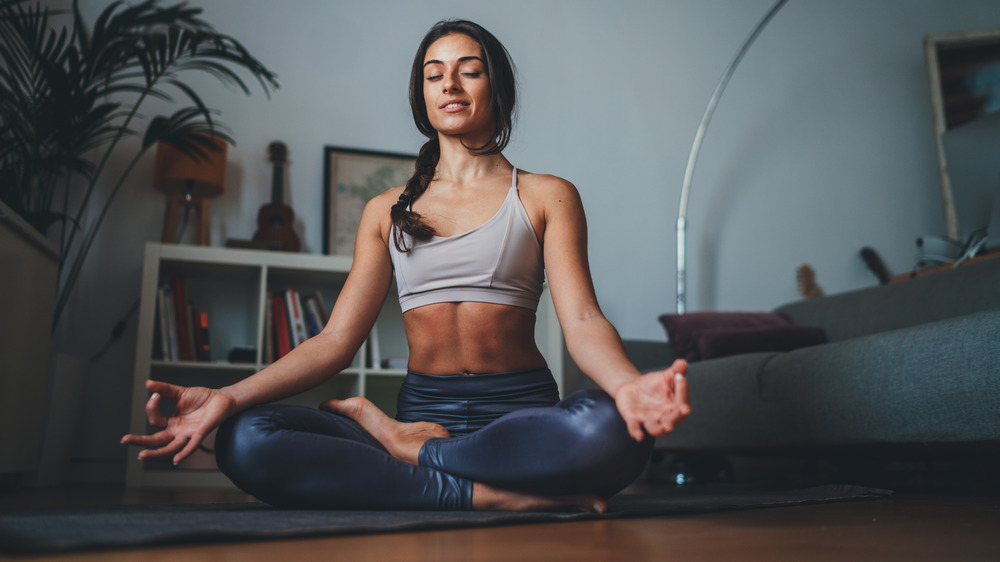 Shutterstock
The year 2020 has been full of stress, so it's no wonder that a lot of us are seeking out ways to help us relax at the end of the day. If the lady in your life is looking to let go her built-up tension, give her a yearly subscription to Headspace. Headspace has a lot to offer, and one of the best services it provides is meditation, and, as we know, meditation has scientifically proven benefits. As noted on their website, meditation is "a great place to start" that is "both a skill and an experience that can positively impact your overall health and happiness." So if that reminds you of a certain stressed-out lady, this gift might be the ticket. 
Headspace is now used in over 190 countries with the mission of "improv[ing] the health and happiness of the world." And not only would you be giving her the gift of calm serenity, but you wouldn't have to spend too much. The yearly subscription is pretty affordable. The full library with different courses, new daily meditations, sleep sounds, and exercises to make bedtime a bit easier is $70 for the whole year.
Sustainability is everything, and she'll love these fun reusable straws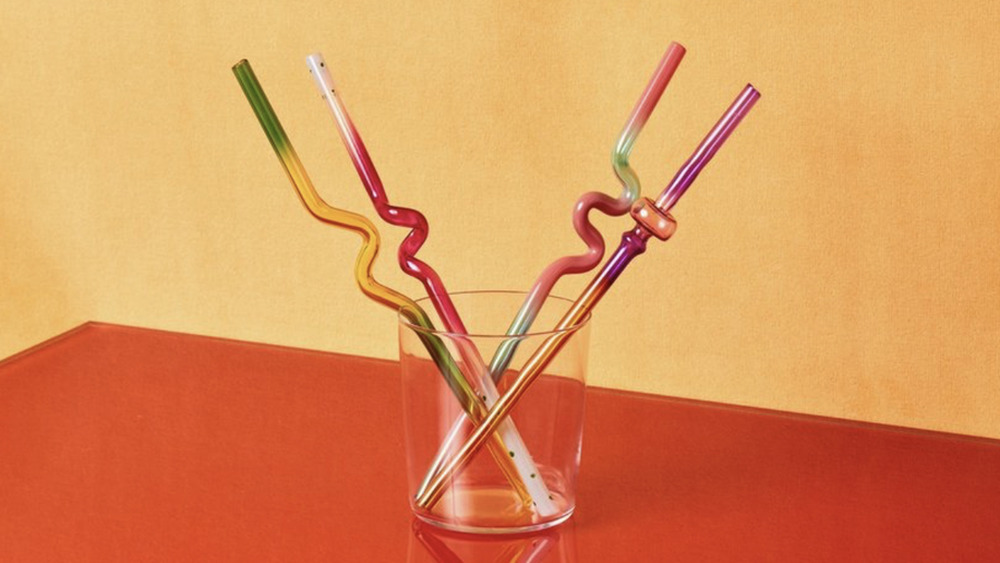 Coming Soon New York
Has anyone ever told you that sustainability is sexy? Well, it's true, and if saving the planet is important to the lady in your life, you really can't go wrong with these amazing reusable glass straws. Now we know what you're thinking — straws? As a gift, really? But yes, we're serious. 
These straws, the Suck It Up Collection, by designer Misha Kahn are almost more of an art piece than a daily product. Each straw is individually designed, "features unique color, size and shape," and comes in a leather case. The straws are "handmade and painted in Turkey" and are stunning — just look at the photo. So this really is a gift that can't go wrong. Not only are you giving a reusable item that the lady in your life will want to use over and over again, but you're supporting the global initiative to rid the world of single-use products. 
Each straw is $28, or you can buy the set of four for $100. We recommend the latter because this will be a holiday gift that every woman will want to show off.
Give her the gift of art and social justice with this amazing coffee table book
2020 has been a year promoting social justice, but activism shouldn't stop with social media. So for the holidays, the perfect gift for the woman in your life is this incredible coffee table book, Young, Gifted and Black: A New Generation of Artists: The Lumpkin-Boccuzzi Family Collection of Contemporary Art. Available on Amazon, it's a showcase of the art being created by young Black artists, and it also includes commentary from art curators. 
The book, edited by writer Antwaun Sargent, takes inspiration from the acclaimed art collection of Bernard I. Lumpkin and Carmine D. Boccuzzi and casts a new focus on the work of Black artists in a time where their contributions are poignant, reflective, and finally garnering the attention they deserve. As noted in the book's description, the "landmark publication ... illustrates what it means (in the words of Nina Simone) to be young, gifted and Black in contemporary art." So for the woman in your life who is committed to supporting Black artists and communities, as we all should be, this is a great gift for this holiday season. The hardcover is $49.95 on Amazon.
Madewell will provide the perfect 2020 holiday gift to make face masks trendy
Face masks are the thing for 2020, and it's likely that 2021 will also see the health-focused accessory. So for the holidays, gift the woman in your life a fashionable mask and jewelry-like lanyard to go with it — just because we're covering half of our faces, doesn't mean we don't want to be trendy. 
Fabric masks are available, and some of them are really cute, like this pack of three from Madewell. The masks are made of cotton and feature three layers of fabric and a filter. They easily go over the nose and under the chin and come in Madewell's favorite patterns and prints. You can also feel great about the purchase — since the pandemic started, Madewell and its sister company J. Crew have donated up to 75,000 face masks to New York's Montefiore Medical Center. We love a company that gives back. 
To top off a very useful gift, pair the masks with this gold paperclip chain lanyard, which goes perfectly with the accessory and helps you keep a mask on you at all times. What's great about it is that it can also be used as a strap for sunglasses and can be worn as just a necklace. 
For the ladies who are fans of a 5 o'clock glass of wine, this will be the perfect holiday gift
This is for the ladies who are 21 and over. One of the best holiday gifts you can give this year to any woman who loves to indulge is a thoughtful and indulgent gift. And this one has two parts to it, so pay close attention. First, start by gifting her a subscription to Le Cru, a wine delivery service that features bottles from winemakers across the world. You can choose one-of-a-kind bottles with the Piedmont and Catalonia curated cases, or you can pick your own selection of wines. The best part? Le Cru always has free shipping. This is a great way to indulge, and — bonus! — your favorite lady won't have to leave the house to get the wine she wants, as it'll be delivered straight to her door. 
And every great bottle of wine needs the glassware to go with it. So along with the subscription, treat her to these angled stemware wine glasses from Crate and Barrel. The "edgy silhouette with exquisite brilliance and clarity" of the Schott Zwiese-created glasses is sleek and sophisticated. You really can't go wrong.
Gift these enamel pins to your favorite lady so she can dress up her denim jacket
There's nothing better than the classic denim jacket. But this year, every woman will want to unwrap enamel pins that are perfect reflections of their personalities. Maybe the lady in your life loves plants, so go for a cute greenery pin. Or maybe she is really into social justice, and there are plenty of pins for that. Your best bet for great pins is to visit sites like Etsy that feature work from small-time artists, and with options like the following, you really can't go wrong. 
Opt for this really cute $20 pin that is two hands making a pinky promise — better yet, buy two and keep one for yourself. Maybe your favorite lady is really into astrology and all things witchy. If so, this $13 lunar phase enamel pin is sure to be a winner. And if supporting women's rights is right up her alley, go for this "Still I Rise" enamel pin inspired by Maya Angelou. All of these options are guaranteed to please and will serve as a sweet, personal 2020 holiday gift that only you can give her.
This cookbook will be the best holiday gift for the Queer Eye lover in your life
One of the best things to happen to the women of the world has been the reboot of Queer Eye for the Straight Guy. With beloved hosts, amazing heroes, and unbelievable transformations, Queer Eye is one of the best feel-good shows. As a result of the show's success, the series' food and wine expert Antoni Porowski has released a cookbook. Not only are the recipes original and full of flavor, but the book offers beautiful photos of food (and of Porowski).
Available on Amazon, this cookbook is bound to please everyone, even if cooking isn't their go-to hobby. As noted on Amazon, "some of the recipes in this book are weeknight healthyish meals, while others are perfect for off-the-cuff entertaining." Most of the recipes are made up of five products or fewer that combine to create some really beautiful (and tasty!) dishes. Best part? Even famed model and foodie Chrissy Teigen loves the cookbook — so the choice is simple. Buy this book and gift it to your favorite lady; it'll be such a pleaser.
For the woman who loves coffee, this will be the perfect Christmas gift
A lot of boss ladies love a good cup of coffee, but one of the biggest bummers is when coffee gets cold. So if this is a problem for the lady you're searching for a gift for, look no further because the Ember smart mug is the solution. This app-controlled coffee mug has an 80-minute battery life that keeps your mug at the perfect temperature. According to Amazon, it's one of the "most advanced coffee mugs on the market," giving you the comfort of knowing that your coffee is at the perfect drinking temp. After all, you don't want your cup to go cold, and you really shouldn't reheat your coffee in the microwave.
But what's a coffee mug without a French press for brewing? To complete this gift, add this classic Chambord French press that brews the perfect cup in just four minutes. The French press is such a great coffee system — it's easy, requires just coffee grounds and hot water, and is perfect for a caffeine-obsessed lady. Both products gifted together will be the perfect holiday present for so many women who so often run to Starbucks instead of making a cup of coffee at home, solely because they don't have the tools.
This throw and pillow combo will be the coziest holiday gift she gets
The great thing about the holidays is that the cold weather makes cozy presents like this one a perfect option. If you're looking for a 2020 holiday gift that says "cuddle up under this blanket," you're in luck. Every woman will want to open this alpaca throw in a gray stripe design from Anthropologie. According to the description, the throw is handmade in Peru and is oh so cozy and soft. 
And what's a blanket without the perfect couch pillows to go with it? These textured bobble pillows are so cute and fun, making for a unique take on a standard pillow. Each design varies slightly, given that the product is handcrafted, which is just another added bonus to an already really great gift. The textures of the blanket and the pillows will be so complementary that the lady in your life opening this gift will wonder how on earth you came up with such a great combination. So embrace the coziness of the winter and give a present that is guaranteed to make any woman smile.
Every woman with a green thumb will want this gift come Christmas
Indoor plants have always been a staple, but since the interior design trend is only getting more and more popular, every woman will love this gift this holiday season. From Anthropologie's sister store Terrain, this pothos plant in a hanging jute basket is such a great gift idea. There are a couple great things about this plant in particular: The pothos is super popular, it can be hung either indoors or outdoors, and all it really needs to thrive is water and direct sunlight. 
This gift is uniquely great as well in that the plant already comes in a really cute basket, so it's ready to hand off to the plant-obsessed woman in your life. So whether your favorite lady wants to hang a cute plant in the bathroom, dress up the kitchen, or add this plant to her growing outdoor garden, this is a great holiday present. If hanging plants aren't really her style, you could also opt for a fiddle leaf fig plant that comes in a jute pot. And if you come up with a good way to wrap these gifts, let us know. Every suggestion helps.
For the news junkie in your life, these subscriptions will be the best 2020 holiday present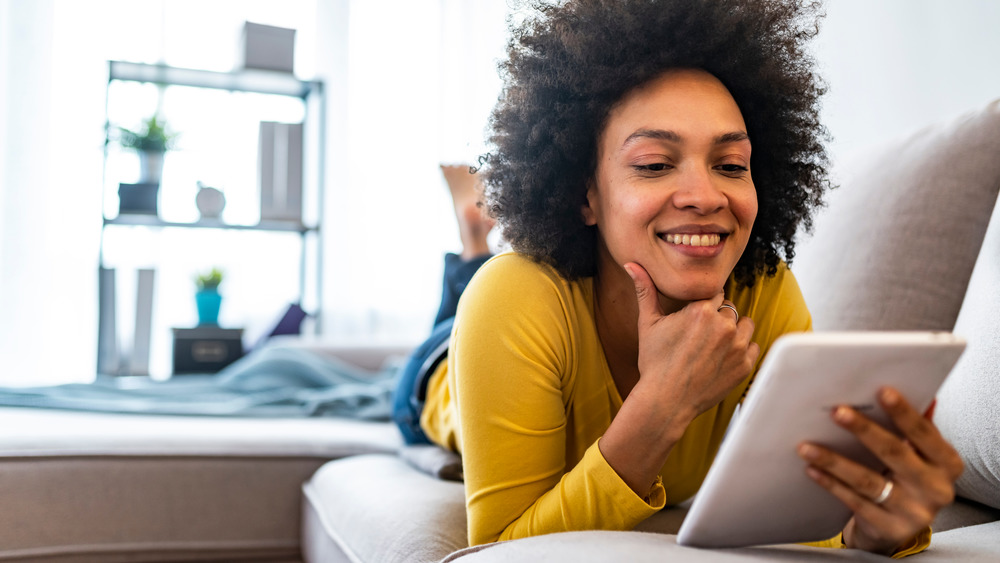 Shutterstock
Given that a lot of us are out of school with no plans of returning, subscriptions to newspapers and magazines are the next best thing. This holiday season give the gift of yearly subscription to publications like The New York Times, The Washington Post, and The New Yorker. These three publications vary in what they offer, which will make for some really great reads. 
The investigative work at The New York Times is groundbreaking and has given us some of the most revealing stories in 2020. The Washington Post has a whole section called The Lily that focuses primarily on telling women's stories. And The New Yorker features compelling long-form articles and some of the best editorial cartoons out there. With all three of these, you really can't go wrong. A subscription to The New York Times is only $1 per week for a limited time, The Washington Post is only $29 for the whole year, and The New Yorker is just $7.50 a month. This is a really affordable, yet thoughtful 2020 holiday gift that is sure to please.