Selling The Hamptons' Peggy Zabakolas Loves Friendly Competition - Exclusive Interview
discovery+
If you love reality television mixed in with a bit of real estate, your next binge should definitely be "Selling the Hamptons." The series follows six real estate agents as they sell some of the most expensive homes in the area. One of these properties happens to be the highest priced home that Peggy Zabakolas has ever tackled during her time working at Nest Seekers International — worth an impressive $35 million.
Zabakolas may be a successful real state broker, but she's no stranger to reality television. Fans got to see the start of her career in the Hamptons in "Million Dollar Beach House," but in her newest series on discovery+, she's picking up even more properties and has made an even bigger name for herself in the business. 
In an exclusive interview with The List, Zabakolas gave us an inside look at her reality show "Selling the Hamptons," opened up about how her television career has affected her real estate business, and shared what she wishes she knew before ever appearing on our screens.
Here's how Selling the Hamptons came to be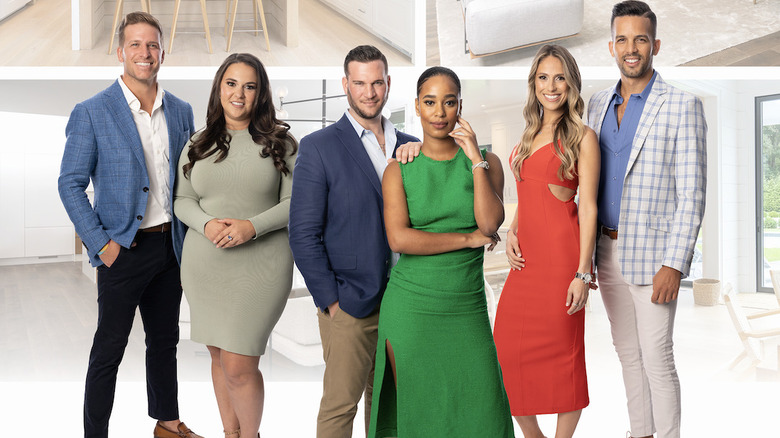 discovery+
Congratulations on your new show, "Selling the Hamptons." This isn't your first time on TV. How did this show come together?
No, it's not. I guess you would say that. [Laughs] I was offered an opportunity from discovery+ to be on "Selling the Hamptons," and, you know, I took it and I ran with it, and here I am now.
When we last saw you in "Million Dollar Beach House," you had just met a developer named Yale Fishman. "Selling the Hamptons" starts with you meeting up with him again. What has your life been like between these two shows? Catch us up.
Two years of a lot of follow ups and late night phone calls and trying to do whatever I can to get that development and land that deal. So it was a lot of — a lot of sleepless nights. [Laughs]
And has it been crazy the past two years, just with everything that's going on in the world, too?
Absolutely. It's been one of the craziest times in history, I guess, for my life personally. Fortunately, I was based in New York City, and started doing things in the Hamptons. Now that COVID happened, it really boosted the market in the Hamptons. I fortunately had good luck and timing.
Behind-the-scenes secrets of Selling the Hamptons
"Selling the Hamptons" focuses a lot more on your professional life. Was there anything that was off-limits to cameras? Did they just stop filming when you went home at the end of the day, or how did that work out?
Yeah, they don't film us necessarily in our homes, but, you know, [when] you sign up for a reality show ... I, personally, am an open book, and I try to be as authentic to who I am personally, so you definitely get to see a little bit of the stressors of work. I usually am more on the professional side, and I don't tend to really open up as much.
This season, if you follow through, you'll see the struggles that I think any female that is a boss [and] entrepreneur struggles with. Hopefully, they'll follow through in this season and see what happens.
This season, too, we get to see your largest listing that you've ever had at $35 million. Was this nerve-wracking to have cameras around for?
I think, at the end of the day, I'm a real estate broker first. And having said that, the cameras are secondary in the sense that I'm professional, and I'm going to do whatever I have to do to get the deal done. And being a real estate broker — I've been one for ten years — it comes naturally, and I'm not going to let a camera stop me from getting a deal done, because that, at the end of the day, is the main goal.
Did you get to the point where you kind of even forgot they were there?
Oh, absolutely. You know, the cameras — everyone becomes family. Also, your goal is to list and sell a property, that's the way that I operate where I'm more mainstream, I guess. That's the bullseye that's targeted.
Focus and get that work done.
Absolutely. We're real estate brokers first, and I use that as my priority.
Peggy Zabakolas shares what it's like shooting a reality show
What is it like to see yourself on TV?
I don't think I'll ever get used to that. I don't think I'll ever get used to my voice, how I sound, how I look. Everyone's their hardest, their biggest judger, right? And their hardest critique. I'm definitely hard on myself, but I look at it where "it is what it is." I can't take anything back, so I'll just keep doing me.
What is the most difficult part about shooting a reality show?
Balancing real work and shooting a show. It's a balancing act, but fortunately enough for me, I have a team in the city and agents that help me in the Hamptons where, when I am filming and if I can't necessarily pick up my phone because I'm in the middle of something. That's really it. It's just learning how to balance everything, but I think that's just life in general, learning how to balance everything. It's another job, right? So I'm a real estate broker. I also have this show. That's two jobs essentially.
How did shooting "Million Dollar Beach House" compare to shooting "Selling the Hamptons"? They are two different shows, but both get a glimpse into your life at work.
"Selling the Hamptons" is a completely different show. It's on discovery+, it follows six different agents, and it's just following us, it's following agents in their current world, right? It's real estate in general, but it's now following me two years later, which I've grown in so many different ways.
Peggy Zabakolas shares how she really feels about her team
"Million Dollar Beach House" focused on your relationship with Noel Roberts. Have you talked to him at all since that show ended, since you have a new team now?
At the end of the day, people are going to have disagreements, especially in work environments. We are both cordial, and we both respect each other. I am so swamped with work that I, unless I'm doing a transaction with you and you're not my mom or my family, I don't have much time to speak to anyone.
In "Million Dollar Beach House," you were the only woman that we saw in the office. In "Selling the Hamptons," you have a lot more women on the team. How did the dynamic change with the new show? Were you excited to have more girl power in the office?
I loved it. Having a little bit of women's support is always great, and having support from women that generally want each other to excel is even more important, because I think a lot of times women tend to put each other down. Mia [Calabrese] and Bianca [D'Alessio] are amazing, and I'm so happy that they came to the Hamptons.
Last time [in "Million Dollar Beach House"] was the first time that I was in the Hamptons, and female or not, having a New York City broker come into the Hamptons, you have to break down several barriers, so I guess I did that, and I'm glad that I was able to open the doors for other agents to come in.
You guys do get a little competitive with each other, too. Is there someone you would say that you're the most competitive with in the office?
We're all independent agents and brokers. We work for the same company, but everyone works for themselves. So, I think, inherently everyone's competitive just because if you're successful at your job, which we all are, we have to have a little bit of a competitive streak.
You'll see Michael [Fulfree] and I get at it through the season. You'll see a little bit of JB [Andreassi]. You'll see a little bit of everything, so just keep watching it.
To be in the real estate business, I feel like you have to be a little bit competitive, too, or have that push in you, because real estate is a cutthroat business in general.
Absolutely. If you're not going to do something, someone else will do it, and it's the nature of the beast.
This is the most extravagant house she's ever seen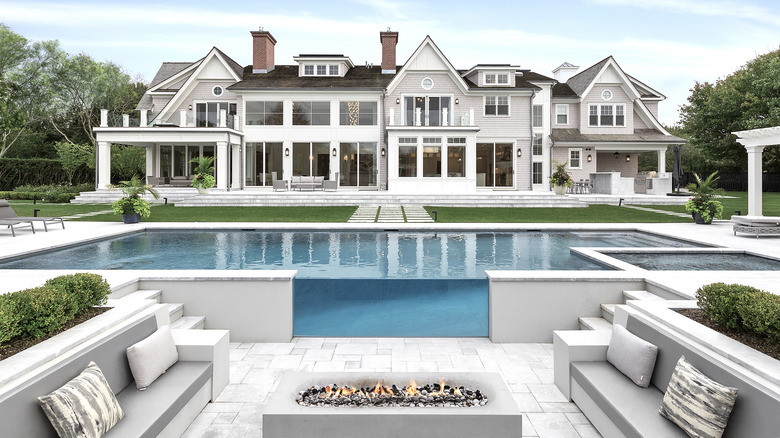 Nest Seekers International
You see millions of dollars worth of homes. What is the most extravagant feature that you've seen in a house?
Oh, okay. I know this one so easily. The most extravagant that I've seen on the east coast or specifically in the Hamptons is at 63 Duck Pond. We have a 15x9 foot LED screen that comes up from the ground, so it's based underground. It shuts down if it starts to rain. That is the first in the Hamptons. I believe it's the only one in the Hamptons.
We came up with that idea because Nest Seekers has amazing listings on the west coast and in California. We cross-market a lot, and we represented an owner that did that on the west coast, so we brought it to the east. So that to me is probably the most extravagant.
Iin that same house, there's a tennis court that turns into an ice rink in the winter time, which I didn't even know you could do. Transparent glasses and swimming pools that we feature mermaids in. You think of it? We'll probably figure out a way to do it.
These are things you don't even think about putting in a house, too.
You always have to just raise the bar and just keep going with it.
How reality TV has affected Peggy Zabakolas' life
How has your television career affected your business?
It's great. It's a great tool. It's also opened the doors for me. It's helped me in other ways as well, in other avenues. It's helped me on social media following ... so many people reach out to me that I can help, which is amazing. [It includes] charities and even just day-to-day activities.
Business is great. I now have a team on Long Island. Originally, I was in New York City, then I expanded to the Hamptons, and because of everything booming, we connected the two, and now I have a team on Long Island as well. It just keeps getting better and bigger.
Is there anything you wish you knew before going into television?
Yeah. That's a really good question. I'm of the mentality of, just be authentic to who you are and that will showcase and don't try to be anything different. If you try to be someone different, the camera doesn't lie. I really had to be true to who I am and stay real to who I am as a person.
Do you love watching reality TV yourself, and what are some of your favorite shows?
I got through law school watching reality TV. [Laughs] I always have it in the background. I love a lot of — I'm in real estate, so I definitely love a lot of homemaking shows, right? "Property Brothers" and those types of shows, but I'm guilty of watching "Real Housewives," too.
All eight episodes of "Selling the Hamptons" are available to stream Thursday, January 20 on discovery+.