What Really Happened When John Lennon Met David Bowie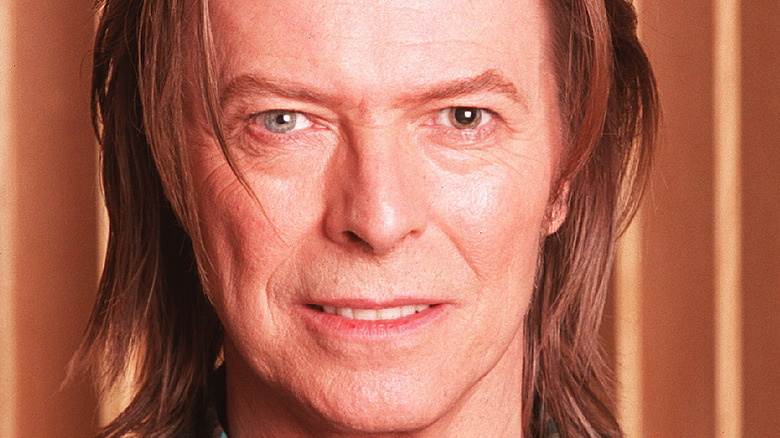 Dave Hogan/Getty Images
In the history of rock music, John Lennon and David Bowie are legends. These icons have left us with a lasting catalog of memorable songs and performances.
Born in 1947, Bowie experienced his first musical success with "Space Oddity" in 1969. From there, he was on a creative roll and his career and stardom were on the rise. In the 1970s, Bowie continued experimenting musically and with his on-stage style, creating Ziggy Stardust, as well the dystopian "Diamond Dogs" (per davidbowie.com).
Lennon, who was born in 1940, experienced a meteoric rise to fame with The Beatles' success in Britain and their U.S. debut in 1964. By 1969, however, he was done with the band. His started creating music as a solo artist in 1970. A year later, he released the iconic album "Imagine" (per Biography).
Throughout his 48-year career, Bowie was known for collaborating with a variety of musicians, including Bing Crosby, Freddie Mercury, Trent Reznor, and John Lennon. When Bowie died of liver cancer in 2016, Yoko Ono said, "John and David respected each other. David was as close as family" (per Rolling Stone). So how did these two famous musicians meet?
Lasting friendship and a Fame collaboration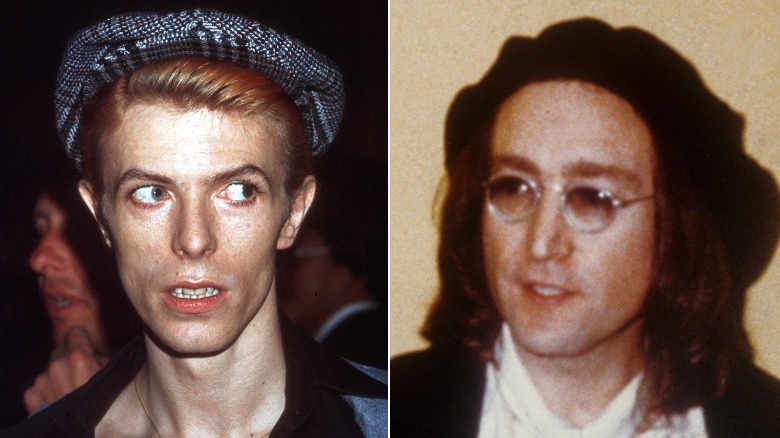 Michael Ochs Archives/Getty & Michael Ochs Archives/Getty Images
David Bowie and John Lennon first crossed paths at a 1974 party in L.A. The event was hosted by Elizabeth Taylor, who wanted Bowie to join her in a film project. Bowie reminisced about this meeting in his commencement address to Berklee College in 1999, calling Lennon his "greatest mentor." Even though their age difference was only a little over six years, Bowie said it felt more like a generation. He was more than a little star struck when met the former Beatle.  
Some of the awkwardness continued when Lennon and Bowie met up in a New York hotel room. Speaking to The Guardian, record-producer Tony Visconti said Bowie asked him to come along and "buffer the situation." According to Visconti, the two musicians sat in silence while Bowie sat and sketched. After a couple hours of not talking, Lennon asked to share some of Bowie's paper. Lennon started making caricatures of Bowie, and Bowie joined in with his own drawings. The two laughed and drew, and it was the beginning of a great friendship.
A week later, Bowie asked Lennon to play on a cover of "Across the Universe." While Lennon was in the studio, he contributed to a jam session that became "Fame." Released on "Young Americans," the song became Bowie's first number one. Bowie felt Lennon's presence was pivotal in writing the song. "He was the energy ... he was the inspiration" (per johnlennon.com).