Prince William Just Made A Very Telling Joke About His Family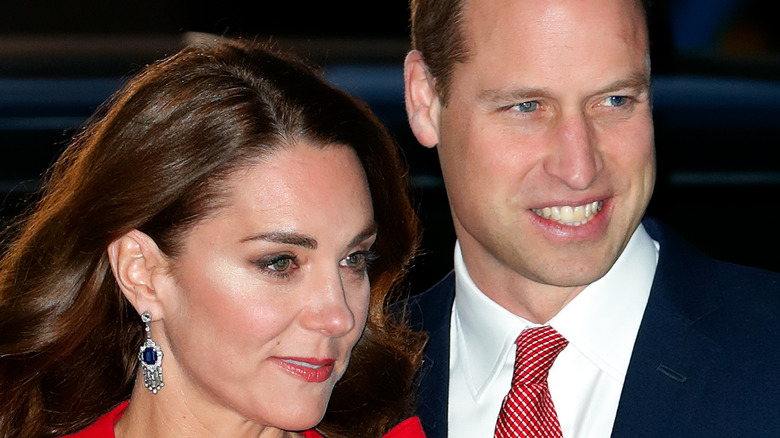 Max Mumby/indigo/Getty Images
Royals might consistently have perfect hair, great outfits, and a whole team of people doting on them hand and foot, but at their very core, they're just like the rest of us. You know, like when you sit down to have that talk with your partner about having kids. It turns out that Prince William and Kate Middleton might have had the very same talk, and if Prince Williams' latest joke has anything to do with it, they had this talk recently.
For those of you who aren't as obsessed with the royal family as we are, the Duke and Duchess of Cambridge have three children. Prince George is the oldest, followed by Princess Charlotte and Prince Louis. That might seem like a royal we if there ever was one, but it turns out that there may be more kids in the cards for Prince William and Kate Middleton (via People). 
While Middleton is not pregnant at the time of publication, let's not rule it out just yet. Here's everything you need to know about more royal babies in the future, because the line of succession might not end at Prince Louis. 
Prince William joked about having more kids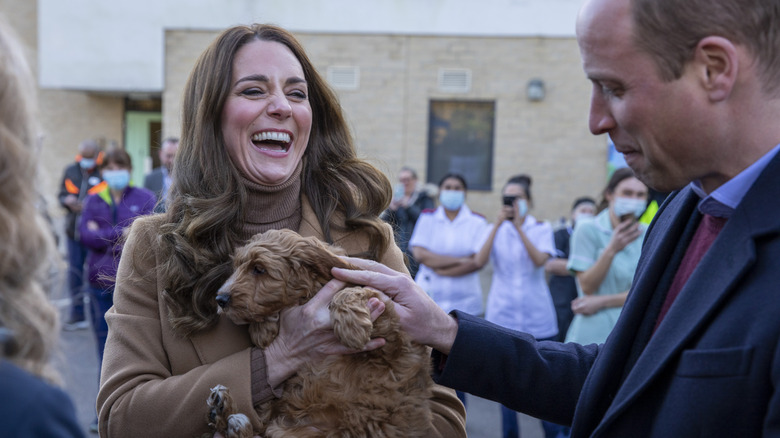 Wpa Pool/Getty Images
After a few years of stepping out of the spotlight during the pandemic, the royals are back to traveling. Prince William and Kate Middleton traveled to Lancashire recently to meet with health staff at the Clitheroe Community Hospital, but that wasn't all they met. According to People, they also met a service puppy and a tiny baby that might just have given Middleton baby fever. After all, she's only human.
The publication says that Prince William joked about his wife's baby fever. "Don't give my wife any more ideas!" Prince William can be heard saying in a video posted to Twitter as the family and royals took photos together. Whether Middleton has actually been talking about having more kids is unknown, but the joke does show that it's at least a conversation that has happened at Buckingham Palace.
You can just imagine the cute conversation these two royals have had as they discuss having more kids. That's adorable. Royals, they're just like us.
Kate Middleton reportedly would be open to having more kids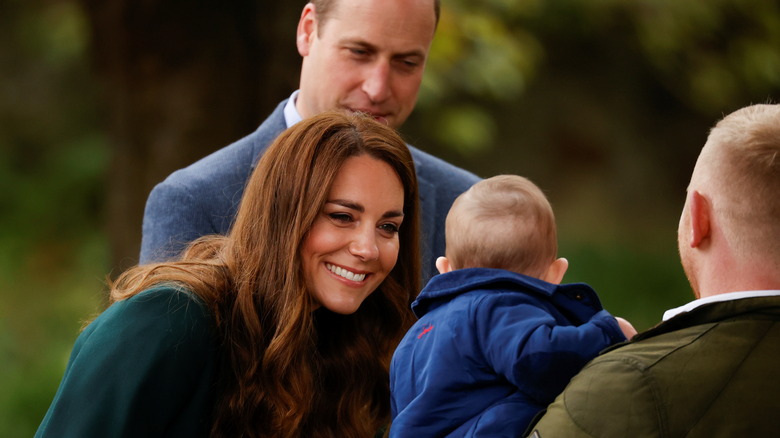 Wpa Pool/Getty Images
It turns out that Kate Middleton might just be open to having another child. When you have as adorable kids as you do with plenty of royal nannies and help to go with it, it only makes sense to adopt the phrase "the more the merrier" to your family plan.
According to StyleCaster, Middleton was even considering trying for baby number four before the pandemic hit. "Having four children was always part of Kate's plan," an insider said, according the publication. "She put the idea on hold when [the coronavirus pandemic] hit, but now there is light at the end of the tunnel with the vaccine and [Prince George and Princess Charlotte] scheduled to return to school in April. She feels ready to start trying again."
Of course, there's nothing wrong with the family size staying the same, either. Heck, Middleton already has the perfectly placed jewelry to commemorate her children (via People). Whatever the Duke and Duchess decide to do is up to them, even if it feels like the entire world can sometimes be involved.