What You Didn't Know About Meat Loaf's Children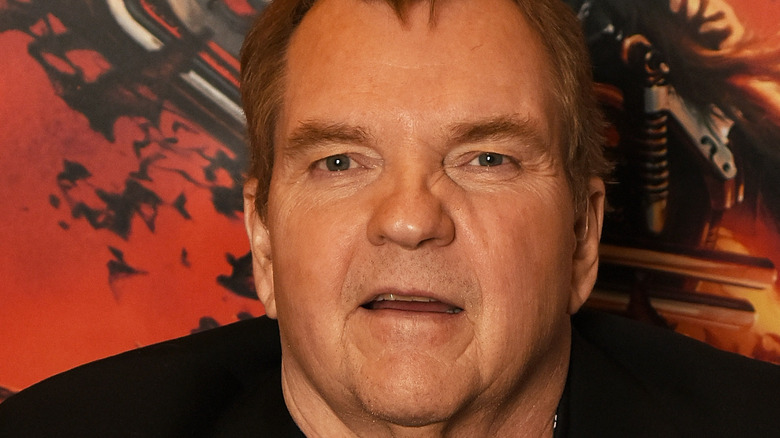 Dave J Hogan/Getty Images
On Friday morning, Meat Loaf's family announced that the singer had died overnight at 74 years old. The cause of death for Meat Loaf, whose real name is Marvin Lee Aday, has not been confirmed. "Our hearts are broken to announce that the incomparable Meat Loaf passed away tonight with his wife Deborah by his side," a statement on Meat Loaf's official Facebook page reads. "Daughters Pearl and Amanda and close friends have been with him throughout the last 24 hours."
You'll likely recognize the famous singer from his numerous hit singles throughout the past few decades, which include "Paradise by the Dashboard Light," "Two Out of Three Ain't Bad," and "I'd Do Anything for Love (But I Won't Do That)." Meat Loaf has also appeared in movies like "The Rocky Horror Picture Show," "Fight Club," and "Wayne's World," according to CNN.
Meat Loaf leaves behind his second wife, Deborah Gillespie; his first wife, Leslie Aday; and two daughters, Pearl and Amanda Aday, per The Sun. "We know how much he meant to so many of you, and we truly appreciate all of the love and support as we move through this time of grief in losing such an inspiring artist and beautiful man," read the Facebook statement from Meat Loaf's family. Though Meat Loaf became an unlikely film and music star, his grown daughters have also pursued careers in music, film, and TV.
Meat Loaf's daughters have also worked in show business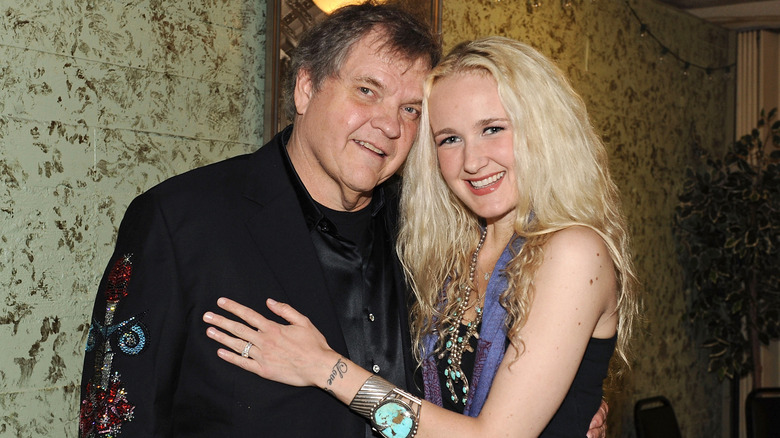 Angela Weiss/Getty Images
Prior to marrying Meat Loaf in 1978, the singer's first wife, Leslie Aday, gave birth to Pearl Aday in 1975. When he married Aday, Meat Loaf also adopted Pearl, according to The Sun. From a very young age, Pearl toured with her adopted father and was eventually able to develop her own musical talents. "Being so young, I didn't realize exactly what was going on," Aday recalled the biggest stop on Meat Loaf's 1981 Dead Ringer tour to the Connecticut Post. "The lights were on. There were thousands of people looking at me. ... I realized, this is scary, but kind of cool at the same time." Years later, Pearl is the lead singer of her own band, Pearl, and is married to Anthrax founder Ian Rosenfield and the mother of one son, named Revel Young Ian.
In 1981, Meat Loaf and Leslie had their second daughter, Amanda Aday. Though she did not follow in the musical footsteps of her father and half-sister, Amanda has pursued a career in show business. According to Amanda's IMDb page, she has appeared on television shows like "Carnivàle," "ER," "Private Practice," and "My Name is Earl." She has also appeared in films such as "Crazy in Alabama," "Madtown," and "The Trials of Cate McCall."
During an interview with People, Amanda spoke about her father's parenting style. "If we didn't get good grades, we were grounded, and all of that stuff. So, it was very much, when we weren't out on tour living this crazy life, it was very important to him that we were grounded in our home."
The daughters posted tributes to their father after his death
Since Meat Loaf's death, his daughters, Pearl and Amanda Aday, have both spoken candidly about the impact that their father had on their lives and on the rest of the world. During a recent interview with People after Meat Loaf's death, Amanda spoke about how the rocker operated as a father. "Growing up, when we were little, he always said he never wanted to be hip," she said. "Pearl and I would want a new pair of shoes or something, whatever was in trend, fashion-wise or whatever, and he'd always say, 'Don't be trendy. Don't be hip. Be cool, because cool is always.' And that was him." 
According to Amanda, Meat Loaf's last words to her were about her imminent wedding, and how he was excited to walk her down the aisle at her wedding. "And I said, 'As soon as you're out of here, we'll go to the courthouse, if you want. We'll do it right away. And he said, 'No courthouses, but okay, let's go.' So, and those were, not his final words, but his final words directly to me."
Pearl posted tributes to her father online. "I love you always, no matter what. I love you with my whole heart. We got you. Forever," Pearl captioned a photo of her hugging her father from behind on Instagram. "We love you always, Dad, no matter what. Always and forever," Pearl captioned another photo of herself, Meat Loaf, Amanda, and her mother, Leslie Aday, on Instagram.