Expert Says The Royal Family Will Be Relieved If Meghan And Harry Are No-Shows At This Event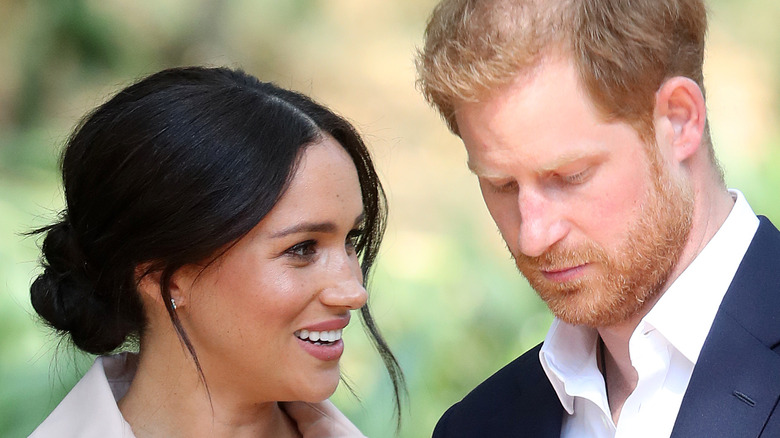 Chris Jackson/Getty Images
The royal family is planning a memorial service in the spring of 2022 for Queen Elizabeth II's late husband, Prince Philip, who died at the age of 99 in April 2021 (via Geo News). The memorial will take place about a year after Philip's death, which occurred during a time when social distancing rules were in place, and funerals were less than 30 people. During the funeral, the queen sat alone in her own pew at St George's Chapel as she said her final goodbye to her husband of over 70 years.
While all members of the royal family are expected to attend the memorial, there have been some questions about whether or not Prince Harry and his wife Meghan Markle will be in attendance. Page Six reports that The Duke and Duchess of Sussex may opt to skip the memorial if they aren't allowed to pay for police protection while in the U.K.
A legal spokesperson for Meghan and Harry recently released a statement revealing that the Sussexes' U.S.-based personal security team won't be able to replicate the police protection that the couple will need in the U.K. "The goal for Prince Harry has been simple — to ensure the safety of himself and his family while in the U.K. so his children can know his home country," the statement read (via PEOPLE). Meanwhile, one royal expert reveals that some members of the royal family may be happy if Meghan and Harry skip the memorial altogether.
The royals may not want the spotlight on Harry and Meghan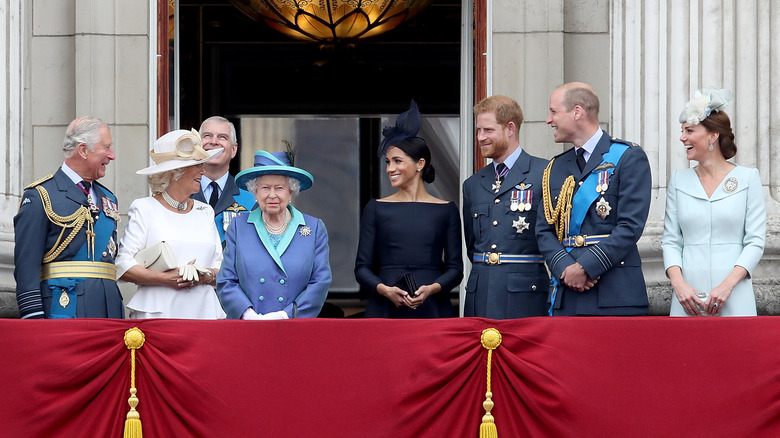 Chris Jackson/Getty Images
According to The New York Times, Prince Harry has made the trip home to the U.K. on two occasions in the time since he and Meghan Markle exited the royal family. However, Meghan has yet to make a return to the country. All that may change this spring if Meghan and Harry decide to return to honor Philip during his memorial.
Because of Harry and Meghan's obvious concerns about their safety and that of their children, Archie and Lilibet, the Duke and Duchess of Sussex could decide to be no-shows at the memorial, and one royal expert says that some members of the family would actually be relieved if the Sussexes weren't in attendance.
"I think if they choose not to come then everyone will breathe a sigh of relief," royal expert Ingrid Seward said (via The Sun). "It is [a] thanks-giving for Prince Philip, and we don't want it turning into the Harry and Meghan show." Meanwhile, royal biographer Phil Dampier claims that the security issues give Meghan and Harry "a good excuse" not to attend the memorial. "He will be criticized if he does come and criticized if he doesn't — he will look disrespectful to his grandfather who he was very fond of — so Harry may come, but I'd be very surprised if Meghan does," he added. It seems only time will tell if Meghan and Harry return to the U.K. this spring.