A Resurfaced Clip Of Rue McClanahan And Betty White Has Twitter In A Tizzy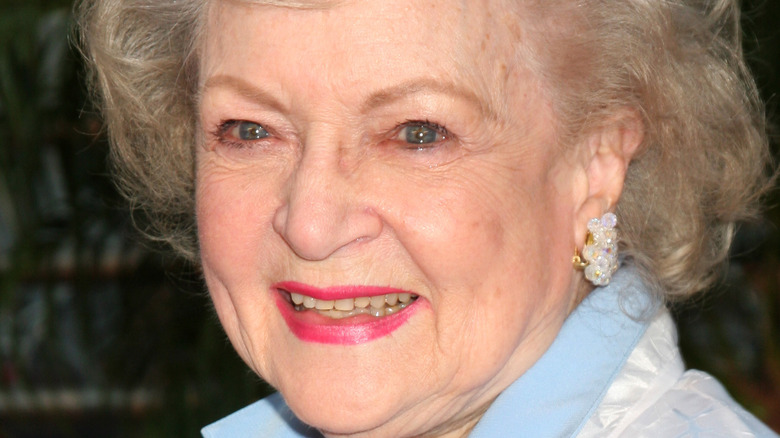 carrie-nelson/Shutterstock
The world is still reeling from the loss of Betty White. The timeless icon passed away in the final hours of 2021 and missed out on her 100th birthday by just a few weeks. In the time since her passing, we've learned more about her final days. Her assistant uploaded one of the very last photos taken of the star to Facebook and assured fans that White remained "radiant and beautiful and as happy as ever" the day it was taken. Additionally, we've since learned that the beloved actor and comedian died of natural causes.
Fans went out of their way this week to mark the passing of her birthday, which took place January 17. Google made it so that searching White's name resulted in rose petals raining across your screen. The lovely tribute was accompanied by a message that read, "Thank you for being a friend," which fans will recognize from the theme song for "The Golden Girls" (via People). Others opened up their wallets to make donations in White's memory. TMZ noted that the #BettyWhiteChallenge, which was organized for her special day, raised tens of thousands of dollars for animals in need.
White may be gone, but she'll never be forgotten, and her memory lives on. Social media has been flooded with clips from the actor's lengthy career for weeks now. More recently, there's a behind the scenes video of White with her "The Golden Girls" castmate Rue McClanahan that is making the world a brighter place.
Rue McClanahan tells Betty White a raunchy joke in a new viral video on Twitter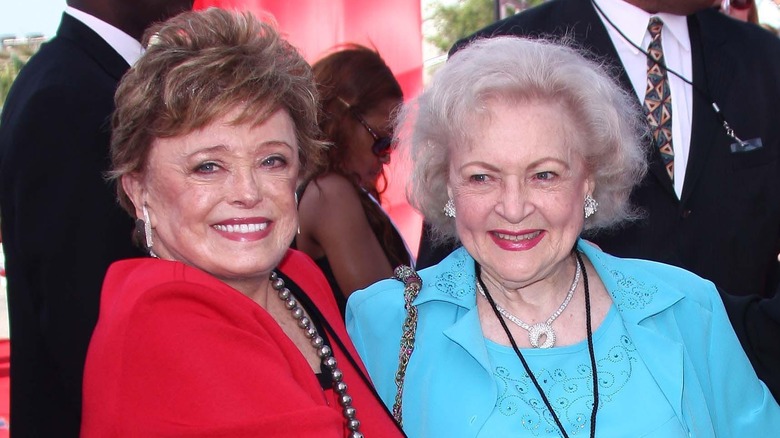 s_bukley/Shutterstock
Inarguably one of Betty White's most legendary acting roles was that of Rose Nylund on "The Golden Girls." She starred in the series alongside Beatrice Arthur, Estelle Getty, and Rue McClanahan from 1985 through 1992 (via IMDb). Many moments the storied actors shared together on the show have done rounds in recent weeks. However, the latest video picking up steam is a behind the scenes joke McClanahan shared with White between takes (via Twitter).
"I heard a funny one last night," McClanahan promises as the video starts. White breaks out in laughter as her co-star sets the scene of a man getting shipwrecked on a desert island with a pig and dog. "After about a month, the pig starts to look pretty good," she said. "And he starts, you know, caressing her feet and tweaking her little nose." The jealous dog puts an end to any attempts to get closer to the pig until help arrives. White chortles adorably throughout the minute-long video, making for a precious moment.
A quick search revealed that the video originally surfaced back in 2010. TMZ uncovered it and shared it on their website after McClanahan passed away. The hysterical video makes for an adorable change of pace after another video of White getting her co-stars to break character circulated social media earlier this month. Here is proof that these greats are gone but will surely never be forgotten.