Are Hillary Clinton And Angelina Jolie Related?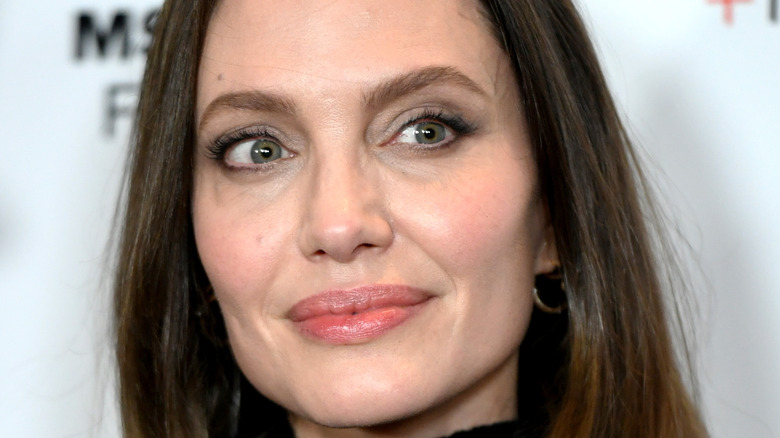 Jc Olivera/Getty Images
Even if looking deep into your family tree doesn't interest you, there's always that lingering question residing somewhere in your brain — What if I'm related to someone famous? There's always the chance that you could be, and it's even the case between celebrities themselves. While not all these revelations and discoveries have been revealed on programmes like "Who Do You Think You Are?" or "Finding Your Roots," many famous faces have found out that they're related to each other, or even royalty on some occasions.
As Romper notes, the likes of Dakota and Elle Fanning are distantly related to British royalty through Kate Middleton, while Hilary Duff is 18th cousins with Queen Elizabeth II and is reportedly the closest American celebrity connected to her majesty, according to genealogist Josh Taylor (via E! Online).
While the United States doesn't have a royal family, being related to a President or a member of their family is something pretty major to boast about. And this is something Angelina Jolie can totally do, as it turns out she's related to former First Lady Hillary Clinton, according to the New England Historical Genealogical Society, per The Los Angeles Times. 
Angelina Jolie and Hillary Clinton are cousins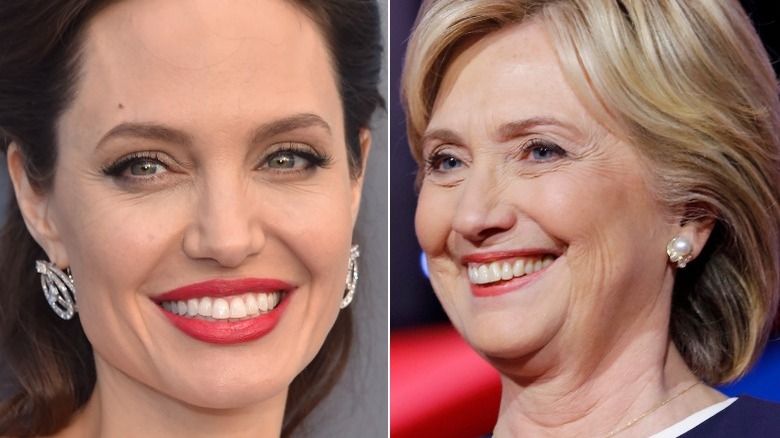 Joseph Sohm & DFree/Shutterstock
Compared to Hillary Duff and Queen Elizabeth II's distant connection, Angelia Jolie and Hillary Clinton's relation is much closer. As it turns out, the two are 9th cousins, twice removed through a common relative they share who happens to be Jean Cusson of St. Sulpice, Quebec (via Reuters). But Jolie isn't the only celebrity that Clinton is related to. She also happens to be 9th cousins with Madonna through Pierre Gagne of Quebec, as well as Celine Dion, Alanis Morissette, author Jack Kerouac, and Prince Charle's wife Camilla Parker Bowles.
Jolie's ex-husband Brad Pitt also happens to be related to a former President — Barack Obama. The pair are ninth cousins, per The Guardian, via a common ancestor called Edwin Hickman who was a sheriff in Virginia. Obama is a direct descendant of Hickman's son James, while Pitt is related through Hickman's other son, Edwin. Jr. As genealogist Christopher Child notes, "If people have ancestors in a common part of the country they will be more likely to find connections — in Obama's and Pitt's in the south."