The Best Online Workouts To Help You Stick With Your New Year's Resolution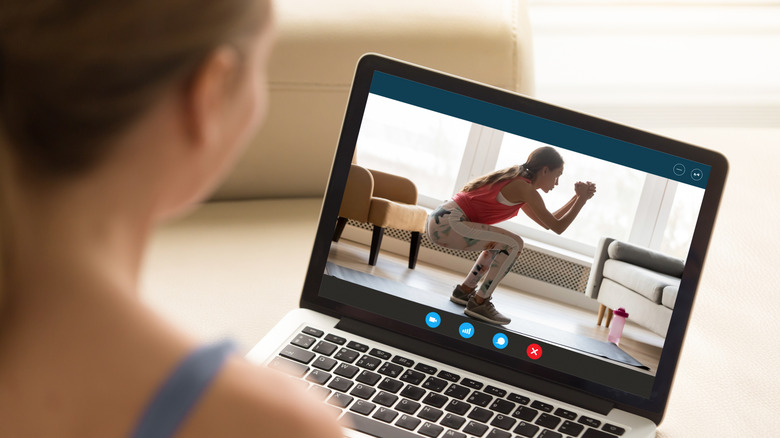 fizkes/Shutterstock
As we transition from another festive holiday season filled with plenty of scrumptious suppers and sweet treats, a new year is always a fresh reminder to get back on track with our fitness goals. But with the Omicron variant spreading rapidly, going to the gym may not be feasible. While it may seem like our "new year, new me" plans are getting derailed already, the good news is that there are plenty of online workouts and resources that will help you achieve all your fitness goals.
A 2018 study found that 33% of people with New Year-related fitness goals give up by February, per Byrdie. That's why the best way to sustain your fitness goals from January through the rest of the year is to start with small, attainable goals and focus on incremental progress, per PennLive. There are steps you can take to turn your workout goals into a realistic habit, like penciling your workout into a planner, checking the weather the night before an outdoor workout, keeping workout clothes ready, and holding yourself accountable by tracking your progress (via University of Virginia Health).
Byrdie suggests choosing a type of workout you enjoy, and looking for corresponding online classes or apps. For example, if you prefer dancing, then you may want to look into Zumba workouts on YouTube, while those who love running may benefit from using a tracking app. Challenging yourself to try new workouts outside your comfort zone is also a great way to keep things interesting.
Workouts you can do from the comfort of your own home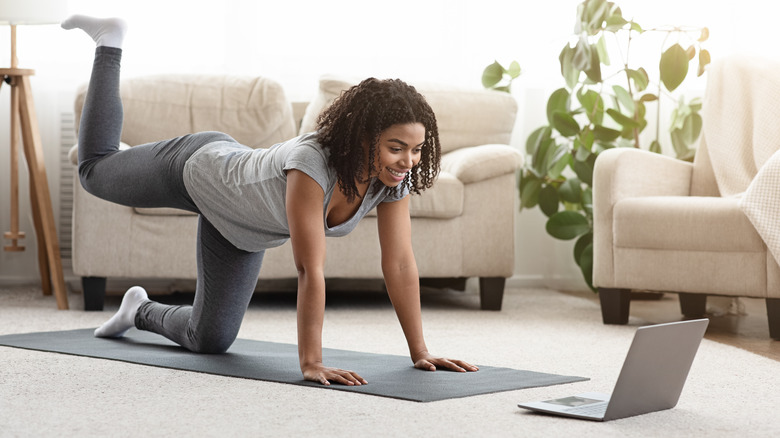 Prostock-studio/Shutterstock
Before you start stretching, it's important to establish a fitness plan that incorporates a wide variety of workouts every week to achieve your fitness goals. Mayo Clinic recommends 150 minutes of moderate cardio activity (or 75 minutes of vigorous activity) spread throughout the week, as well as two days of strength-training exercises. Bodyweight exercises, weightlifting, and HIIT (High-Intensity Interval Training) cardio workouts are quick, effective ways to help you achieve fitness targets (via ISSA).
There are several apps and videos available online that offer access to workout routines. PennLive recommends the Daily Burn 365 and YogaDownload apps. Daily Burn 365 offers full-body on-demand workouts that cater to all fitness levels. The workouts focus on muscle-building, running, and pilates. After the 30-day free trial, the subscription is $14.95/month. YogaDownload offers yoga and meditation classes of all skill levels for $10/month on Roku, FireTV, or AppleTV.
But if you're on a tight budget this year, there are several free online workout options available. PopSugar Fitness has a wide plethora of circuit-based training routines written online, as well as free videos on YouTube ranging from 10 minute HIIT workouts to 60-minute calorie-busting cardio routines. Per Cheddar, PopSugar's YouTube channel has seen immense growth since the word "quarantine" entered our daily vocabulary.
There are other free options that Wall Street Journal recommends, like the Nike Training Club app, or YouTube channels Fitness Blender, Cycling with Kristina Girod, and Yoga with Adriene.
Other resources and apps that will help with your fitness goals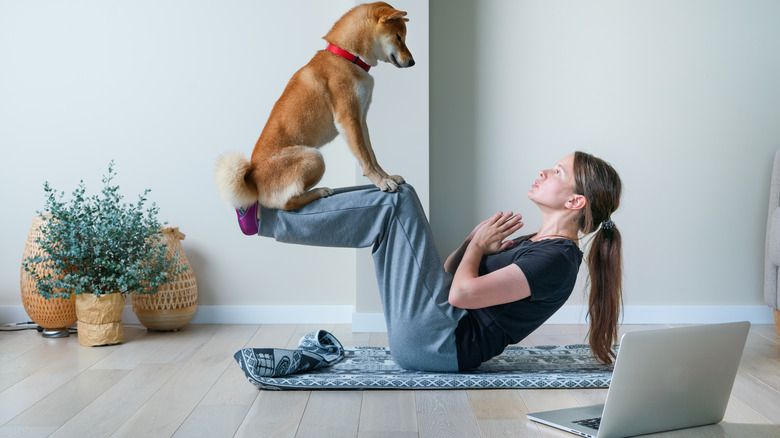 Egrigorovich/Shutterstock
PopSugar Fitness created a free new app called Active in March 2020 when lockdowns started for several parts of the world, featuring over 500 workouts and fitness challenges (via Adweek). For those who have weight loss as a part of their fitness goals (or weight gain, for those who want to bulk up their muscles), using MyFitnessPal is a resourceful app that can track your calories and macronutrients so that you're hitting the calorie deficit (or surplus) you need to reach your target weight (per MUO).
If you're into running, or want to become a runner, then Byrdie suggests the free running app called C25K, which helps motivate you to put to work those new running shoes you got during Christmas. Some cities and towns also offer free or low-cost live Zoom workout and Yoga sessions, like the Town of Cary, North Carolina's Parks and Recreation Department, which are often even available to non-residents.
If you need a more one-on-one approach, try FindYourTrainer, an app that helps match you with a personal trainer that specializes in the type of workout you like to do (via PennLive). The app requires you to take a brief quiz and then the trainer you match with will guide you through your desired exercises, and offer guidance on how to stick to your goals.
Above all, designate rest days to help your body recover and recharge (via Byrdie). Cheers to a new year, and a fit body!