Adele's Tour Cancelation Might Be More Complicated Than You Think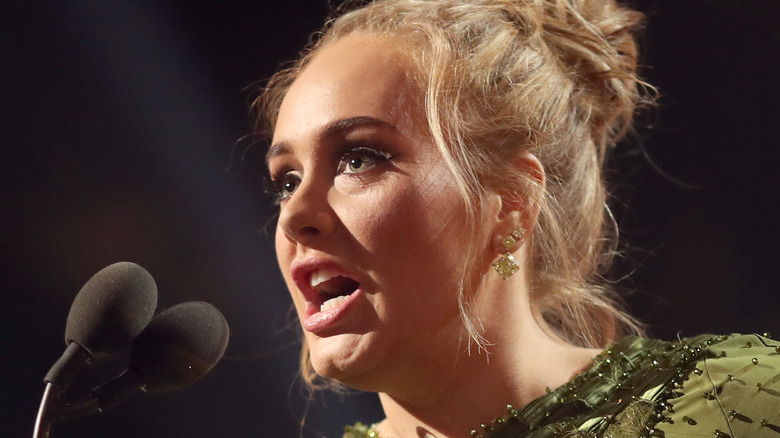 Christopher Polk/Getty Images
Every few years, Adele blesses the world with a new album, and like clockwork, she appears to break records and enrapture global audiences each time. She's a rare talent and her music, which is rooted in love and natural, raw human emotion, emanates with people like many other artists cannot. Her albums being titled after ages only increase the relatability, helping everyone feel Adele's stunning transformation along with their own. Perhaps it's her voice that bridges her lyrics to listeners' hearts or perhaps it's circumstance. In any case, Adele is a special singer.
Naturally, this makes listeners ever eager to see her in concert and feel those emotions live. This is especially the case after her most recent album, "30," which was released in November, has spent eight consecutive weeks at #1 on Billboard's album list (via Billboard). "30" marked Adele's return to music after she'd been absent since 2015's "25," and fans were hungrier than ever, especially after two years of living in a pandemic full of isolation, to see her live. Unfortunately, Adele shared the disappointing news that her "30" tour was being postponed this week, citing COVID cases amidst the tour's crew and late deliveries on essential tour production items (via USA Today).
However, new reports show that there may have been more going on behind the scenes than we realized.
Adele suffers from rough stage fright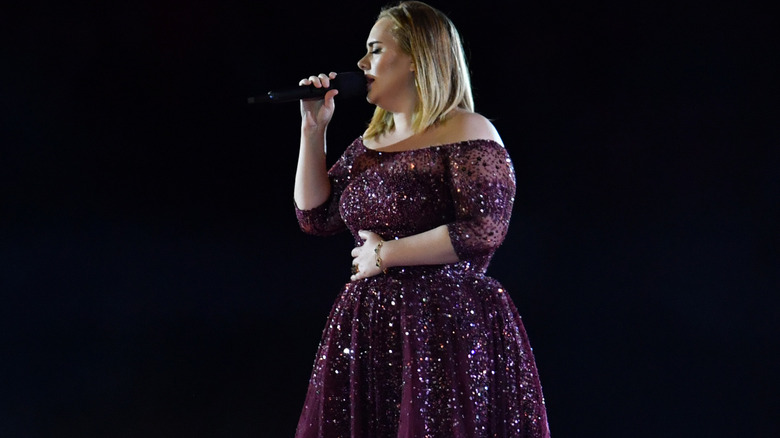 Gareth Cattermole/Getty Images
Since "25," Adele has evolved as a person in many respects. Her music on "30" is more sonically diverse than any of her previous albums, and she refuses to apologize for her weight loss, which she debuted a few years after the release of "25" (via Women's Health Magazine). Adele maintains a private life generally, but she's become more outspoken in recent years. This includes when she took to social media with the announcement video of her tour being postponed.
Daily Mail reported recently that Adele found herself in conflict with Caesars Palace, the Las Vegas venue where she was set to have multiple shows. According to the outlet, Caesars Palace wanted Adele's vocals to be backed with a 60-person choir for her song "Skyfall," while she wanted to sing it alone, focusing on a "low-key" performance that was "all about the voice."
This is also not the only time Adele has canceled shows, and they haven't always been rescheduled. The "Rolling in the Deep" singer canceled two London shows in 2017 and failed to ever reschedule them after promising she would. Moreover, many don't realize Adele suffers from stage fright and anxiety. "I'm scared of audiences," Adele said in a televised interview (via Page Six). "One show in Amsterdam, I was so nervous I escaped out the fire exit. I've thrown up a couple of times. Once in Brussels, I projectile vomited on someone. I just gotta bear it. But I don't like touring. I have anxiety attacks a lot."
Adele's shows might have been postponed for more reasons than we know, but all we know is "30" is getting us through 2022 so far.