Is Nexxus Shampoo Worth It?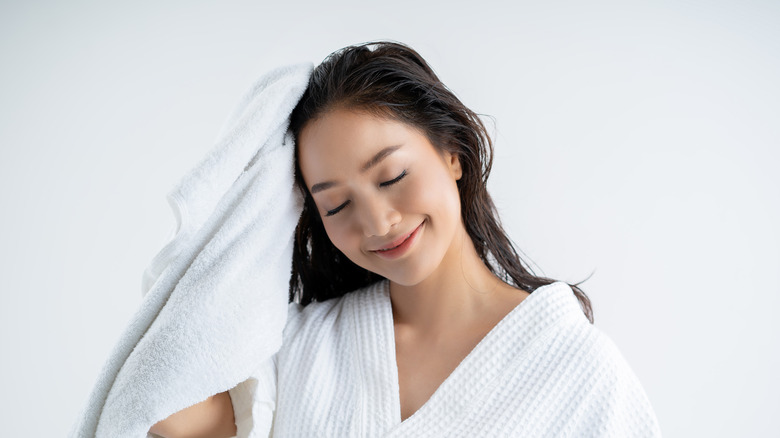 TORWAISTUDIO/Shutterstock
Started by scientist, cosmetologist, and inventor of the modern-day conditioner Jheri Redding in 1979, Nexxus hair products add protein to your hair to make it healthy. According to their website, the science behind Nexxus products is that hair becomes healthier and stronger when treated with protein because hair is made up of 90% protein. The cause of protein depletion in your hair can be due to styling, coloring, or other hair treatments, and they have a line of products for all types of hair concerns. Some of them have even been included in the list of the best hair products by beauty magazines.
Nexxus Curl Define Shampoo was the Allure Best of Beauty Award Winner for the best shampoo for curly hair in 2021 because it has silk proteins that help your curls' natural structure and keep it bouncy (via Allure). Glamour chose the Nexxus Diametress Regime as one of the best volumizing hair products because it increases the diameter of your hair by 17%, which is fantastic for fine hair. Byrdie voted for the Nexxus Keraphix Damage Healing Shampoo as the best shampoo for damaged hair because you can see healthier-looking strands after just one use. 
Overall, Nexxus hair products have an excellent reputation and science to back it up, plus being considered the best shampoo across various hair types is an achievement. So, does their Nexxus Therappe Replenishing System Shampoo for Normal to Dry Hair have the same magic as its predecessors?
Nexxus Therappe Replenishing System Shampoo is a great silicon-free option for dry hair
Nexxus Therappe Replenishing System Shampoo for Normal to Dry Hair is a silicon-free, revitalizing shampoo. Its lightweight formula deeply nourishes, smooths, and cleans your hair without weighing it down so your hair can retain its natural movement. This salon-quality shampoo is infused with Caviar and Protein Complex to provide 24-hour moisture and retails for $26.99 at Ulta.
This shampoo has an average rating of 4.5 out of 5 stars on their website, and the only people who did not love the shampoo are the ones who have thin, blonde, or color-treated hair. It also has a pretty high rating of 4.7 out of 5 stars at CVS, where those with dry, damaged hair loved how smooth and soft this shampoo made their hair feel. However, most reviews clearly state that they were "collected as a part of a promotion," so you can factor that in as well.  
However, Best Products Review chose this as one of the best Nexxus shampoos for dry hair because it provides extra hydration and makes your strands smooth. MSN Lifestyle and Normal Park also love the Therappe Humectress Silicone-Free, Moisturizing Caviar Complex collection and strongly recommend it for people with dry hair as well. It has solid reviews, but it has not quite made it to the list of the best shampoos yet or gained the popularity as Nexxus' other best-selling products, so it might be best to see what their future holds. Overall, based on reviews, it seems Nexxus shampoo is totally worth it.