The Final Tweets Of Regina King's Late Son Are Heartbreaking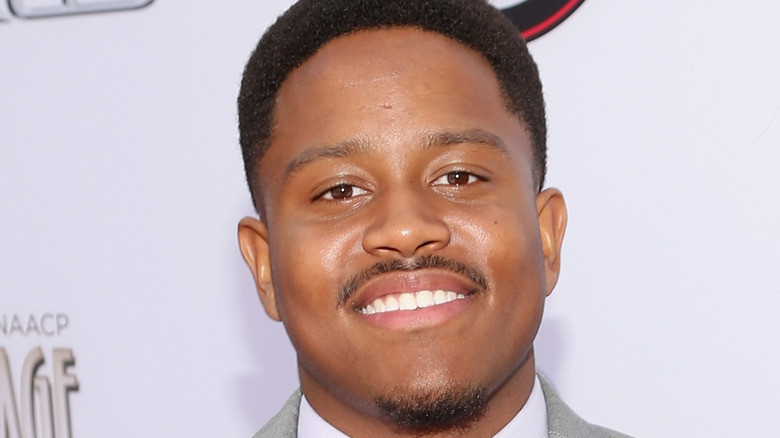 Jesse Grant/Getty Images
News broke on January 22, 2022, that Ian Alexander Jr., son of actress Regina King, died by suicide shortly after his 26th birthday. King was understandably heartbroken by the unexpected loss. In retrospect, the final tweets of Regina King's late son are difficult to read, though they may provide insight into his mindset at the time of his death.
Following his death, King issued a statement from her family expressing her deep mourning. "Our family is devastated at the deepest level by the loss of Ian," she wrote, via CNN. "He is such a bright light who cared so deeply about the happiness of others. Our family asks for respectful consideration during this private time. Thank you." Alexander Jr. was King's only child, whom she shared with ex-husband and record producer Ian Alexander Sr. King ended her nine-year marriage to Alexander Sr. back in 2007, per People.
Prior to his death, Alexander Jr. was pursuing his own career in the music industry and was working as a deejay under the name Desduné. One of his final messages on social media was an Instagram post about an upcoming show in Los Angeles at a local club, The Bardot. "It's been a minute but now we back at the jump off," he wrote. "Don't you want to say you supported desduné before the blowup?? So pullup [sic] this month!! performing live at Bardot on the 28th for @breakingsoundla."
If you or anyone you know is having suicidal thoughts, please call the National Suicide Prevention Lifeline​ at​ 1-800-273-TALK (8255)​.
Regina King's late son shared emotional tweets before his death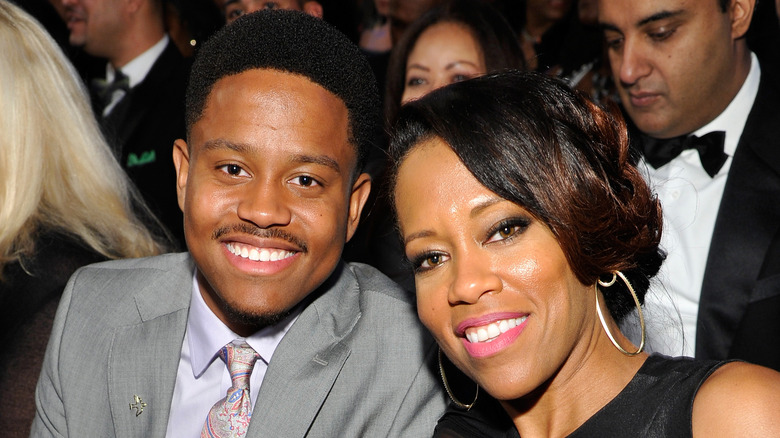 John Sciulli/Getty Images
Heartbreakingly, not all of Ian Alexander Jr.'s posts to social media shortly before his death were quite as positive. Just five days before his death, Alexander Jr. tweeted about a mental health meme that is now raising questions. "You know that episode of SpongeBob where they go inside his brain and it's a bunch of mini spongebobs [sic] just losing their s*** ... yea that one really hits home," he wrote. In another post around the same time, he reflected on the impact social media was having on him. "I don't think instagram [sic] is healthy for me," he wrote (via Page Six).
When examined under the lens of his death, these tweets come across a bit differently. Several fans and followers have replied to posts on Alexander Jr.'s Twitter account to respond to his tweets with heartfelt messages. "Oh, Ian. I woke up to horrible news yesterday," one user replied. "I am so, so sorry you felt this was your only answer. To your mother, father, and loved ones — my deepest, heartfelt condolences. Father, cover Ian's family with a blanket of comfort and peace. Be ever so present, Lord. Please."
"Just to watch the love your mom has for you is emotional. My heart goes out to her," another user added.
Alexander Jr.'s emotional tweets raise questions about what was going on behind the scenes before his death. 
King and her son shared a close bond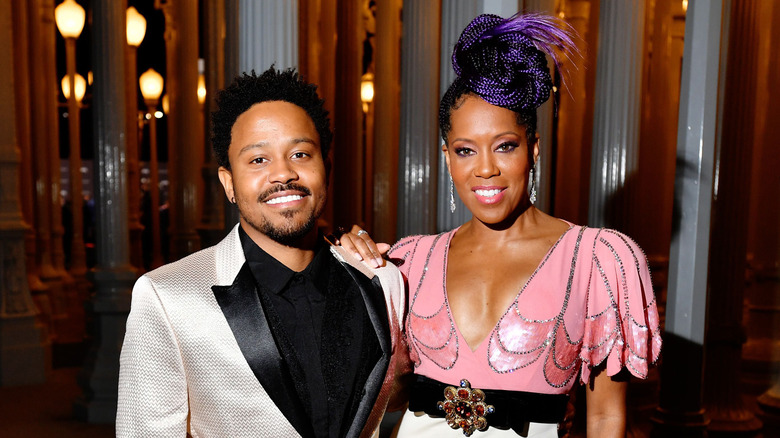 Emma Mcintyre/Getty Images
In past interviews, Regina King and her son, Ian Alexander Jr., have spoken about the special bond that they shared. During an interview at the Golden Globes in 2019, Alexander Jr. told E! News that King was a "super mom" who managed to seamlessly juggle her acting career with being a devoted mother to him. "It's really awesome to have a mother who I can enjoy spending time with," Alexander Jr. told E! News, per the Washington Post. Back in 2015, King also revealed to Vulture that the pair had matching tattoos in Aramaic, which translate into the phrase "unconditional love," further demonstrating the special bond that the mother and son shared.
In a clip that now proves to be heartbreaking, King spoke about the fear she possessed while portraying a mother who loses a child in the crime series "Seven Seconds" with E! News while attending the Emmy Awards. While gesturing to Alexander Jr., who attended the awards show with her, King told E! News that her son made her "happier than anything in the world" and that the idea of losing a child was "terrifying," per the Washington Post. "It was my own fear of being in a place that I don't ever want to be in life."
Most recently, King appeared with Alexander Jr. and "bonus son" Brandon during a virtual performance on CNN's "New Year's Eve Live." "Twenty years, we're all together, this whole family of people are together because of these two and their lives together that brought us together," King said during the virtual performance, per People.