Here's What Karlie Kloss Looks Like In Real Life Vs. Instagram
Everybody puts their best face forward on Instagram, but when looking good is your job, there must be an added layer of pressure to be perfect on social media at all times. Karlie Kloss is one of the most in-demand supermodels in the world, so naturally her Instagram feed is loaded with glamorous shots, whether from photoshoots, while getting ready for glamorous events, or ostensibly taken behind the scenes. In fact, even when Kloss takes a moment to ground herself, she looks completely stunning while doing so. 
Although modeling has been her focus since she was a teenager, Kloss is no stranger to the pressures of the industry. As the supermodel told Vogue, she was blacklisted after gaining weight when she first went on birth control, which gave her a more "womanly" body. "Hips and thighs appeared," Kloss recalled, resulting in a complete change in attitude to the young woman. "I started losing jobs; I wasn't getting booked for the runway; designers stopped working with me," Kloss revealed, though her career gradually recovered. 
These days, she's more than made her mark, so it's unlikely Kloss feels the need to hide her natural beauty when she's out in public. 
Karlie Kloss has supermodel swagger offline too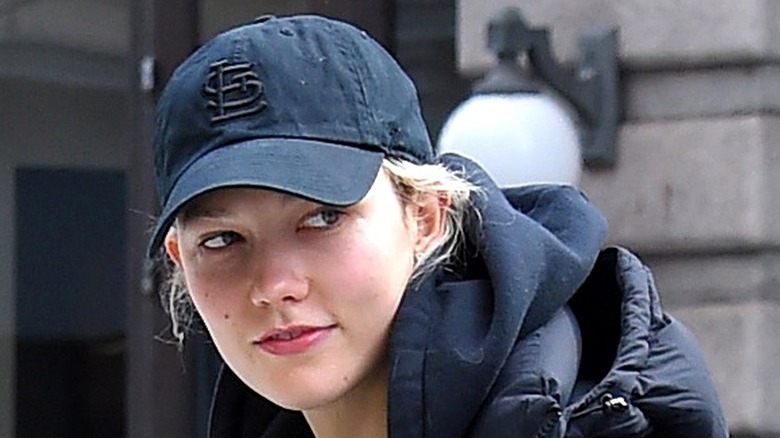 BACKGRID
Karlie Kloss popped out to run some errands, throwing on a baseball cap and puffer jacket, but the first thing that catches our attention is her remarkably clear skin. Although the supermodel appears to be wearing minimal makeup, Kloss still looks both camera and runway ready. As she told Harpers Bazaar, "'Strong body, strong mind' is my mantra in life and there's a deep connection between that and exterior beauty. When you feel like the best version of yourself you actually exude an energy or a confidence that is really powerful." 
Kloss continued, "As this relates to beauty products, I think there's something really powerful about the ability that products can have — whether it's a perfume or skincare that can help you feel at your best — it can create a small shift in how you hold yourself ... To have that extra little bit of confidence, that's when you look the most beautiful — no matter what you're wearing."  The busy working mother takes beauty seriously, telling Elle she goes to bed with clear skin no matter what else is going on. 
However, when Kloss isn't working, she prefers to keep her makeup simple, opting for "a light coat of mascara, BB cream, a little bit of concealer on a spot, lip balm, spray perfume, and I run out the door." As she explained, "I feel most confident when I wear more minimal makeup and that beauty and confidence comes from the inside."