What's The Difference Between Vegan And Cruelty-Free Foundation?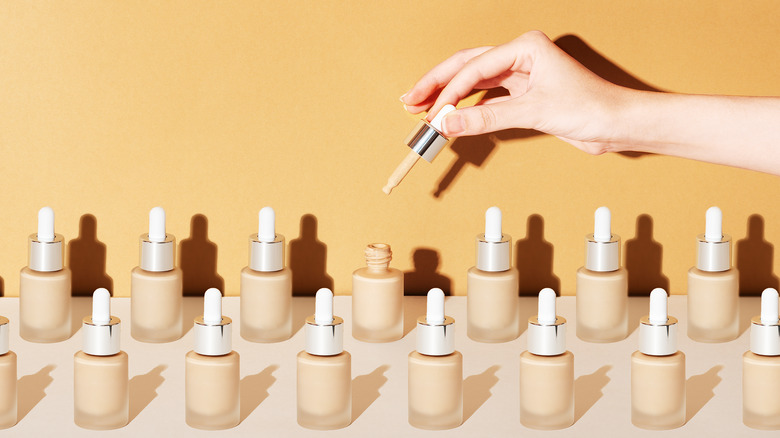 Alice Tsygankova/Shutterstock
When it comes to choosing a foundation that's the right fit for you, there's so much more to it than the formula. If you're someone who likes to live a more ethically conscious life or who follows a vegan diet, then you are probably interested in cruelty-free and vegan products. But are those terms interchangeable? Does cruelty-free also mean vegan, and does vegan always mean cruelty-free? Per Ethical Elephant, both terms have become increasingly popular in recent years, as consumers and makeup aficionados increasingly search for products that are both cruelty-free and vegan.
While the two labels used to be interchangeably used by brands and customers, they don't actually mean the same thing. It's therefore important to understand the difference between the two terms, so that buyers can make the right choice for their beliefs and lifestyle. With this in mind, what is the difference between the formulations for cruelty-free and vegan foundations? And why does it matter?
This sets vegan foundation apart from cruelty-free foundation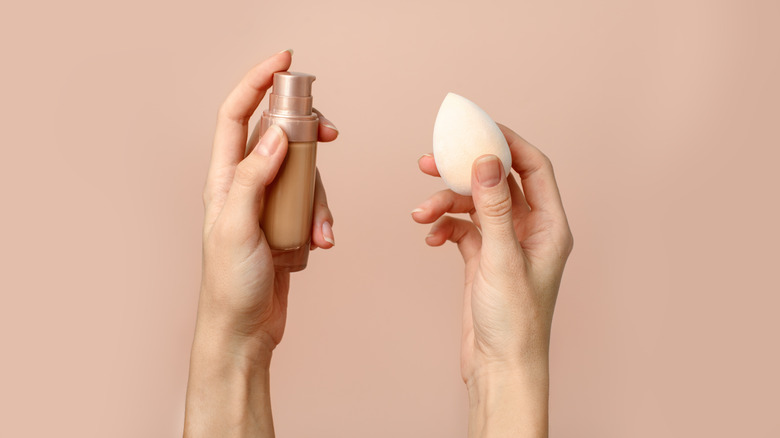 Katerina Morozova/Shutterstock
Ethical Elephant outlines the clear difference between vegan and cruelty-free foundations, as well as makeup products in general. According to the outlet, the term "cruelty-free" implies that the product has not been tested on animals. While a single product can be cruelty-free, some people only consider it to be that way if the entire brand is cruelty-free, does not condone animal testing, and does not purchase ingredients that have been tested on animals. Conversely, the term "vegan" suggests that the products are free from any animal-derived ingredients or animal byproducts such as honey, milk, beeswax, and collagen.
As Logical Harmony outlines, just because a foundation is marked as cruelty-free doesn't mean that it's also vegan. A product can be both, or just one of the two. The best way to determine if a product is vegan is to look out for the vegan sticker. You can also check the list of ingredients, keeping an eye out for honey, beeswax, lanolin, collagen, albumen, carmine, cholesterol, and gelatin — all of which are animal-derived ingredients. Finally, consumers can make choosing vegan options easier by shopping for foundations from brands that are certified vegan, such as e.l.f, Pacifica Beauty, KVD Vegan Beauty, and Lime Crime.