Why The Internet Is Swooning Over Joe Biden's Instagram Post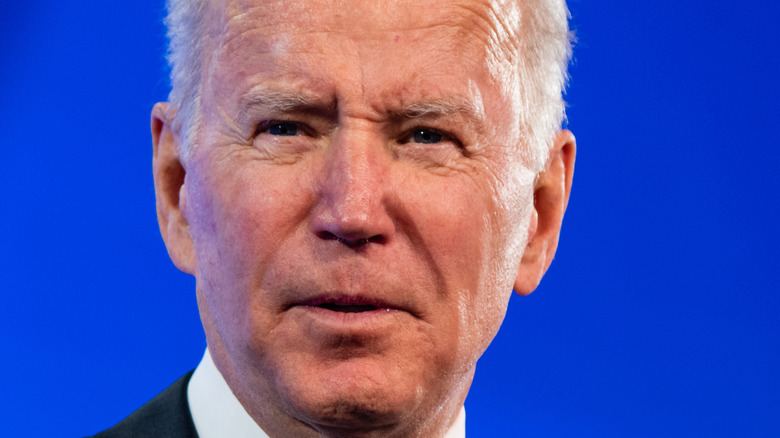 Bloomberg/Getty Images
President Joe Biden's Instagram account is making headlines after a post of his went viral over the weekend. It wasn't the first time Biden's Instagram posts made headlines. In July 2021, the oldest sitting president of the United States was accused of setting a thirst trap when he posted an Instagram picture of himself when he was younger. The purpose of sharing the throwback was to help urge young people to get vaccinated against COVID-19 during a major spike in cases, though it had people talking because it was way more lighthearted than the account's usual serious tone.
This weekend, the official POTUS Instagram account took a break from posting COVID and the anniversary of his inauguration to share a close-up of the newest addition to the Biden family. CNN reported that in December of 2021 that Commander, a purebred German Shepherd puppy, had been given to President Biden as a birthday present.
Since being spotted playing on the front lawn of the White House, Commander has stayed out of the press except for a post the POTUS Instagram account made about Commander's first trip to the beach. This weekend, however, President Biden's Instagram account gave an update on Commander, along with a new announcement about house rules.
Joe Biden's new office rule has the internet swooning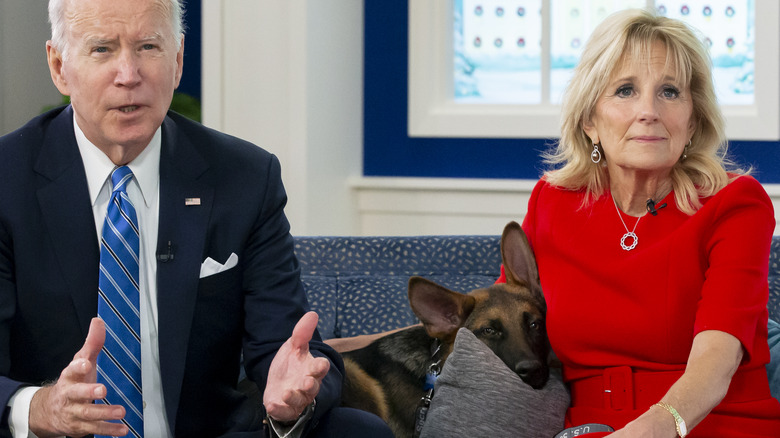 Bloomberg/Getty Images
This week, President Biden shared a close-up of Commander on his Instagram account. The caption read: "One of the perks of being president is that I get to set the office pet policy." And Instagram has been swooning over those literal puppy dog eyes ever since.
One commenter pointed out that Commander was starting to grow into his ears, while another just said "those eyes!" followed by a heart-eyes emoji. In fact, commenters seemed speechless at how cute Commander is: heart and heart-eye emojis are all you can see when you scroll through the over 6000 comments people have made so far on the Instagram post.
Another commenter did want to know when Commander was getting his own Instagram account. Nothing official is currently in the works it seems, but the Biden's other pets, Champ, Major, and Winston have been featured on the unofficial social media account for presidential pups, "The Oval Pawffice." Commander even has his own highlight on their Instagram page, which is also dedicated to spreading awareness about shelter animals in need of adoption.