If Your New Year's Resolution Is To Keep Your House Clean And Organized, Read This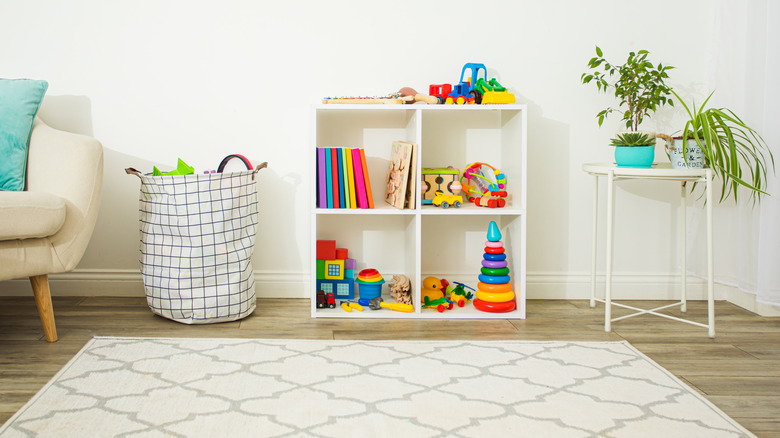 Oksana Shufrych/Shutterstock
Whether you're reading Marie Kondo's "The Life-Changing Magic of Tidying Up" or watching "Get Organized with the Home Edit" on Netflix, there's an allure and a soothing quality to well-organized spaces. With a new year comes a fresh start, and this is your year to get organized.
According to Apartment Therapy, organization is a state of mind, a way of seeing your space with new eyes. With an uncluttered home, you'll experience less stress, and you can free your brain to focus other things in life that are personally important.
Marie Kondo views cleaning and tidying up as two distinct activities. Tidying is a decision-making process that needs to be done first. Once you've decided what to keep, you can banish dirt without clutter slowing you down. Kondo describes cleaning as a meditative and peaceful process.
However, we all know that sometimes the best intentions can be difficult to maintain in real life. So, how do you hold on to the magic of that sparkling, beautifully organized home all year long?
Get in the habit to help your home stay clean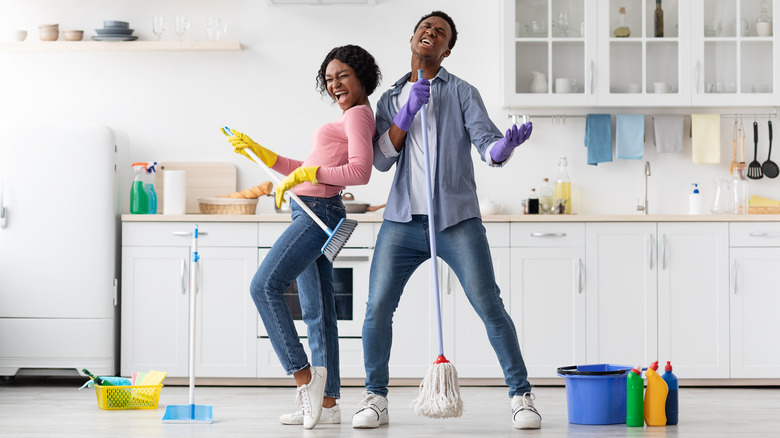 Prostock-studio/Shutterstock
Instead of trying to fit a marathon cleaning session into your already-busy weekend, daily habits can go a long way towards keeping your home clean and organized. HouseLogic suggests the "one minute" rule that if it takes less than a minute to put something away, do it now instead of later. The outlet suggests incorporating small tasks into your daily routine. In the morning, make your bed right away. At night, make it a habit to wipe down the toilet and sink in the bathroom. If you store cleaning wipes in the bathroom, it will encourage you to do a quick clean.
Besides keeping cleaning supplies where they are needed, Apartment Therapy recommends using a robotic vacuum. These vacuums can clean your floors while you're busy with other tasks. To make dusting easier, keep surfaces as clear and uncluttered as possible.
When you have more than a minute, Woman's Day recommends the "Focus 15" method. Choose one task, set a timer for 15 minutes, and devote your energy to that one specific thing. This method can give you a break from the mental clutter of multitasking.
Make it easier to stay organized and keep clutter at bay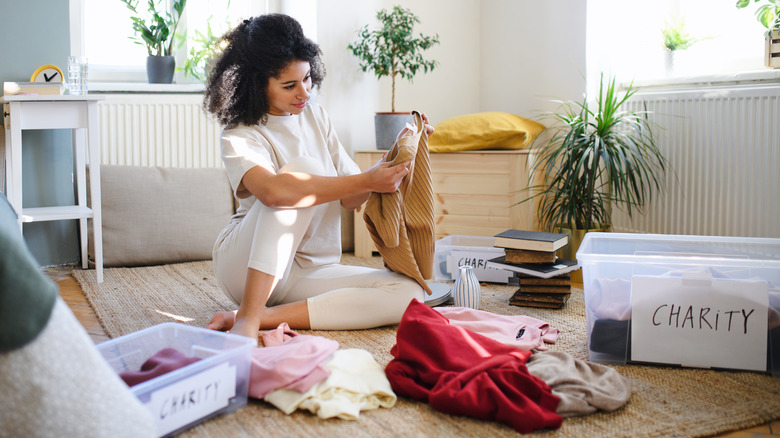 Halfpoint/Shutterstock
To prevent clutter from creeping back, Reader's Digest suggests a designated home for all items, such as a place for keys and mail. To encourage the household to let go of unneeded items, keep a donation box for outgoing items handy. Once you've done your initial decluttering, consider your options for storage containers. A clear option is essential for making items easier to find, while opaque containers exude a tidy appearance. No matter what containers you choose, HGTV advises labeling them for optimal organization.
An aesthetically-pleasing organizing system, like the Home Edit's iconic rainbow order, can be eye-catching and make it easier to find things. When it comes to organizing systems, the best choice is the least complicated one, advises Woman's Day. Keeping supplies close at hand in open containers or a conveniently placed hamper for laundry can motivate everyone to put things back where they belong.
To help corral any wandering items, HouseLogic recommends a pre-bedtime tidying session. Take a laundry basket and gather up any items that need to be returned to their designated locations. By making cleaning and tidying a part of your everyday life, you'll be well on your way towards keeping your resolution of a cleaner, more organized home.