The Watercolor Manicure You Can Substitute For Nail Polish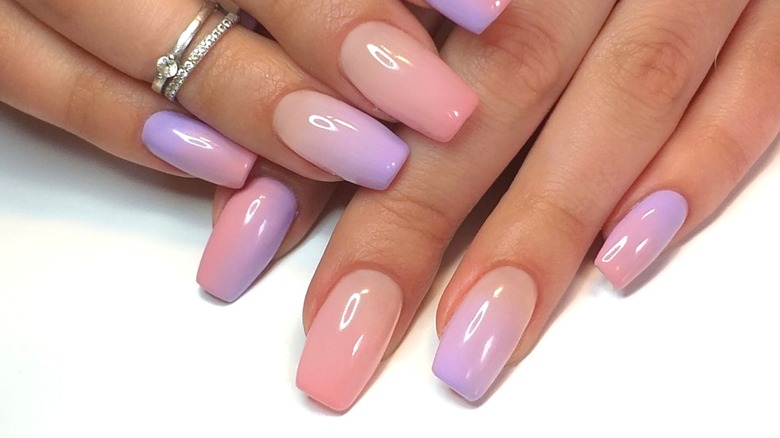 Kornovan Yuliia/Shutterstock
The countdown to sunnier days begin the minute daylight savings happens. The winter is brutal for anyone who isn't into freezing on their way to the grocery store or skiing amidst mountains of snow. If you're one of those people, you've likely brought out your SAD (Seasonal Affective Disorder) lamps, vitamin D supplements, and your will to not hibernate throughout this season. You're still a few weeks away from making room for a wardrobe that isn't just black puffer coats but we decided to begin the initiation into spring earlier.
The watercolor manicure, a trend that's making its way back from 2015, involves "an ombré look that incorporates three colors into one nail," according to celebrity manicurist Karen Gutierrez. Gutierrez prefers lighter colors like sunset strips, pink skies, and ombre pastels — the quintessential spring slash summer palette. The nail trend also comes at a time when watercolors are on fashion look books as well (via The Zoe Report).
Read on to know how to do the watercolor manicure at home with nail polish but also, without.
You can use acrylic paint on your nails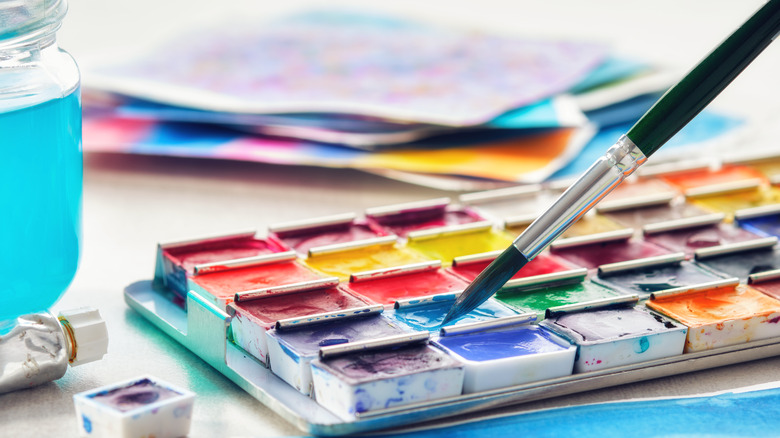 Chamille White/Shutterstock
Just like every other manicure, we begin with cleaning and filing our nails. According to Karen Gutierrez, the only tools you'll need after that are a base color (preferably a whitish nude color that you'd use for a French manicure), your pastel palette of polishes, a makeup sponge, and a topcoat. Apply two coats of the base color and allow it to dry before dabbing the colors onto your nails with the sponge. Nail artist Simcha Whitehill also suggests using a paintbrush dipped in acetone periodically, per Cosmopolitan.
Further, channel your inner artist by replacing the pigmented polish for acrylic paint. YouTuber HannahRoxNails gives a quick tutorial on how to work paint into your nail art fluidly. However, if you do decide to bring your acrylics out, make sure to use non-toxic paints to protect your nails (via Paint Topics). Regardless of the medium, finish the look with a sturdy top coat.