Kelly Reilly Reveals What It's Like To Work With Kevin Costner
DFree/Shutterstock
Kelly Reilly has had an impressive career in her home country, but fans across the pond were only introduced to the English actor recently thanks to her role as Beth Dutton in "Yellowstone." 
Playing the reluctant rancher represents a major departure for Reilly, who's primarily known for her stage work and roles in the likes of 2005's "Pride & Prejudice," opposite Keira Knightley, and the "Sherlock Holmes" movies, starring Robert Downey Jr. (per IMDb). 
"Yellowstone" has proven to be star-making for the actor, who admitted in an interview with Esquire that the show is "a powerful thing to be part of." "People have adopted it as their show," she said. "I'm really proud of it." 
Reilly understands why Beth, in particular, has become a fan favorite, despite being something of an antihero, "because she says and does things that we would never dream or dare to do."
Moreover, female fans finally get to experience a character who isn't necessarily likable all the time. As a result, "there is a primal thing that Beth kind of touches on," Reilly said. 
There are plenty of reasons Reilly relishes playing such a complex role, especially since it required her to master an entirely different accent to her own, and working with Hollywood icon Kevin Costner is certainly one of them. 
Kelly Reilly is just as fond of her onscreen father, Kevin Costner, offscreen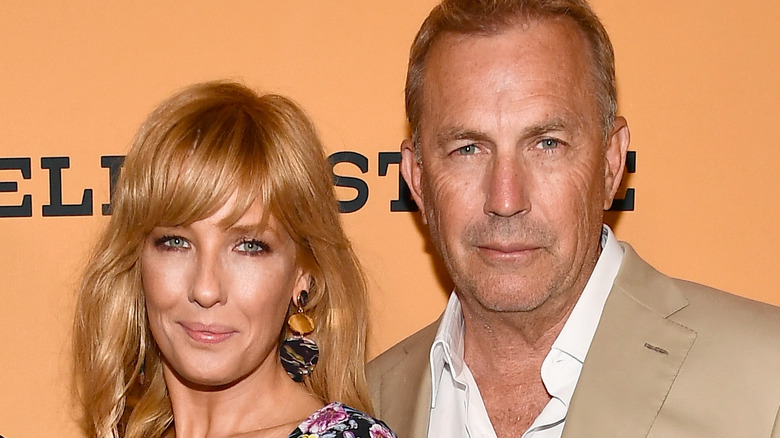 Frazer Harrison/Getty Images
As Taste of Country notes, Kelly Reilly shares plenty of memorable scenes with Kevin Costner in "Yellowstone" since the Oscar winner portrays her father, John Dutton. The two are frequently at odds, and their intense chemistry provides much of the drama on the hit show. 
In an interview with Looper, Reilly confirmed that, offscreen, they're just as close as their onscreen counterparts. "He's honestly one of the nicest, most generous actors I've worked with," she gushed.
Reilly continued: "We get on so well and we have this real fun relationship. So, yeah, I mean, it's pretty wonderful. He's so incredible on the show. I really respect him as an actor and the work he's doing. I just love what he does. I could watch him all day. I'm learning a lot from him." 
Piper Perabo, who joined "Yellowstone" in Season 4, told Taste of Country that she had a great time working with Costner, too, even if it was "a little intimidating at first." As the "Coyote Ugly" star explained, she got comfortable with him soon.
"But he's such a good actor, and he's directed so many films that you get down to the work really quickly, because he's so calm and steady," she said.
"Yellowstone" has gone from strength to strength, thanks in large part to its stellar ensemble cast, which is headed up by Costner. Behind the scenes, he clearly commands just as much respect.