The Bob Haircut That's Going To Be Huge In 2022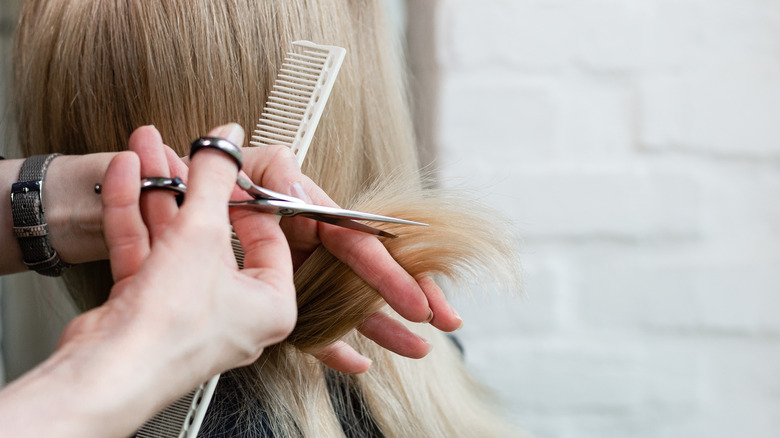 beton studio/Shutterstock
The days, like your hair, are getting longer and there's no better time to refresh your look than the start of a new year. Stylists and style watchers have already been seeing some amazing hairstyle trends for 2022 start to emerge, and trust us, you're going to want to book an appointment with your stylist ASAP once you check these out.
For 2022, stylists are predicting soft layers and dimensions. Professional hairstylist Justin Toves-Vincilione told Today he believes there will be a lot of slide cutting and texturizing techniques used by stylists in order to give their clients chic, low-maintenance haircuts with a retro vibe. The hairstyles of the 1970s, for instance, are getting their own 2022 makeover with the resurfacing of the curtain bang, according to Real Simple. A 1970s-era style originally, these gateway bangs are supposed to look amazing on everyone. Longer and face-framing than some other retro bang styles, curtain bangs are extremely low maintenance and easy to grow out. Being able to go longer between salon appointments is especially helpful when combating waves of COVID-19 cases and changing mandates.
Bangs and layers aren't the only retro styles getting a refresh in 2022. The bob, an iconic style from the 1920s, is finally making its 2020s debut.
This is the bob you're going to be begging your stylist for in 2022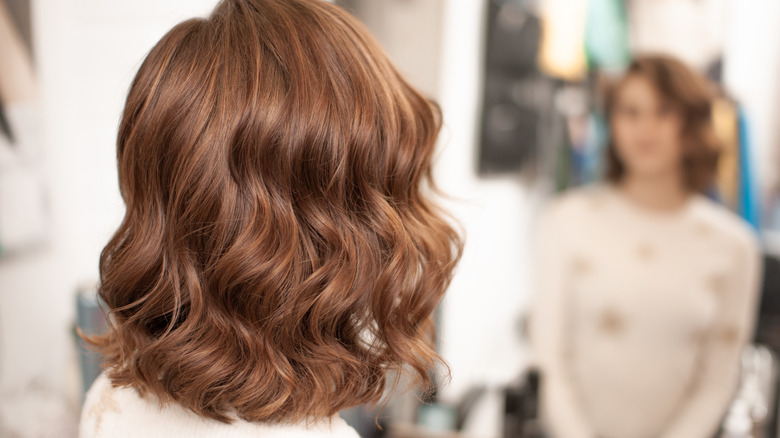 Oksy001/Shutterstock
Many people have been talking about the "power bob" when it comes to 2022 trending hairstyles. Amy Abramite, the creative director and stylist at Maxine Salon, told Real Simple how HBO's "Succession" is responsible for the trend of short, blunt chops. This bob is one you can easily see from the 1920s style roots, but cropped up again throughout pop culture, from Uma Thurman in "Pulp Fiction" to Rosamund Pike in "Gone Girl."
While this bob is great for those who want to make a statement with their blunt cut, there's a different type of bob that's showing up everywhere: the collarbone bob. Reese Witherspoon, Brie Larson, and Julia Roberts have all been spotted wearing this longer, more laid-back version of the bob. 
Celebrity hairstylist Harry Josh explained to Glamour Magazine the collarbone bob is versatile while still having the "impact of a bob." With the longer length, you still have the option of pulling your hair back in warm weather, which is going to be huge once summer rolls around. Unlike the Anna Wintour-style chopped bob, the collarbone bob has ends that are "very texturized," Josh explains, making them "softer and wispier." In the end, you get something more carefree with more versatility.