Neil Young Has Something To Say To Spotify About Podcaster Joe Rogan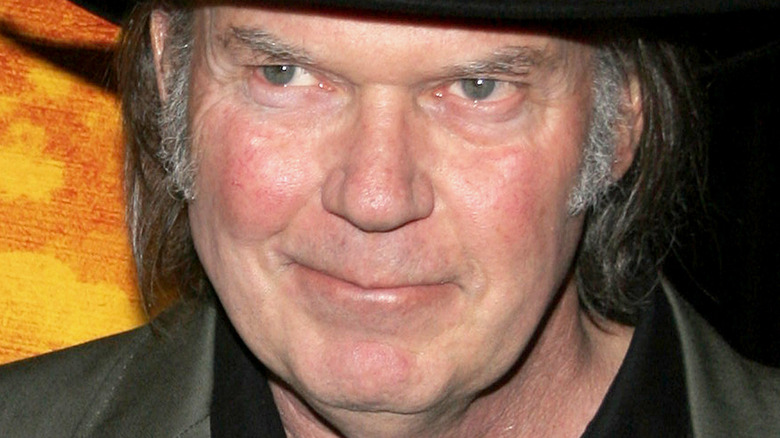 Tinseltown/Shutterstock
On January 24th, 2022, Neil Young presented Spotify with an ultimatum — the streaming platform either remove Joe Rogan's podcast or he would remove his music in its entirety. Spotify ultimately chose to keep Rogan over Young's music catalog, Sky News reported. 
The whole issue started when Young posted a now-deleted open letter to his website on Monday addressing his management team and record label, asking them to remove his music from Spotify unless Rogan's podcast was taken down. The letter was quickly removed from Young's website, but Rolling Stone published excerpts before it was deleted. "I am doing this because Spotify is spreading fake information about vaccines — potentially causing death to those who believe the disinformation being spread by them," the letter read. "They can have Rogan or Young. Not both." 
In response, Spotify opted to remove Young's music. "We want all the world's music and audio content to be available to Spotify users. With that comes great responsibility in balancing both safety for listeners and freedom for creators," a Spotify spokesman told The Washington Post. "We have detailed content policies in place and we've removed over 20,000 podcast episodes related to covid-19 since the start of the pandemic. We regret Neil's decision to remove his music from Spotify, but hope to welcome him back soon."
Joe Rogan has a strong business relationship with Spotify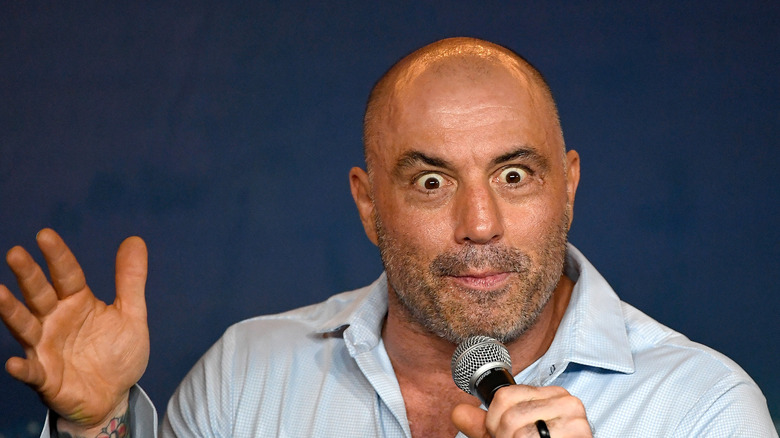 Michael S. Schwartz/Getty Images
This isn't the first time that Neil Young removed his music from Spotify. Back in 2019, he had it removed due to low service quality but later allowed it to return, according to Rolling Stone. "I want people to hear my music no matter what they have to get through to do it," he told the outlet at the time. "I'm just trying to make it so they hear a lot more and enjoy it a lot more, but sell it for the same price because music is music."
Joe Rogan, however, has had a much more consistently positive relationship with Spotify. He and the platform joined forces in 2020 to make his podcast "The Joe Rogan Experience" exclusive to Spotify, per NPR. Since then, Rogan's podcast has gone on to become Spotify's most popular globally offered podcast, and their deal is reportedly worth $100 million. 
Rogan's comments about COVID-19, including his opinion that those who are young and healthy have no need for the vaccine, have raised questions about his misuse of his extensive reach, per The Verge. In fact, Dr. Fauci has expressed concerns over Rogan and medical professionals have also published an open letter urging Spotify to "take action against the mass-misinformation events which continue to occur on its platform."