Ken Jennings Reacts To The End Of Amy Schneider's Jeopardy! Winning Streak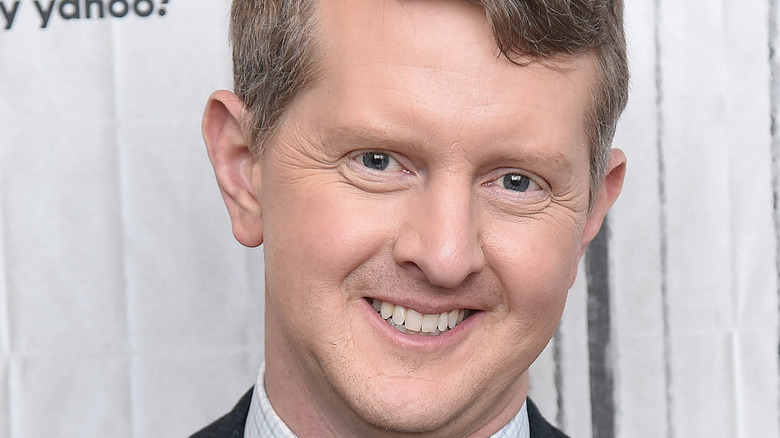 Gary Gershoff/Getty Images
Although the long-time host of "Jeopardy!" Alex Trebek died in November 2020, the show has continued to live on — minus a hosting controversy or two.
Lately, the biggest buzz about "Jeopardy!" has been about Amy Schneider, who this week concluded her 40-game winning streak — the second-longest winning streak in "Jeopardy!" history and the longest for any female competitor (via Forbes). The most recent "Jeopardy!" contestant to set records was Matt Amodio in 2021, with 38 consecutive wins, but "Jeopardy!" all-star Ken Jennings still gets to keep his title of longest-running contestant.
Ultimately, Schneider is taking home $1,382,000, but her longevity on "Jeopardy!" well-passed her expectations. "I'm pretty good at it, and I think if things go well, I could probably win three or four games," Schneider told USA Today. Ultimately, Schneider went on to achieve a lot more than money, though. "This has been a show that has been part of my life as long as I can remember, that I've loved my whole life," she said, adding, "To know that I'm always going to be associated with it, always going to be part of 'Jeopardy!" history is just a really cool feeling."
Ken Jennings shares his thoughts on Schneider's tenure
Amy Schneider has stunned audiences left and right with her ability to answer even the trickiest of "Jeopardy!" questions. But she, like anyone else, still finds herself stumped from time to time.
Schneider admitted to USA Today that she knew she was at risk of losing to her competitor, Rhone Talsma, a Chicago librarian, when Talsma doubled their earnings prior to Daily Double! Talsma ultimately bested Schneider during Final Jeopardy!, an area where Schneider admitted to having struggled recently.
Former "Jeopardy!" winner Jennings happened to be hosting that night and told the audience "Anything could happen on 'Jeopardy!'" Jennings later tweeted a photo of himself with Schneider, writing, "Of all the Jeopardy! greats, I've never seen anyone that played the game with the kind of unflappable ease that Amy Schneider always seemed to have." Jennings added in a second tweet, "I'm dazzled by her talent, of course, but also by how she was always so authentically and straightforwardly herself as her streak aired. What a champ!"
Schneider, of course, will have her own chance to face off against Jennings in the show's "Tournament of Champions."