Why Fans Think Kody Brown Isn't Involved In His Grandchildren's Lives
Denise Truscello/Getty Images
Kody Brown is a busy guy. As a practicing polygamist, he has four wives to deal with — well, now three, following his split from long-time wife Christine Brown — and, as In Touch Weekly notes, a whopping 18 children between them. Naturally, it was only a matter of time before the Brown family, who are the subjects of long-running reality show "Sister Wives," were surrounded by grandchildren, too.
Indeed, Kody and wives Janelle, Meri and Robyn, alongside former partner Christine, currently share a combined three grandchildren. Axel and Evangalynn are the kids of Maddie Brush and her husband Caleb, who is Janelle and Kody's daughter. Avalon, meanwhile, is the daughter of proud parents Mykelti Padron and husband Antonio (Mykelti is Kody's kid with former wife Christine). 
Evie was diagnosed with fibular aplasia, tibial campomelia and oligosyndactyly (FATCO) syndrome prior to her birth, but Maddie and Caleb refused to quit on her. Kody later described the little girl as a "force" and "maybe the cutest baby" he'd ever seen. However, despite his initial joy over the newborn, fans are concerned the Brown family patriarch isn't terribly invested in the little ones' lives.
Sister Wives fans called out Kody Brown's grand-parenting skills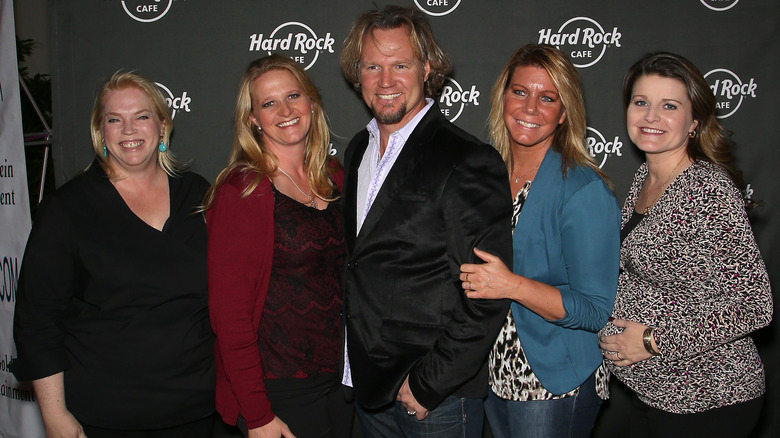 Gabe Ginsberg/Getty Images
Kody Brown hasn't always been popular with "Sister Wives" fans, despite his position as the head of the household. In particular, as Screen Rant reports, viewers have repeatedly criticized Kody for neglecting his wives and not supporting them either emotionally or financially. In fact, many of them believe he's only really interested in Robyn these days. Likewise, they're concerned Kody isn't the best grandfather either.
In summer 2021, Janelle shared photos from a family vacation to Instagram, which featured her daughter Maddie Brush, Maddie's husband Caleb, and their two children, Axel and Evangalynn. Sadly, Kody was nowhere to be found. There's even a Reddit thread dedicated to deciphering why Kody allegedly never sees his grandkids, with one commenter concluding that the father-of-18 is the definition of a "deadbeat dad." They pointed out, "He shows up for photo ops, like graduations and award ceremonies, but disappears when it's time for day-to-day involvement." 
Commenters also noted how Kody's kids appear to be distancing themselves from him the older they get. As for visiting the grandchildren, Kody has complained in the past about how his own children need to move closer to him, so it's unlikely "he's traveling to see the grandkids." In fact, another user reckons Kody only keeps his kids and grandchildren around because "it massages his ego." Fans criticized the patriarch's poor family planning overall, wondering whether he wanted a big family without actually considering the reality of having one.