How Kate Middleton's New Title Could Split The Cambridge Household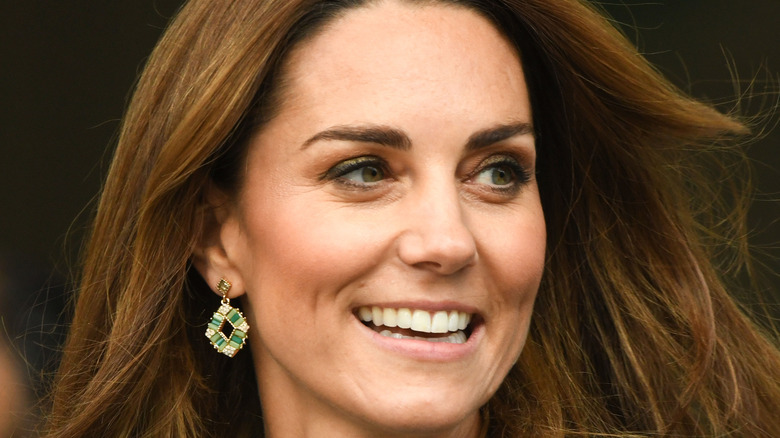 Bart Lenoir/Shutterstock
Kate Middleton and Prince William may be busy with their duties as senior members of the royal family and as parents of three young children. However, that hasn't stopped them from cheering on their favorite sports teams and athletes over the years. 
The Duke and Duchess of Cambridge are both active sports fans who love to take in games whenever they get the chance. Perhaps it's because they're both athletes themselves. Even the couple's elder son, Prince George, seems to love sports. 
For his part, William is said to be a great swimmer and enjoys playing water polo, per the royal family website. He has also played squash and enjoys scuba diving. Of course, he's an avid rugby and football (aka soccer) fan as well.
Meanwhile, Middleton always seems to make sports look easy while remaining stylish and graceful (via Town & Country). 
The Duchess is often seen enjoying tennis. Not only is she frequently in attendance at Wimbledon, but she is also a patron of the Lawn Tennis Association, per Express. In addition, she loves to use tennis to stay in shape and even had a special tennis court built at the family's country home, Anmer Hall, in Norfolk. 
Plus, Kate has shown off her skills in land yachting, archery, golf, cricket, sailing, skiing, and ping pong over the years.
It seems that she and William are suited for an active lifestyle together, and some fans may wonder if things ever get competitive between the spouses.
Prince William and Kate Middleton have a history of competing against each other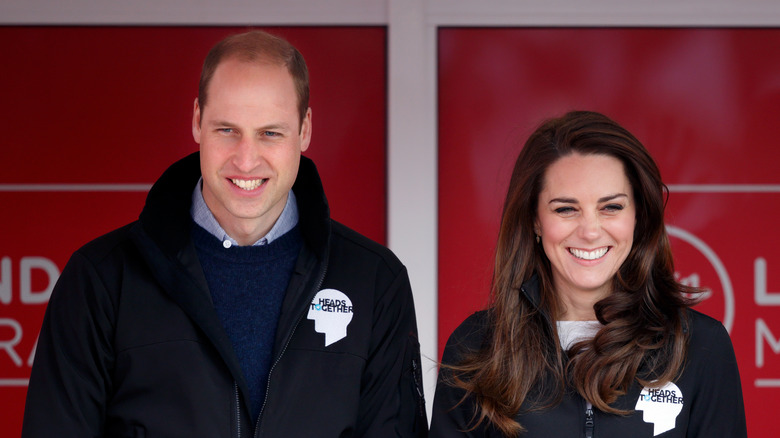 Max Mumby/indigo/Getty Images
According to E! Online, Prince William and Kate Middleton are both very competitive people, and they love to vie against each other. 
The Duke and Duchess of Cambridge have shown off their friendly yet competitive nature in public. They've previously engaged in snowball fights in Norway, a hockey shootout in Stockholm, and even a rousing game of ping pong in front of a crowd during a visit to Scotland in 2013.
The following year, Kate and William competed against each other in a sailing race in New Zealand, with Kate winning that match-up. They have also played cricket together and engaged in a foot race back in 2017 alongside Prince Harry.
"Kate is a natural athlete, good at all sports, you only have to put a racket in her hand or ask her to play hockey or cricket and she'd do it. She really gets into it," a source recently told The Telegraph, adding that William and Kate's rivalry is "all genuine and never contrived." 
However, the insider did say that Kate is more athletic than her husband. "He is a very good swimmer like his mum, a rider, and he played football and water polo," the source admitted of William's sporty background.
Meanwhile, the Cambridges now have another way to compete with each other as it was announced that Kate would be taking on a new title that could divide their household.
The Cambridges are set to become rivals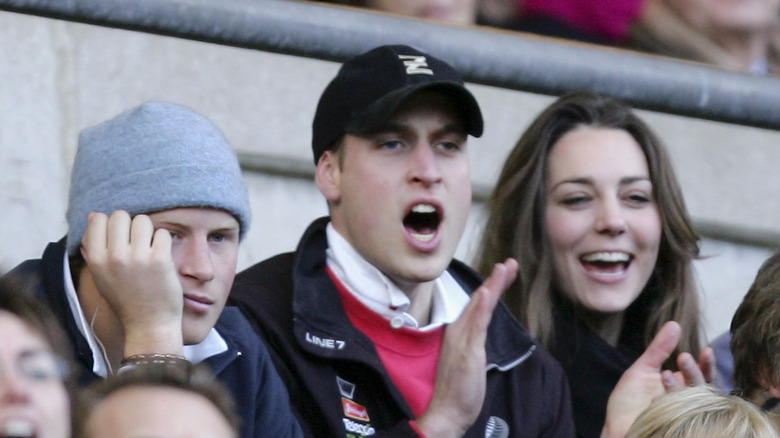 Richard Heathcote/Getty Images
Express reports that Kate Middleton is set to take on a role once held by Prince Harry before his exit from the royal family in early 2020. The Duchess of Cambridge will be named the new patron of the Rugby Football Union. 
Of course, this could cause a bit of a friendly rivalry between Middleton and her husband, Prince William, who is the patron of the Welsh Rugby Union. 
William has been an active Wales fan for years and was even been spotted wearing his scarlet jersey alongside Harry when Wales beat England in the 2015 World Cup.
Not only does Middleton's new title make her the first member of the royal family to take on one of Harry's patronages since his royal exit, but the match between England and Wales on Feb. 26, 2022, is sure to have the Duke and Duchess involved in a bit of friendly fire. 
"They are famously competitive with each other and this will be no different — probably even more so now that they have an invested interest in the outcome of the game," a source said of the royal couple.
Meanwhile, William is said to take his love for the Welsh team seriously and reportedly loves to rile up his cousin's husband, Mike Tindall — who previously played for the England team — when it comes to the rivalry. 
"When Wales play England he has to have his Welsh jersey on but, I think, he would support England as well," Tindall previously said of William's loyalties.