Prince George's Weekend Activity Sent Twitter Into A Tizzy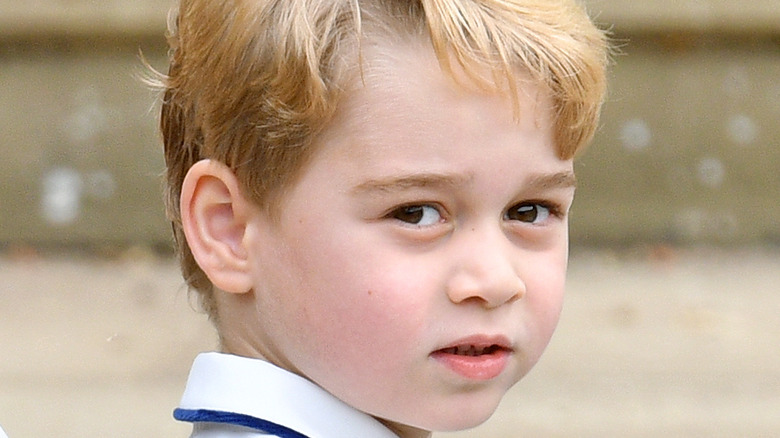 Pool/max Mumby/Getty Images
Prince William and Kate Middleton have reportedly tried to give their children the most normal life possible, per Vanity Fair. 
However, the Duke and Duchess of Cambridge's three little ones, Prince George, Princess Charlotte, and Prince Louis, are far from normal. The youngest royals are set to be the future faces of the monarchy, with George currently slated to become king behind his grandfather and father. 
But, until that time comes, William and Kate are said to be doing all that they can to be hands-on parents to their kids (via The Sun).
Sources previously told Us Weekly that the Cambridges are worried about their children's futures, especially George. "The Cambridges feel it's necessary to shield George, Charlotte, and Louis from the spotlight and have become cautious about the appearances [they] make. Kate and William are being more selective about the events he attends."
In fact, William and Kate are said to be doing all they can to give George a normal childhood. 
"He mixes with children his own age," says the source. "Kate and William don't shower him with expensive gifts nor do they over spoil him. Despite his future role, they don't want him to grow up too quickly. He engages [in] activities similar to any other 8-year-old — playing board games, horse-riding lessons, swimming, playing football and he can't wait to start rugby too!"
Recently, George's activities have caught the eye of social media users, who couldn't get enough of the adorable young royal.
Fans gush over Prince William and Prince George's relatable moment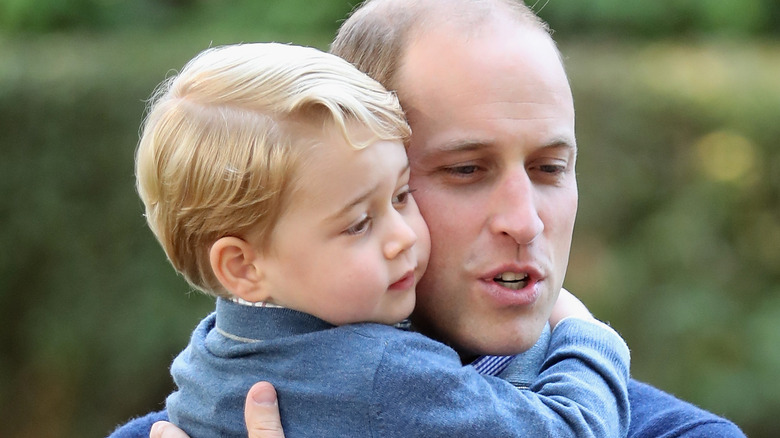 Chris Jackson/Getty Images
Over the weekend, Prince William and Kate Middleton's older son, Prince George, showed off his football (i.e., soccer to Americans) skills when he hit the field for a match. George played on his school's team, and photos show the future king sporting a blue-and-white striped jersey, black shorts, neon shoes, and knee-high socks. 
William was even there to cheer on his son as he played in the game. Following the match, William posed for a photo with the opposing team, per Hello!
Once photos from the event hit Twitter, fans went wild and didn't hesitate to share their thoughts. 
"How grown up he is. Look at his football uniform. And Prince William watching his son in a normal Saturday outing aww father and son goals," one person tweeted. "Incredibly handsome Prince George playing football is beyond adorable plus his dad Prince William was there, this is too much, my heart is bursting with happiness," another wrote.
A third social media user commented: "A future king and heir and zero stuck up behaviour, no over the top security. I love how this family conducts themselves."
"These are typical British family photos. So great to see William and Kate's boy doing the same. What great grass roots football this country has. No fuss, just out there being a kid like ours and William being a 'soccer dad'. Love it," another comment read.
William and George's sweet photos make them all the more relatable to their fans, who adore them.