Octomom Shares A Personal Message For Her Eight Youngest Children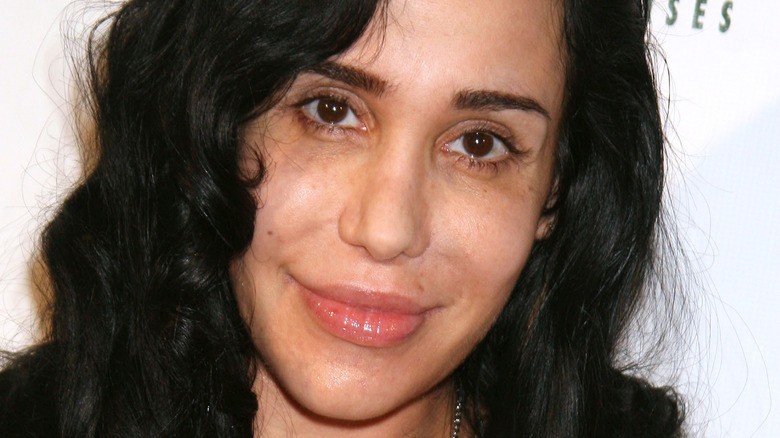 s_bukley/Shutterstock
Believe it or not, it's been 13 years since Nadya Suleman gave birth to octuplets. Suleman, who you may remember better under the moniker Octomom, became a fixture in the press after she welcomed eight children to the world in 2009. Her babies, two girls and six boys, were the first known group of octuplets to survive birth, according to The New York Times. That alone was impressive, but what made Suleman's situation doubly newsworthy was that she already had six children at home.
As a mom of 14, Suleman made headlines in the tabloids. She predated Tan Mom by several years, but the coverage was every bit as brutal at times. She later told Inside Edition that the name Octomom was coined by the media, and that she "shamefully embraced the character." Despite negative perceptions of her, Suleman maintained parental rights over all of her children. "She's been fighting for our family for 10 years now," her daughter Amerah told the NYT in 2018. And now her youngest babies are officially teens.
Suleman's eight youngest children turned 13 on January 26. In honor of the special occasion, the proud and infamous mom took to social media to share an adorable throwback photo and a sweet message for her newly minted teenagers. Read on to find out what she had to say.
Nadya Suleman celebrated her children's rare and unique characteristics in a sweet Instagram post
Like any proud mother, Nadya Suleman took to Instagram to wish her babies a happy birthday. The woman formerly known as Octomom uploaded a precious throwback photo of herself posing with some of her brood. The picture is adorable if a little crowded (seriously, there are a lot of babies on one couch), but the accompanying caption is where it gets extra sweet.
"Happy 13th birthday to Nariyah, Isaiah, Maliyah, Jeremiah, Noah, Josiah, Jonah, and Makai," Suleman wrote. "You are all growing into some of the most kind, humble, grateful and loving human beings I have ever known. Each of you possess rare and unique characteristics, and are unlike any other child of your age, particularly in our society today." She went on to describe the newly minted teens as "selfless, altruistic, nonmaterialistic, and loving, fearing, followers of God."
Suleman called out their dedication to helping others. "I have never seen children who love and want to serve others, (particularly those less fortunate), so boldly and confidently like each and every one of you do," she wrote. "I do not know what I could possibly have done to deserve being blessed so bountifully." The octuplets and the rest of their siblings frequently appear on Suleman's Instagram account, and it is unbelievable how much they've grown up over the years. Hopefully they enjoy their teens, and we look forward to seeing what the future holds.