Substitutes For Hairspray That Actually Work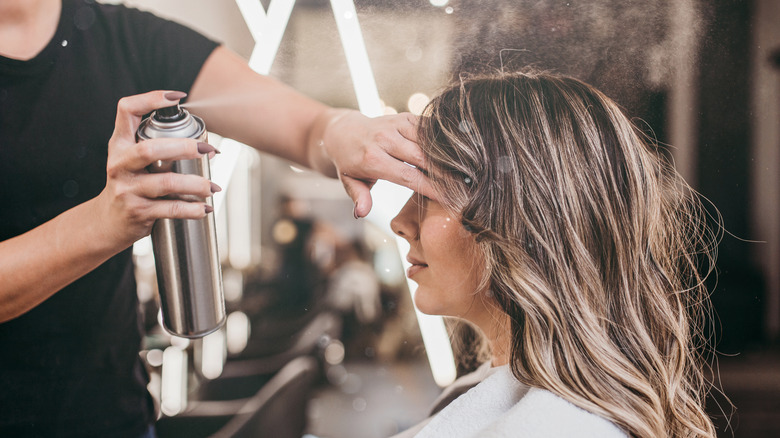 DuxX/Shutterstock
Hairspray is one of the beauty products that come to mind when you think of a good hair day. Some sprays help to detangle hair, while hairspray keeps your hairdo in place to avoid a messy look. Sadly, as useful as hairspray is, it's got a few disadvantages, especially when it is used in excess.
Hairspray is known to dry up the scalp over time as a result of the harmful chemicals used in producing the spray. It is also known for its stinging smell. The good news is that there are tons of hairspray substitutes you can consider.
Hair mousse, for instance, is one of the best substitutes for hairspray. It helps your hair strands stay in place and adds more volume to your look. Mousse is best applied from the root to the tip of your hair. ​​Speaking with Byrdie about applying mousse to hair, Aaron Grenia, the cofounder of IGK Hair, said, "Try using a mousse on damp hair before you blow-dry, spraying at the root for extra lift. It is typically applied from roots to ends, combed through hair, and blow-dried in."
Hair gel also serves as a great alternative to hairspray, especially because, unlike hairspray, hair gel allows you to control the quantity of product that goes into your hair.
DIY alternatives to hairspray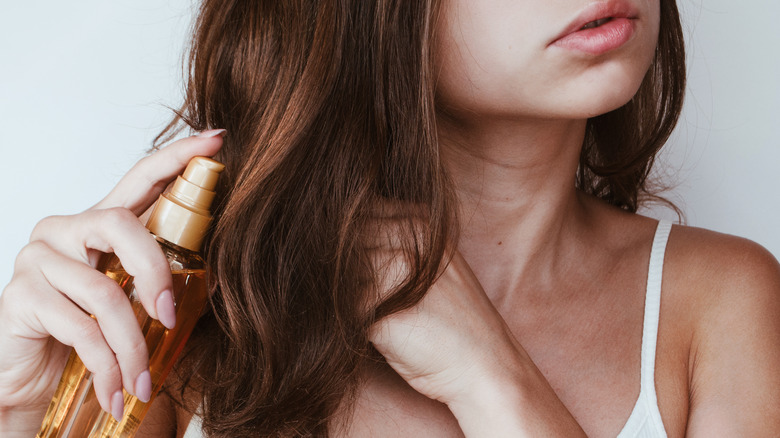 ECOSY/Shutterstock
If your goal is to avoid exposing your hair to products made with several chemical ingredients, you can consider some homemade hairspray – most of which are easy to make. Sugar spray, for example, is an excellent natural hairspray. It can be made using sugar, filtered water, and any essential oil of choice. Not only is sugar spray harmless to your hair and scalp but also pocket friendly.
If you have a pot of aloe vera plant in your garden, you might as well tap from one of its many benefits. For instance, aloe vera can be used as hairspray as well. While it might not provide a strong hold like hairspray, it is great for conditioning the hair.
In an interview with Byrdie, hair expert, ​​Gretchen Friese, said, "Aloe vera contains enzymes that repair dead skin cells on the scalp which may help promote hair growth and prevent itching on the scalp. It also acts as a great conditioner and leaves your hair all smooth and shiny." Aloe hair spray basically requires two ingredients to make — filtered water and aloe vera gel.