Meghan McCain Holds Nothing Back About Jennie Nguyen's Firing From The Real Housewives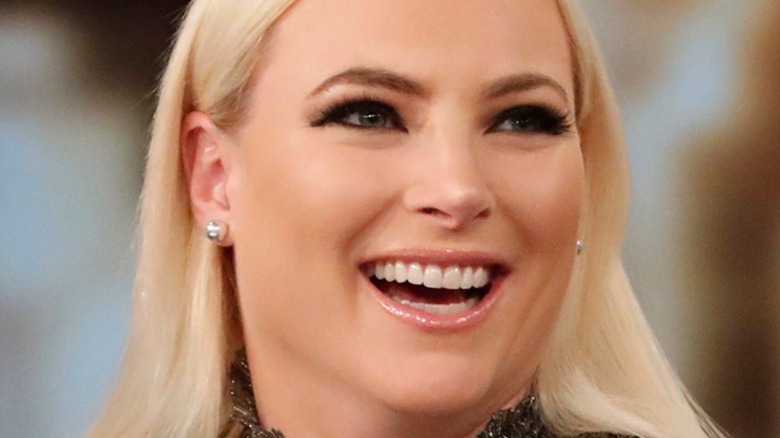 ApostolisBril/Shutterstock
Former "The View" co-host Meghan McCain held nothing back after reality television star Jennie Nguyen got fired from "The Real Housewives of Salt Lake City." The network let Nguyen go after controversial social media posts came back to light, including her contentious thoughts on the Black Lives Matter movement. In response, McCain wrote a detailed opinion for the Daily Mail about why Nguyen lost her spot on Bravo's reality television show. 
Interestingly, McCain revealed she enjoyed the franchise because of the otherwise dreary world these days. "I and millions of other viewers have found much needed respite from the darkness and chaos in our world in these mini soap operas," she wrote. The former "The View" co-host, who is the daughter of late Senator John McCain, said she liked to watch "The Real Housewives" "for fun, entertainment, and something to gossip about with my friends and family about when the episodes end." Preferably, for McCain, she doesn't worry about politics when she spends time escaping with these shows.
In her article, McCain also noted that most reality television stars aren't cast because they're picture-perfect people. Instead, networks choose them, in part, for their propensity to help create drama on the shows, and it's that drama that people love. So while some felt that Bravo should've better vetted Nguyen before casting her, McCain thinks that there's a different reason the network let her go — her Republican politics.
Here's why Meghan McCain thinks politics led to Jennie Nguyen's firing
Because of the checkered pasts of many other "Real Housewives" stars, Meghan McCain wrote that she was surprised to hear Bravo fired Jennie Nguyen over resurfaced social media posts. "I was surprised to see that new Salt Lake City Housewife and rookie fan-favorite Jennie Nguyen was fired this week after offensive Facebook posts from 2020 emerged," read McCain's column for the Daily Mail. While the former "The View" co-host stated she didn't condone Nguyen's posts, she felt that the former "Real Housewives of Salt Lake City" star shouldn't have been fired due to the posts.
Ultimately, for McCain — who steadfastly speaks out about her Republican politics — the reason Bravo fired Nguyen is due to her conservative stance despite "The Real Housewives" cast member blaming the problematic posts on her social media team. "Apparently the greatest sin you can commit on reality television isn't breaking federal laws, physically assaulting someone, lying, cheating or stealing — it's being a vocal Republican," McCain wrote. She arrived at that opinion because of all the other scandals the housewives have endured over the years. Ultimately, McCain lamented the fact that nearly everything in life has or will become politicized.