Amy Slaton Halterman's Reaction To Her Gender Reveal Has People Talking
As half of the reality-TV duo the "1000-Lb Sisters," Amy Slaton Halterman has shared some of the most personal moments of her life with the public. Through the popular TLC show, fans have watched her undergo weight-loss surgery, get married, become a mother to son Gage, and buy a new house. Sadly, sister Tammy Slaton hasn't fared as well. Unable to lose the weight necessary to qualify for surgery, she has experienced serious health setbacks.
As Season 3 of "Sisters" ended, viewers learned that Halterman and her husband, Michael, were actively trying to become parents again — and just after New Year's 2022, their wish came true. "Gage is going to be a big brother in July 2022," she announced on Instagram. "I'm due July 18th!!!! We are over the moon!!!!"
Not wasting any time, the Halterman's opted to find out their second child's gender as quickly as possible and planned a gender reveal party for family and friends shortly afterward. Amy captured the moment on video and later uploaded it to YouTube. The clip begins with an introduction in which she says, "I'm super excited. I'm hoping for a girl; Mike is hoping for whatever."
The party is a simple affair at home, attended by friends and family. Tammy, currently being treated in a rehabilitation facility, is absent, but standing by for a phone call with the news. One of the friends "is pregnant with a girl, too," Amy says — once again making her preference known.
Amy Slaton Halterman couldn't hide her feelings
Amy Slaton Halterman's gender reveal party video shows her guests guessing the gender of the baby by writing their initials next to a "Girl" or "Boy" column on a piece of paper (via YouTube). She then puts her own initials in the "Girl" column. Little by little, the board gets filled, with the "Girl" column getting the most votes.
Then comes the big reveal — which comes as a surprise to everyone. Sitting in a kitchen decorated with pink and blue streamers, Amy is given an oversized card to open. She holds it in front of the camera so she can't see the message inside. "It's a..." she says, before flipping the card. The guests read the news aloud, excitedly yelling, "Boy." 
Rather than shrieking in excitement, Amy frowns and checks the card. Then she says, "What the f***?" and lets out a half-laugh, half-cry. "I always wanted a girl," she says. Then, hoping she's being pranked, she adds, "Y'all messing with me." After a moment, it's clear to her that she really is expecting a brother for 1-year-old Gage. Moments later, Amy gets on the phone with her sister Tammy. She reveals both the baby's gender and the name she and her husband have already chosen — John Allen, or "John-Boy" for short. The guests seem less than impressed. "I ain't calling him no John-Boy!" calls a voice off-screen. 
Amy's disappointment is actually very normal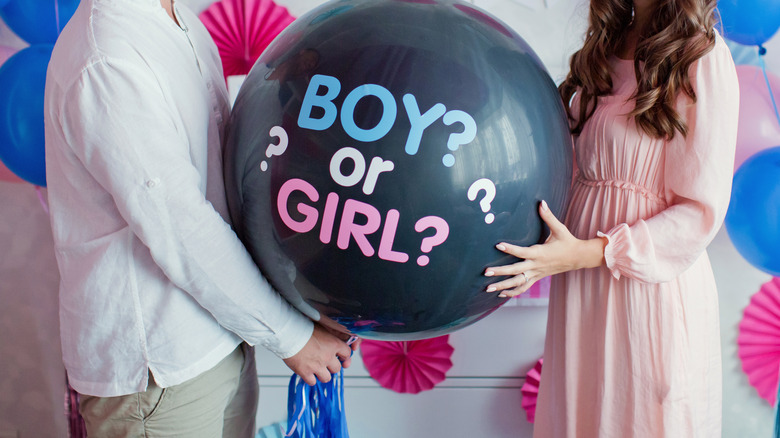 aprilante/Shutterstock
While Amy Slaton Halterman's lack of enthusiasm may seem shocking, this kind of reaction is more common than you might think. As many as one in five expectant moms experience what's known as "gender disappointment." It can actually be worse for women who opt not to find out the gender until the actual birth, as noted in a "Today" interview with OB/GYN, Dr. Laura Cha. "The last thing you want is a patient who has spent the last nine months convincing themselves they're having a boy, only to find out they're having a girl," she explained.
Despite her disappointment, fellow moms rushed to congratulate Amy on her Instagram page. "[H]aving another son will be awesome for Gage and John," said one Instagram user. "They will be the best of friends and be so close." Another commented, adding, "I was hoping for just a healthy baby, but I'm glad it's a boy. You are a great mom to Gage and you seem like a mom boy, do everything they do. Playing in the dirt to little league games." 
This, too, is a normal phenomenon, per neuropsychologist Dr. Louann Brizendine, who also spoke to "Today." Thinking about the advantages of the baby's gender is a coping mechanism called "active reframing." Fortunately, the initial sadness over not having the desired gender almost always goes away quickly, so by the time little John Allen Halterman arrives this summer, his family will be ready to welcome him.